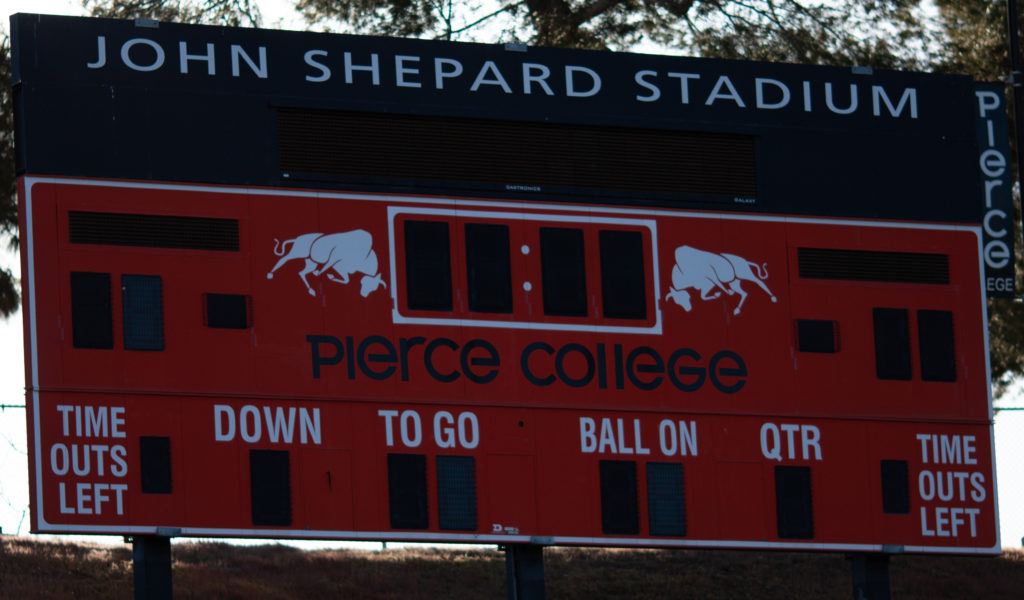 Pierce College Football awaits a new scoreboard that would be more functional, raise student morale, help with recruiting and generate money as an advertising tool.
According to Pierce College Head Football Coach Carlos Woods, the scoreboard is ready and it's just a matter of installing it.
"When I spoke with upper management, they told me that everything was pretty much in place," Woods said. "It's just a matter of working out the logistics of getting the crane to remove the old scoreboard, and take the new scoreboard out of the warehouse and replace it."
Head Strength and Conditioning Coach Dylan Flannery explained how the new scoreboard will benefit the team and help Pierce college stand out.
"One of our biggest hopes with it is that we can use it as a recruiting tool," Flannery said. "We already have a great stadium with the bowl. So, to add a scoreboard will allow us to run replays on and put highlights on, and it's very modern as opposed to many other colleges in the area who don't have that."
According to Flannery, the old scoreboard has become an unnecessary burden to the employees.
"On a practical level, to not have lights out, to not have the scoreboard glitching and our employees are the ones who are working the scoreboard, allowing them not to have to deal with that every game is a huge plus as well," Flannery said.
According to Pierce College Student Jayme Vicente-Colon, who played safety for the football team last semester, the long-awaited scoreboard upgrade will signify a change coming and a return to prior glory days.
"He's been telling us about it for like a year," Vicente-Colon said. "We used to be so great back in the day and we're just trying to find our way back to that. I think it will be good for the students. It would bring more spirit back to the team and more spin around the school."
Woods explained that having a more modern scoreboard would raise student morale surrounding the football team and would also help with admissions.
"Crespi and Sierra Canyon utilize our fields for Friday football games," Woods said. "The scoreboard is a great recruiting tool because the high school teams have access to use our scoreboard during their games. We had a very great year last year and we're excited to build off of that this upcoming season. I think having a scoreboard just elevates that a little bit more."
According to Woods, once the new scoreboard is installed, Pierce College will be able to reap the financial benefits of the newer technology.
"We can use that as a fundraiser," Woods said. "We can put ads on it. We can advertise student engagement, student enrollment, There are so many things that we can utilize the scoreboard for because it's going to be completely LED. So we, you know, we can run live feeds, we can run various things that."