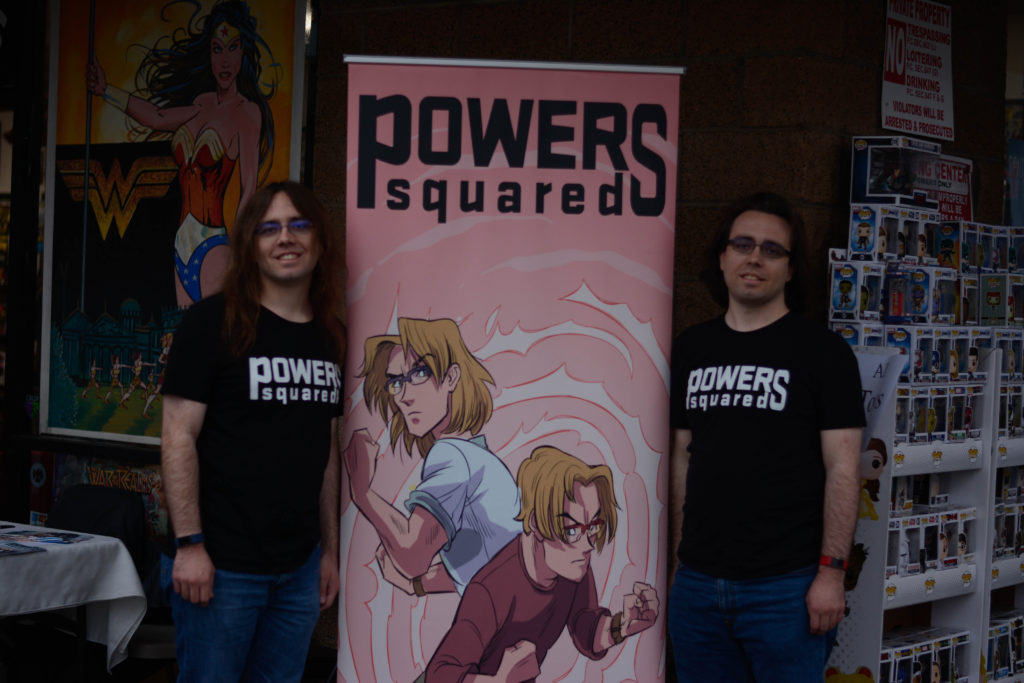 Most siblings share a special bond, but for Paul and Trevor Hankins they have super powers, or at least their alter-egos do.
The Hankins brothers co-created their comic book, "Powers Squared," which tells the story of twin brothers, much like themselves, who have been granted super powers.
"Even when we're separate, people still think of us as Paul and Trevor, so in Powers Squared, we tried to put some of that in there," Paul Hankins said. "They're seen as Marty and Eli, and even though we've been seen as a unit, we still do things differently from each other, just like the characters in the book. Just like me, Marty is more extroverted, and just like my brother, Eli is a little more introverted."
As identical twins they were inspired to create something beyond themselves. The comics protagonist duo, Marty and Eli Powers, are going to college and they discover they have super powers that they share.
"They're kind of figuring out what to do with their powers and they have to also stop this scientist named Dr. Atlas from harnessing their abilities and using them for evil purposes," Paul Hankins said.
Paul Hankins explains where the idea of creating the story began and why they chose to use a comic as its median.
"While we were going to Comicon, we went to panels and at some point we decided we wanted to be there in person, giving the A's instead of asking the Q's," Paul Hankins said. "So, we were trying to think of a way to do that and a comic book seemed like one of the easier ways to because for a comic you don't have to be an expert in any particular field."
Besides the two brothers working on the comic, other people have to be involved to put it together. Paul Hankins who writes the script explains their process of creating the comic.
"I guess you could say it's like frankensteining a page," Paul Hankins said. "We send that script to the artists, then what our current artists does is she actually sends us two sets of thumbnails because you need ways to visually interpret the script. Then we decide which version of the pages we want. Sometimes it's a mixture of panels from first person and the second person."
The creative process of the comic starts with one brother, and the comic comes back around to the brother, Trevor Hankins, who finishes it off before being published.
"Because it's a family thing, I go through it one more time and I notice spelling errors last minute and I go through it fixing it," Trevor Hankins. "I'm basically the last line of defense, so it comes full circle."
The Hopkins brothers aren't just inspired by western comics, but Japanese manga authors as well.
"It's kind of a mix of influences from America and Japanese comics," Paul Hankins said. "Mangaka (Manga artists) that we've taken some influence from as a Hirohiko Araki, it's mainly his use of suspense and he's very good at having a suspenseful moments in his books."
College has also played a large role in Powers Squared, from influencing the setting of the story, as well as certain classes helping the Hankins brothers develop the story.
"Pierce has had an influence on the background of the story since the characters are in college and we wanted to capture a college life aspect," Paul Hankins said. "We had a comic book class at California State University, Northridge, which was part of a CSUN initiative, which is basically trying to elevate the discussion of comics as a legitimate storytelling medium."
Long-time friend, Nick Sweeney, is impressed that Paul and Trevor Hankins accomplished what they set out to do and will support them in anyway possible.
"It's one of those things where you don't get to see a lot of your friends accomplish the thing they'd set out," Sweeney said. "For a lot of people, it's like, 'Oh, I want to do this, I want to make music, but I must make a living.' But when one of your friends is like, 'Hey, I want to do this and I actually do it, and I'm making money off it.' Why would I not support that? That's pretty cool."
Father and co-writer, David Hankins, said that their ambition stretches beyond just doing comics, as they want to expand their horizons to not just TV shows, but to video games as well.
"We'd like to pitch it maybe as a TV series," David Hankins said. "I think it would make it for kind of a better game as well, you know, the idea that you've got two players and one can't use the same power of the others using could work for good gameplay."
Paul and Trevor Hankins will be attending the San Fernando Valley Comic Book Convention on June 2nd.