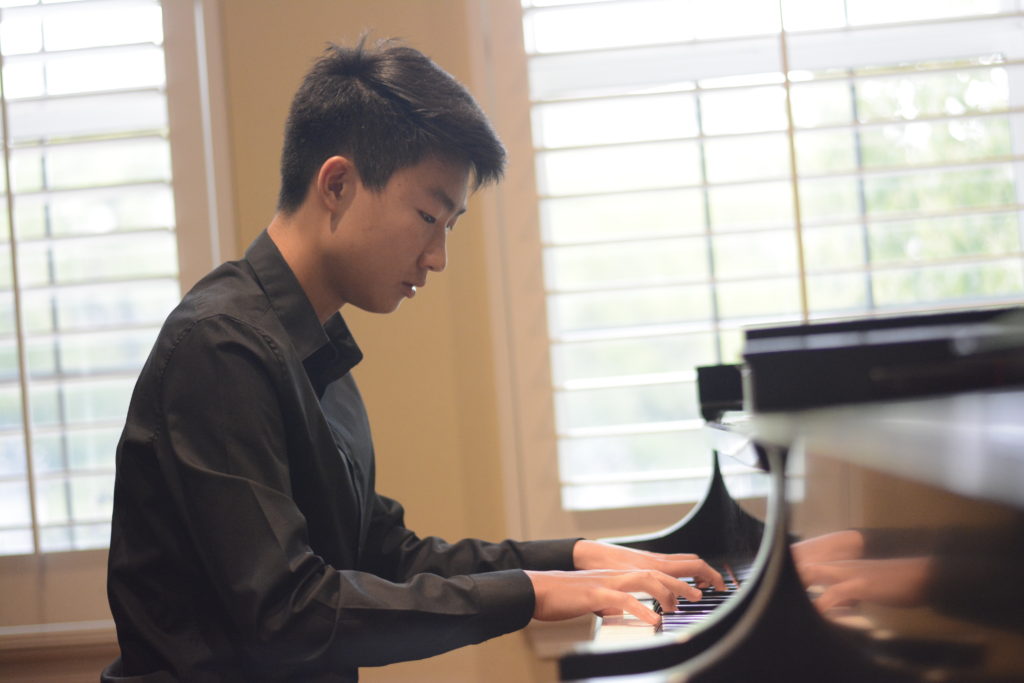 While most children listen to whatever's popular on the radio, few go out of their way to listen to 19th century Hungarian musicians.
But that's what inspired 4-year-old Kevin Cho to become the piano prodigy he is today.
At such a young age, Cho is capable of showing precision, delicacy, and emotion when playing the piano on stage, and presenting his skills in multiple competitions in front of hundreds of people.
However, his prominence only comes after years of laborious practice and dedication.
Cho did not always enjoy practicing the piano, but when he first heard "Liszt Hungarian Rhapsody No. 2" by composer Franz Liszt, his outlooked changed.
"I feel like love is something that you cultivate through years of practice and dedication," Cho said. "So, nobody really starts to play piano with a love for it."
Cho started playing when he was 4 years old with the help of his mother, Agnes Kim, but after reaching the age of 10, he decided to look for another teacher.
Cho mentioned that he didn't acknowledge his mom as a teacher and that was causing rupture in their relationship. Yet, over time he started to value her advice more than ever.
"Before I feel like I didn't appreciate her expertise and knowledge as a musician," Cho said. "But now I really appreciate how much she's done, and how much she has learned over the years that I couldn't possibly imagine."
Despite his age, Cho has been able to build a meaningful curriculum as a pianist but doesn't dwell in his talent only.
"Sometimes I practice right after school up to dinner or sometimes I would not be able to do that and practice at late hours,  around 8 p.m or 9 until we 11, or 12 a.m sometimes," Cho said. "That's the schedule right now. But over the summer I'll be practicing a lot more."
Cho registered at Pierce College to gain more knowledge on Western music history although he had other options closer to him in Valencia.
"The [Santa Clarita] district policy is that you're not allowed to take college classes until you're finished with 10th grade," Cho said. "But then for all other L.A. community colleges like Pierce, you wouldn't have to be that. So, I just wanted to take the classes early as possible since I want to know music history."
Instructor of Music, Ferhiz Brewer, recognizes Cho's hard work and felt honored to have him as a student at Pierce.
"This craft requires discipline, focus, dedication, hunger, and lots of talent, in order to succeed," Brewer said. "Kevin has it all. Kevin practices for 3-4 hours every single day. He knows that he has to, in order to compete and be the best. We have a saying amongst us musicians that when you are not practicing, someone else is."
Even though Cho spends extensive hours in front of the piano while keeping up with his studies, Cho is a regular teenager who likes enjoying moments with his friends and family.
"During the winter or like whenever it's the season, I like to go out to Utah or Mammoth," Cho said. " Or to go skiing or snowboarding and [play] tennis."
Cho's close friend, Dylan Thai, is also a fellow pianist and besides the times they spent together playing video games, Cho has been a big influence for him when it comes to music.
"The way he plays [piano] is so invoking compared to others," Thai said.  "Not only how he plays it, but the tone of how he hits the keys. It's different compared to how other people play. And he actually inspires me to practice and try to create my own way to inspire [others]."
Brewer is a strong believer that if  "we give our best, the best will come to us," and she sees students like Cho as a testament that dreams can come true if you work hard enough.
"He is a humble and kind young man and will say otherwise," Brewer said. "It is important to have these bright stars come to our campus and be part of our community. They are an inspiration to all of us and give us hope that if we dream, learn, and do, we can achieve our goals."
Cho recently won first place at the Virginia Waring competition in March and is expecting to compete at the Young Artist Competition in December. But even though Cho has an indisputable talent in music, and is overall an exceptional pianist, a career in music is one filled with uncertainty.
"I'm probably going to [study] medicine, but I feel like music is all about sharing," Cho said. "Music is a knowledge so I hope that I'll be getting performance opportunities and be able to communicate music through a large scale. But if I don't, I'll probably continue performing throughout the rest of my life. I'll definitely be continue sharing it with the rest of my friends and family."