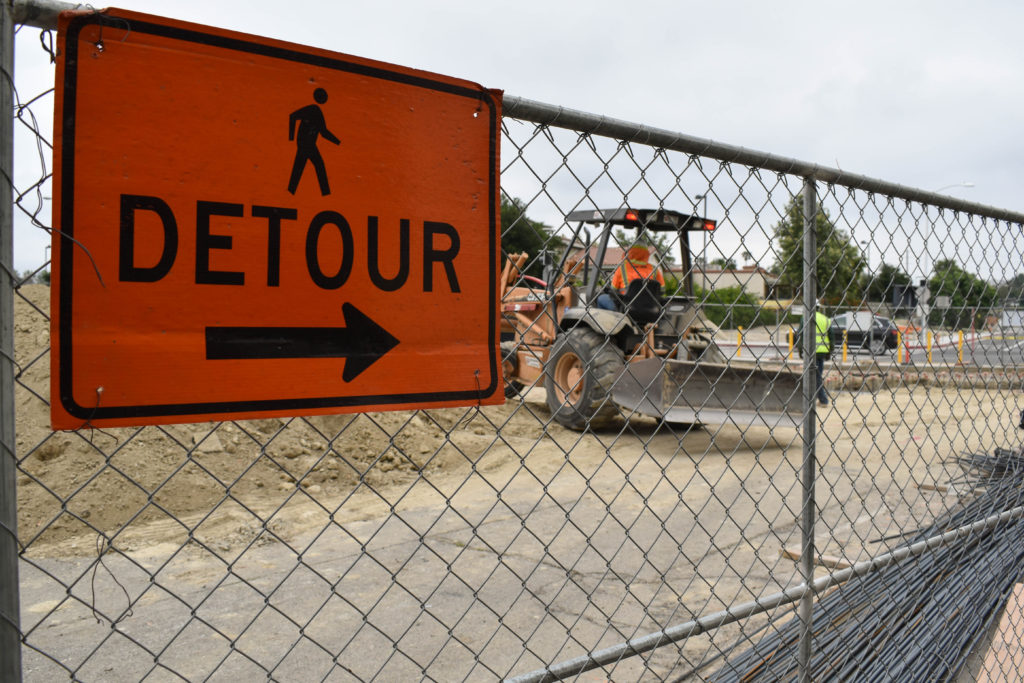 The construction on Brahma Drive (the hill) that connects the De Soto entrance to the Performing Arts Building at the top of the campus has been closed for most of this semester but is now back open.
The road was scheduled to be closed from December 3, 2018, to February 3, 2019.
Head of the Bond Construction Project
cited weather conditions were one of the setbacks.  
"The parking lot and road work experienced a rain delay due to Wednesday's sudden storm," Tarantino said. "The hour and a half rain flooded the construction zone. This slows us down a couple of days, but we are on schedule to pour asphalt on May 28. If we keep going we will be done by the end of the month."
Interim President Larry Buckley said the larger purpose of the road repair was that the road was falling apart.
"It was just filled with holes that had been repaired and repaired again, and it had to go," Buckley said.
A challenge with the construction by the Center for the Sciences heading out to Mason Ave. has been water, according to Buckley.  
"So as they have been making road changes, all kind of water lines have broken, and if you go out and look, you'll see there are plastic tubes in every which way," Buckley said. "They're trying to keep the water under control. As the water was leaking they were beginning to see that linkage, which could cause that whole parking lot to be undermined."
Kevin Hernandez, an automotive major, expressed that the road work has been a burden when getting to class.
"I used to park in the agriculture parking lot by the barn, and before the construction, I would get here an hour early," Hernandez said. "Now, I park in the Victory parking lot and sometimes I would arrive ten minutes before my class."