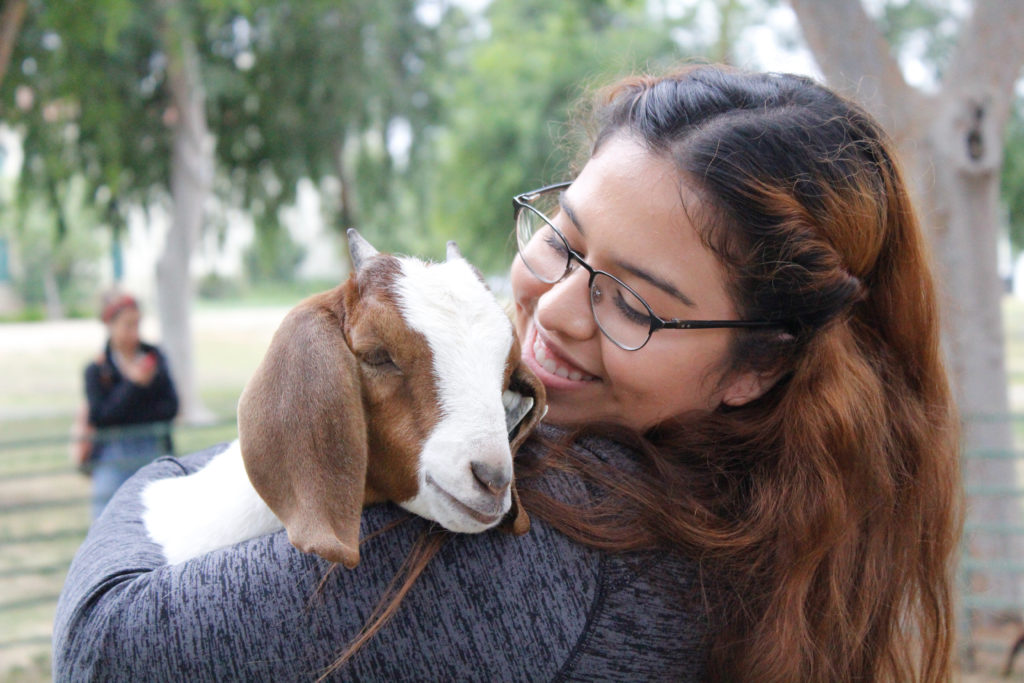 If there was an award for the most socially involved student, it would most likely go to Nicole Alfaro, who tries to attend every event on campus that she can.
Now Alfaro, who knows so much about what happens on campus, she is in the best position to put that knowledge to use.
"You know, clubs make a big difference, so I was like, 'I want to make clubs the best they could be. What position could I have to accomplish that?'" Alfaro said. "So then I looked up the positions and saw Club Council President and said, 'That's the title I want. I'm going to get that name.'"
But Alfaro wasn't just given the title. After joining the ASO (Associated Students Organization) during her sophomore year, she immediately became a Chair for the Social and Cultural Committee.
"After I got that position, everyone was telling me to run for senator, so I did and here I am today," Alfaro said.
Alfaro's ability to communicate and contribute with everyone on the student council, as well as her organization skills, really set her apart from her peers.
"For Club Rush, I was always out there, no matter what they needed I was on top of it, I always introduced myself to all the club members and let them know who I was, what I stood for and where they could find me if they needed anything," Alfaro said. "I just really wanted to make an impact."
Alfaro said she finds this job therapeutic, even with the chaos, multi-tasking and responsibilities thrown her way.
"I like it, this is like a getaway for me, I can come to the office and organize everything, I'm kinda OCD about it," Alfaro said. "It feels so great to have the title and responsibilities because you're not just guiding people, you're also learning from them, being able to network and get your name out there is also amazing, I was shocked on how you do."
Nicole addressed that she has to look over all the clubs, make the club council meetings, as well as set up club rush on top of organizing a bunch of paperwork that comes with it.
One of the main things Alfaro plans to push, is more student engagement within their clubs.
"Some clubs didn't really put in that much effort, we have to meet half way and I wish some clubs were given the advice to have these little pop ups to let the students know they're there, not just on Club Rush – not everyone can attend it so being able to have these pop ups and post fliers and have these fundraisers, I want to guide them to be more active," Alfaro said.
Alfaro plans on making this accessible for the clubs by providing them with what they need and providing more discussions during club rush next fall.
"I wish clubs could see, recognize and be more organized. I know clubs could fall out due to transitions in officers, but I just wanna help them, you know," Alfaro said. "We will catch you if you're falling, it's that easy."
The current ASO President, Isha Pasricha, is excited to see how the new Club Council President will contribute to the ASO with some words of advice.
"The great leadership skills and soft skills that she has already developed by being apart of the senate in the past year has helped her become a great candidate for CCP," Pasricha said. "I would say be patient and resilient. Success comes with hard work and dedication. Consistency is the ingredient to success."
Brandon Le, another member of the senate, looks forward to the next semester with Nicole's leadership in play.
"Nicole has allowed the ASO to really help out flush the student engagement that we need on campus through goat yoga and bring therapy dogs during finals week. To be quite frank, I can't really think of any weaknesses that she might have, which is why I'm excited to have Nicole as our upcoming Club Council President," Le said.
Nicole Alfaro will be taking the title of Club Council President this coming fall.