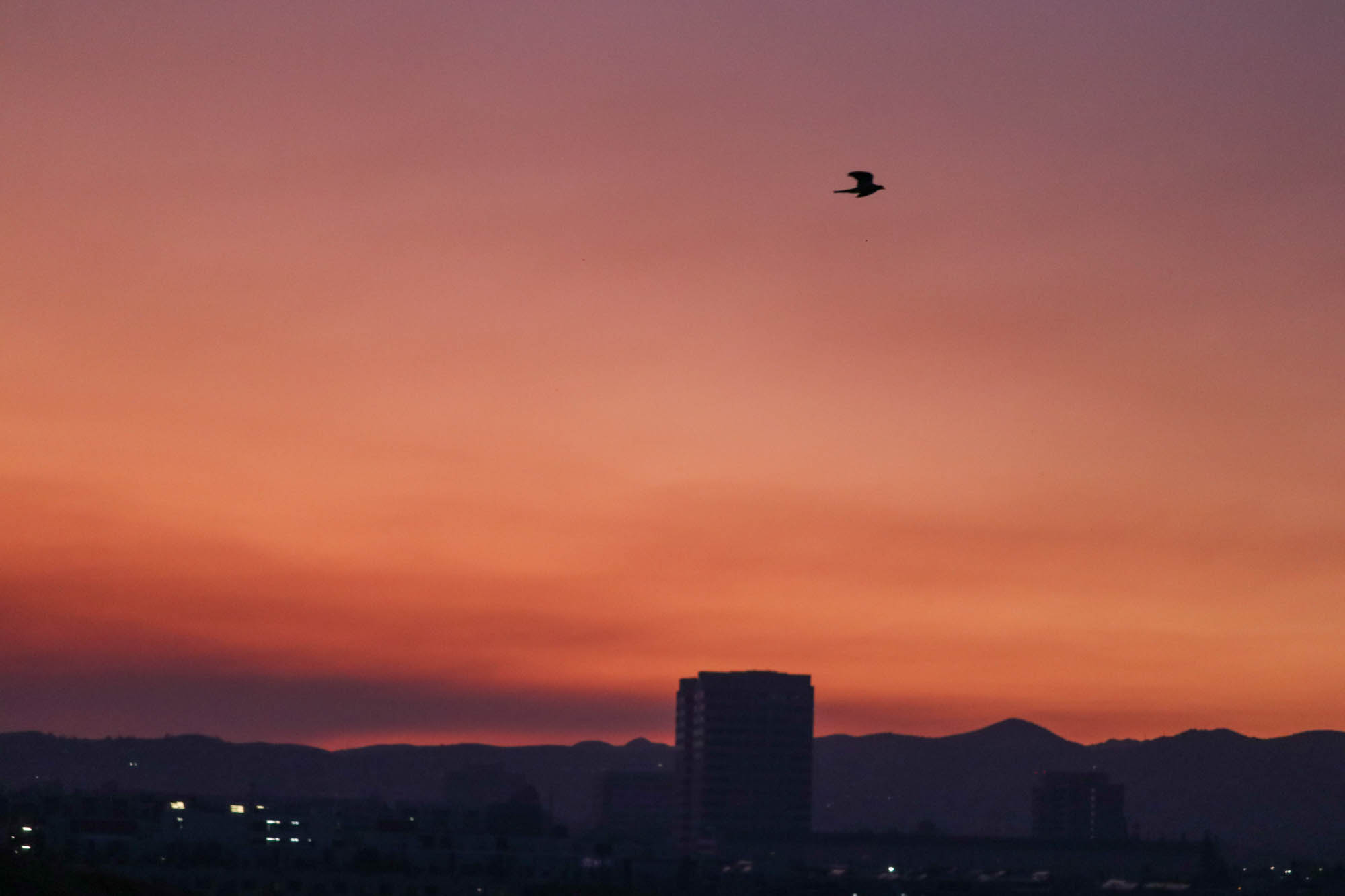 Reported by Jackson Hayano and Bryan Carballo
While the Pierce campus was closed due to poor air quality, the Equestrian Center opened its doors to more than 100 horses and large animals who were evacuated due to the Saddle Ridge Fire. 
The Equestrian Center opened at 6 a.m. on Friday. Ranches, barns and stables in close proximity to the Saddle Ridge Fire had their animals transported to Equestrian Center for safety.
For horse owner Miguel Deniz, this is the second year in a row that he has evacuated his horses to Pierce.
"[Pierce] has always been a central point where you can bring all your animals in case of an emergency," Deniz said. "They can offer the resources to people when they're in need." 
Emergency Response Team (ERT) volunteers assisted in the transportation of the evacuated horses to Pierce. Once the horses were at the Equestrian Center, ERT volunteers set them up in stables and provided them with food and water. 
Los Angeles County Animal Control Employee Justin Vaughn said that there were some problems when the Equestrian Center opened its doors. 
 "We weren't able to really put the numbers on the horses and get them ready," Vaughn said. "So when we got here, there was a little bit of chaos trying to figure out whose who and where people came from. We're still doing some intake."
Vaughn said that evacuated animals arrived from all over the San Fernando Valley, and that the Equestrian Center remains open until it reaches full capacity.
"We're going to do as much as we can until we run out of room or space," Vaughn said. "We're going to try to utilize everything we can."
Tyler Burzynski, a horse owner, said that Hansen Dam, an equestrian center in Lake View Terrace, was the first to open its doors to evacuees. 
"Hansen Dam got filled up really quickly, because there are a lot of horses out there," Burzynski said. "Between Pierce College and Hansen Dam opening up, Pierce was a little late to open. A little late for our liking."
Assistant Trainer Erin Leon explained what will happen to horses after they arrive at the center.
 "[The horses] will hang out because the air quality is so bad, and we'll just keep feeding them so they stay calm and collected," said Leon. "We'll just be here all day checking on them."
ERT Volunteer Erick Cohen said that things were running smoothly at the Equestrian Center.
"I think we're just at 100 [horses]  right now, but we've had a little over 200 before," Cohen said. "[The stables are] slowing filling up, but not as quickly as last year. Last year the fire was much more ferocious and spread a lot faster, and was in a worse area."
Cohen also explained how the center isn't only limited to horses. Other animals such as pigs, goats, turkeys, rabbits, ducks, pigeons and dogs have been housed at the Equestrian Center in the past.
ERT Volunteer Bill Gruytch said that donations are always welcome during these situations.
"We're volunteers, and we can use any goods that people bring in," said Gruytch. "Paper, pencils, food, water." 
Marci Sakapjian, Pierce College Senior Agricultural Technician and Farm manager of the Equestrian Center, said that this isn't the first time Pierce has opened its doors for animals.
"The sad thing is that this is becoming an annual thing for us, unfortunately," Sakapjian said. "So I think that every year we have one big evacuation at our facility."
President Alexis Montevirgen gave a statement about Pierce's involvement with the community.
"When called upon by the county in these types of services, we step up," Montevirgen said. "We are here to be of resource and to assist the community in the ongoing situation."
KPC Radio students Brian Rodriguez, Devin Malone and Paola Castillo took to the campus and asked students and staff about how the Saddle Ridge Fire affected their daily lives.