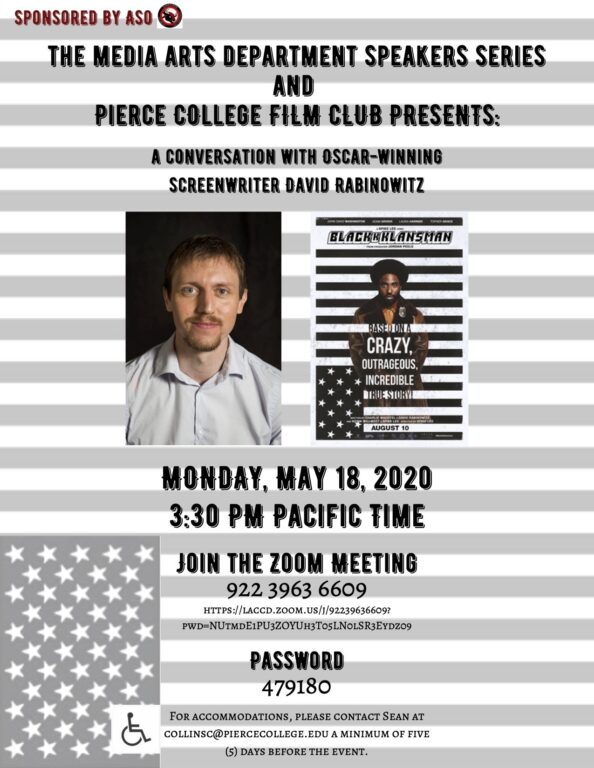 David Rabinowitz held his first golden Oscar on the Academy Awards stage, along with director Spike Lee and other screenwriters, after winning Best Adapted Screenplay for "BlackkKlansman" in 2019.
The film is based on Ron Stallworth's memoir of how he infiltrated the Ku Klux Klan (KKK) in an undercover operation in the 1970s while also being the first African-American detective in Colorado Springs, Colorado.
On May 18, Rabinowitz will be available to discuss the film for free on Zoom through an event organized by the Media Arts Department and the Pierce College Film Club at 3:30 p.m.
Ken Windrum, the club's advisor, said in a phone interview that this event is significant because the film shows the reality of this country's history.
"I think it can help anyone who wants to reckon with America's toxic legacy of racism," Windrum said. "I think it's absolutely essential that everyone who attends watches the movie first."
Faculty and students can watch the movie for free through the Pierce College Library database by selecting Swank Digital Campus.
Journalism instructor Sean Collins-Smith arranged the event. He met Rabinowitz after winning the Barry Josephson Fellowship for screenwriting at the Austin Film Festival in 2019.
After keeping in contact, Collins-Smith asked Rabinowitz to guest speak at Pierce earlier in the spring semester.
Because Pierce transitioned online due to COVID-19 precautions, the event has moved to Zoom.
Collins-Smith said in a phone interview that the film discussion is relevant, whether or not attendees study screenwriting or filmmaking.
"'BlackkKlansman,' unfortunately, will always be topical no matter what year you watch it, no matter what day you watch it," Collins-Smith said. "I think because of that, it makes the perfect film for Pierce College students to watch."
Collins-Smith will moderate the event. He plans on asking Rabinowitz how he approached adapting a screenplay for a racially provocative film.
"We're talking about a film that has a Black guy infiltrating the KKK," Collins-Smith said. "Some people might hear that and say, 'No, I'm not watching that.' So how do you write the narrative that might be more welcoming to people that are turned off by social and political topics?"
Lancelin Walton, a member of the Film Club, said in a phone interview that the film reflects the rampant racism he witnesses.
"I myself am a Black person," Walton said. "When stuff like this comes out, it does speak to me personally, especially since it's a Spike Lee film."
He recently saw a video circulating on social media and news outlets of Ahmaud Arbery, a 25-year-old who was fatally shot while jogging in Georgia on Feb. 23, 2020.
According to the New York Times, the video of his death surfaced on May 5. Two days later, father and son Gregory and Travis McMichael were arrested and charged with murder and aggravated assault.
"Two people came out and just killed him right there in the street," Walton said. "A film like 'BlackkKlansman' time period is the 1970s, but stuff like this still happens. It still exists in our nation even today."
Film Club President Jordan Hunter also heard news of Arbery's death. She said in a phone interview that she hopes to speak about the racism in "BlackkKlansman" and in real life during the event with Rabinowitz.
"It's hard to make films like this," Hunter said. "I think it's really amazing how he showed this part of history and showed the struggles of people and how they overcame them."
Hunter is studying communications and film. She said this event is a rare opportunity because she will hear Rabinowitz explain his creative process.
"How often do you get a chance to speak to an Oscar-winning screenwriter, for free, and ask him about tips?" Hunter said.
She also hopes Pierce students attend the event to discuss how they can work together to end racism.
"We're college students, and we're looked at as people who are supposed to change the world," Hunter said. "I feel like being educated and understanding the roots of how horrible racism is can help."
The Zoom meeting can be joined through the ID: 922 3963 6609.
The password is 479180.