For 30 years, Rodney Allen served Pierce College in achieving the school's mission statement of enhancing a student-centered learning environment.
Pierce is now returning the favor.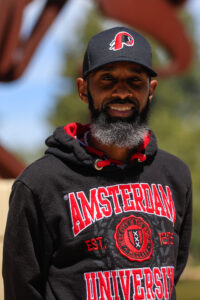 "I've been a part of that for 30 years, trying to make sure that the district accomplishes their goals," Allen said. "Now it's time for me to go after my goals and deal with my mission statement."
Before serving as operations manager at Pierce, Allen worked at LAX loading planes. A co-worker told him about a job opening as a custodian at Valley College. 
"It's very important to work at a college because you're actually helping people and everybody that works at a college," Allen said. "They may not realize it, some people, but everybody's helping the students hopefully reach their goals, and that was exciting to me."
His custodian job at Valley lasted for a couple of years and then he became the school's pool technician. 
Next, Allen was hired as custodian supervisor at Pierce, and in 2004 he was promoted to stock control supervisor before finally reaching his current position. 
Jill Connelly, a media arts professor at Pierce, has known Allen since she was hired in 2006.
Connelly said she knows Allen as someone she could always count on.
Last month, the Associated Student Organization (ASO) and the Black faculty at Pierce honored Allen with the ASO Staff Excellence Award. 
Pierce Facilities Director Paul Nieman, who is Allen' supervisor, presented the award during a Zoom ASO Senate Meeting.
"I have known Rodney Allen ever since I started at Los Angeles Pierce College in December of 2003," Nieman said. "Rodney has made a positive impact on this college, its students, staff and faculty. He will be missed and I wish him a happy and healthy retirement."
After receiving the award, Allen was told that a scholarship in his name would be given annually to students. 
"I feel so blessed. My name is going to be associated with giving students opportunities to better themselves," Allen said. 
Pierce offered Allen an early retirement at 54 and he already has made plans with his wife.
"For my retirement I'm going to be living part-time in South America. I'll be living there at least four or five months out of the year," Allen said.
Allen met his wife while stationed in Amsterdam after being stationed in Germany with the United States Air Force. They've been married for 28 years.
Despite his retirement, Allen wants to continue to influence others in a positive way as he has done for the last 30 years.
"I think I can always do better. I think most people can," Allen said.
Allen also advises everyone to pay attention to the blessings in life. 
"If people would look at other people and look at them as just people, and communicate about the differences they have, we can understand each other more," Allen said. "I think not only Pierce would be a better place, LACCD would be a better place, California, America, the world."