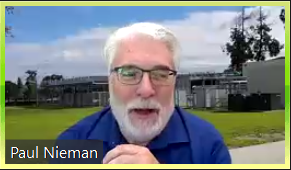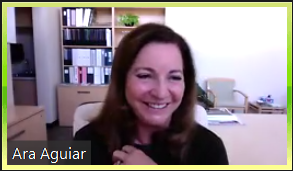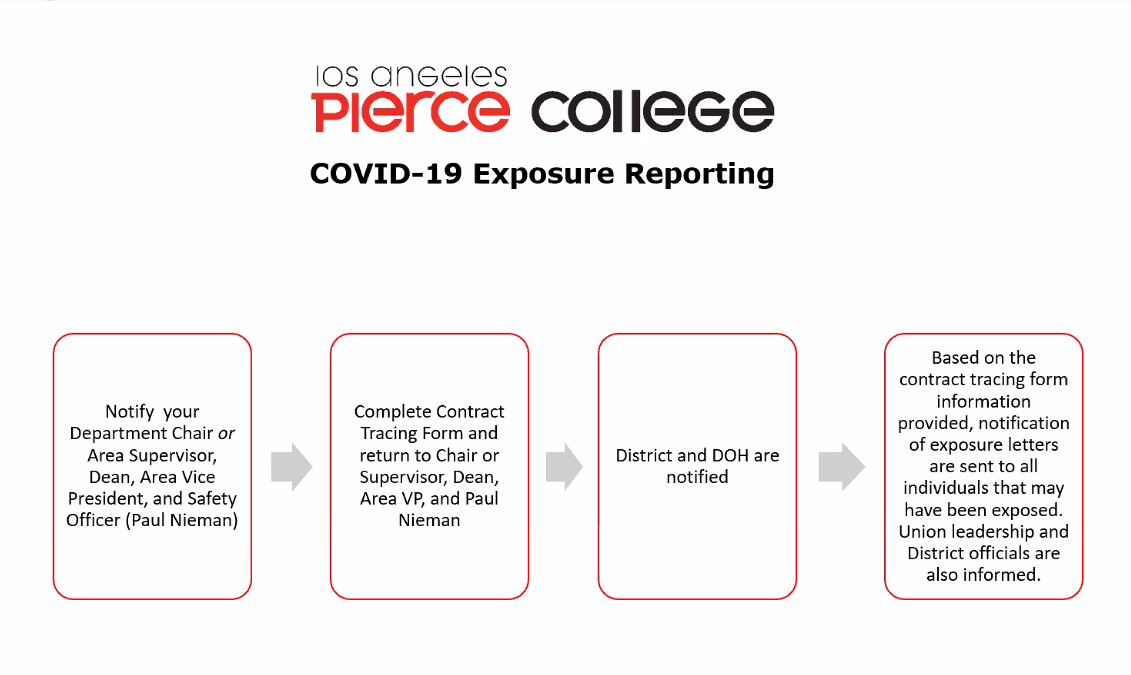 Thumbnail 1
Director of Facilities and Safety Officer Paul Nieman laughs after telling a joke during a town hall meeting on Zoom on Sept. 28, 2021. Screenshot by Anastasiya Orel.
Thumbnail 2
Interim President Ara Aguiar smiles during a town hall meeting on Zoom on Sept. 28, 2021. Screenshot by Anastasiya Orel.
Thumbnail 3
A COVID-19 exposure reporting flowchart is shown during a town hall meeting on Zoom on Sept. 29, 2021. Screenshot by Anastasiya Orel.



Pierce College's Interim President Ara Aguiar welcomed faculty and staff to its first Town Hall meeting of the semester on Wednesday afternoon. 
The meeting was held to address the return of classes, events and life on campus regarding COVID safety measures and protocols.
Director of Facilities and Safety Officer Paul Nieman began the meeting with an illustration of a COVID Exposure Reporting flowchart that displayed the steps that need to be taken when a student has been exposed to the coronavirus.

Nieman said that once a professor has been notified by the student of their exposure, the professor should first report to their department chair, the area dean, followed by the interim vice president of Academic Affairs and Nieman. 
"We're under a very, very tight timeframe to make notifications to the district," Nieman said. "There's a 24-hour period that these reports have to go to the district. The district has to gather all the information, they have to notify the L.A. Department of Public Health, and in some cases even Cal OSHA." 
Nieman said that as soon as students contact their professors about the exposure, the students should be receiving a contact tracing form. Based on the information provided on the student's form, exposure letters are sent to each of the individuals listed of a potential exposure. The letters are also sent to union leadership and district officials.

After the demonstration of the flowchart, faculty members presented questions and concerns they had for the return of campus life. 
Health Center Assistant Loralyn Frederick asked if students have or will have opportunities to get vaccinations on the Pierce College campus, to which Nieman said he is trying to get a provider to do that. 
Nieman said that the district had sent out emails to students with a link for them to click on and find the closest locations to go and get their vaccinations. 
Aguiar said one of her most asked questions was about the COVID testing and vaccination requirements for staff to use as a condition for employment.

"I must say the testing has been very quick," Aguiar said. "I went to Valley [College] and it took me less than two minutes. There's a lot of open spaces and it's been rather easy."
Nieman said he has been taking his COVID tests on the Pierce campus.

"I had my test here. They use the swab and they don't try to reach your brain," Nieman said. "They are set up in the North Gym and room 5600."

Interim Vice President of Academic Affairs Donna Mae Villanueva said she also felt that testing has been easy and safe for her.

"I went in and not only was it quick and fast, I felt that it was also very safe," Villanueva said. "I know that was one of the concerns that faculty and staff had asked, about a crowd of people. That's not the case because it is done by appointment. I was the only one there, along with the testers."
Nieman said that protocols are being enforced through the daily passes.
"We do get the daily pass, to which students also get their daily pass and instructors that are teaching in-person can ask the students to show it on the way into the classroom," Nieman said. "There was talk about having computers with readers that when you have that pass, you can scan it and come onto campus. The new platform does show if people have reported something that would keep them from coming on campus and that can be checked periodically."
Aguiar said she believes the students have been a great example of how protocols have been taking place and practiced.

"I would say that our students have been extremely compliant," Aguiar said. "I look out here and I see students all day long and every single one of them is wearing a mask, even outside. Even when they're talking to each other, they keep distance between themselves. They're just as concerned as we are and they are doing an outstanding job staying safe."
Acting Vice President of Student Services Juan Carlos Astorga said he believes it is important to establish and maintain communication with students in regards to daily passes.

"One of the things that we need to all work and collaborate with each other is if you are teaching classes or working with students that are on campus, remind them that 'you should have received some emails that invite you to become part of this login," Astorga said. "They can have some discipline issues after the fact, if they don't do it by October 18th, so we're going to need to start to really think about what other ways we can connect to the students beyond the emails."