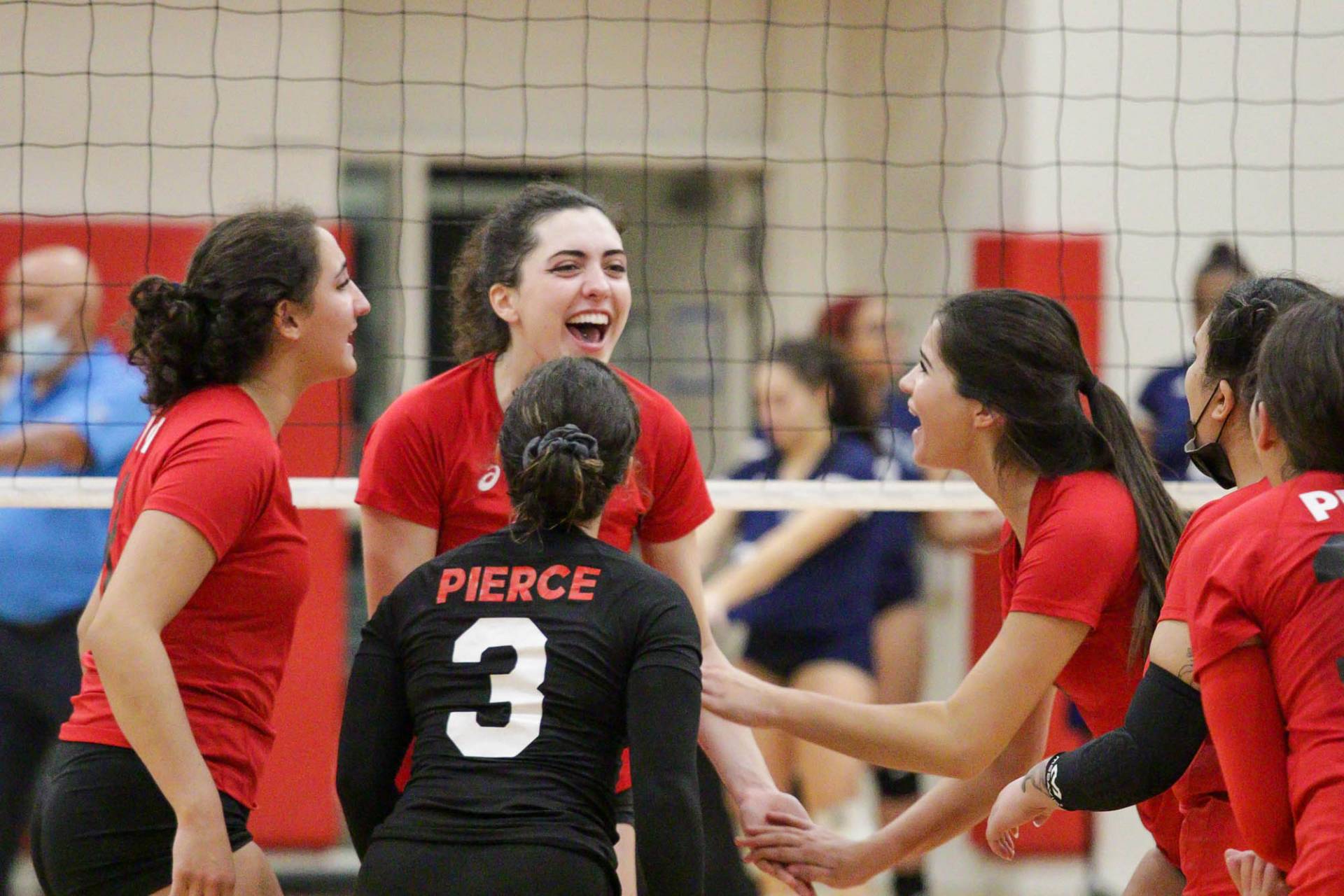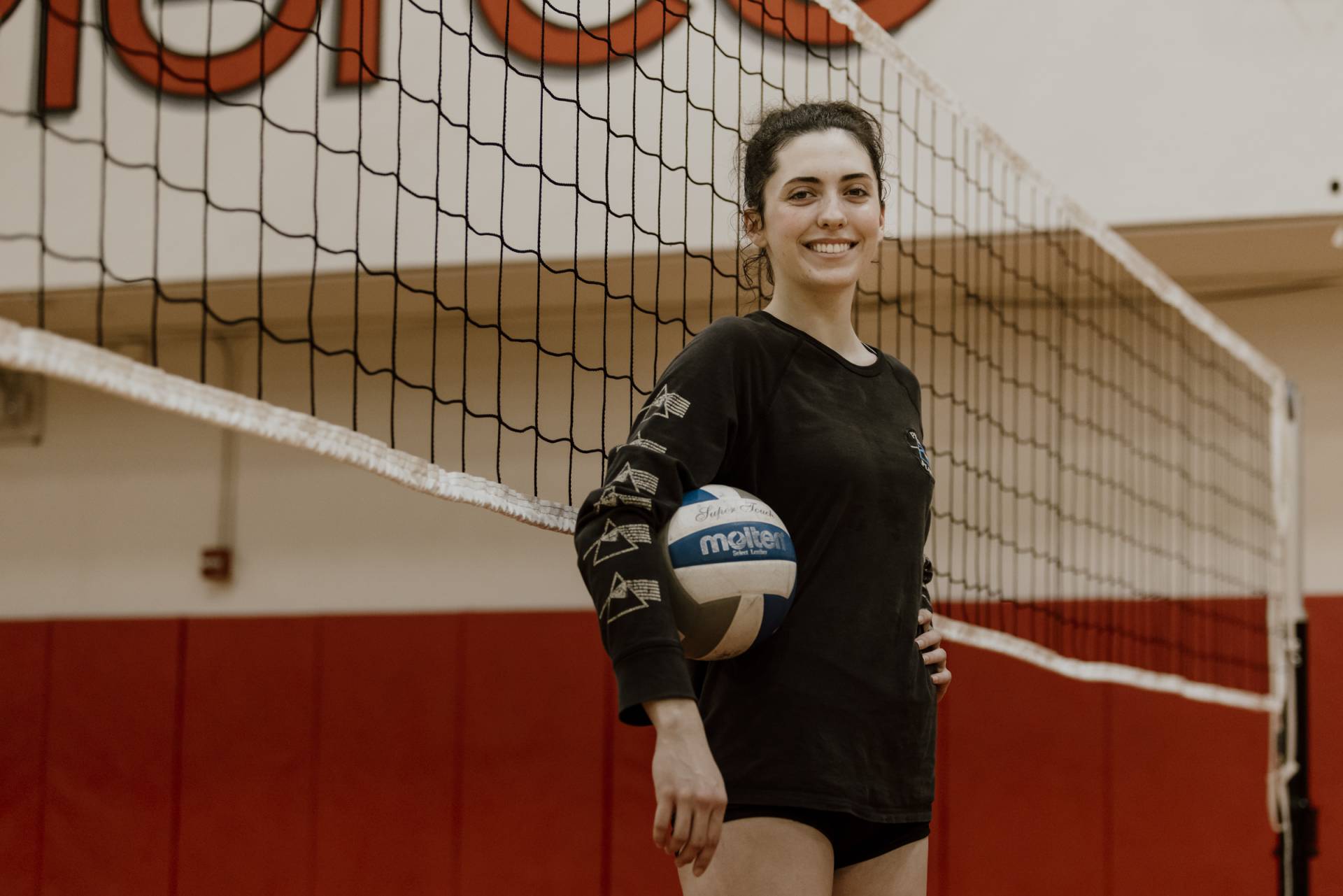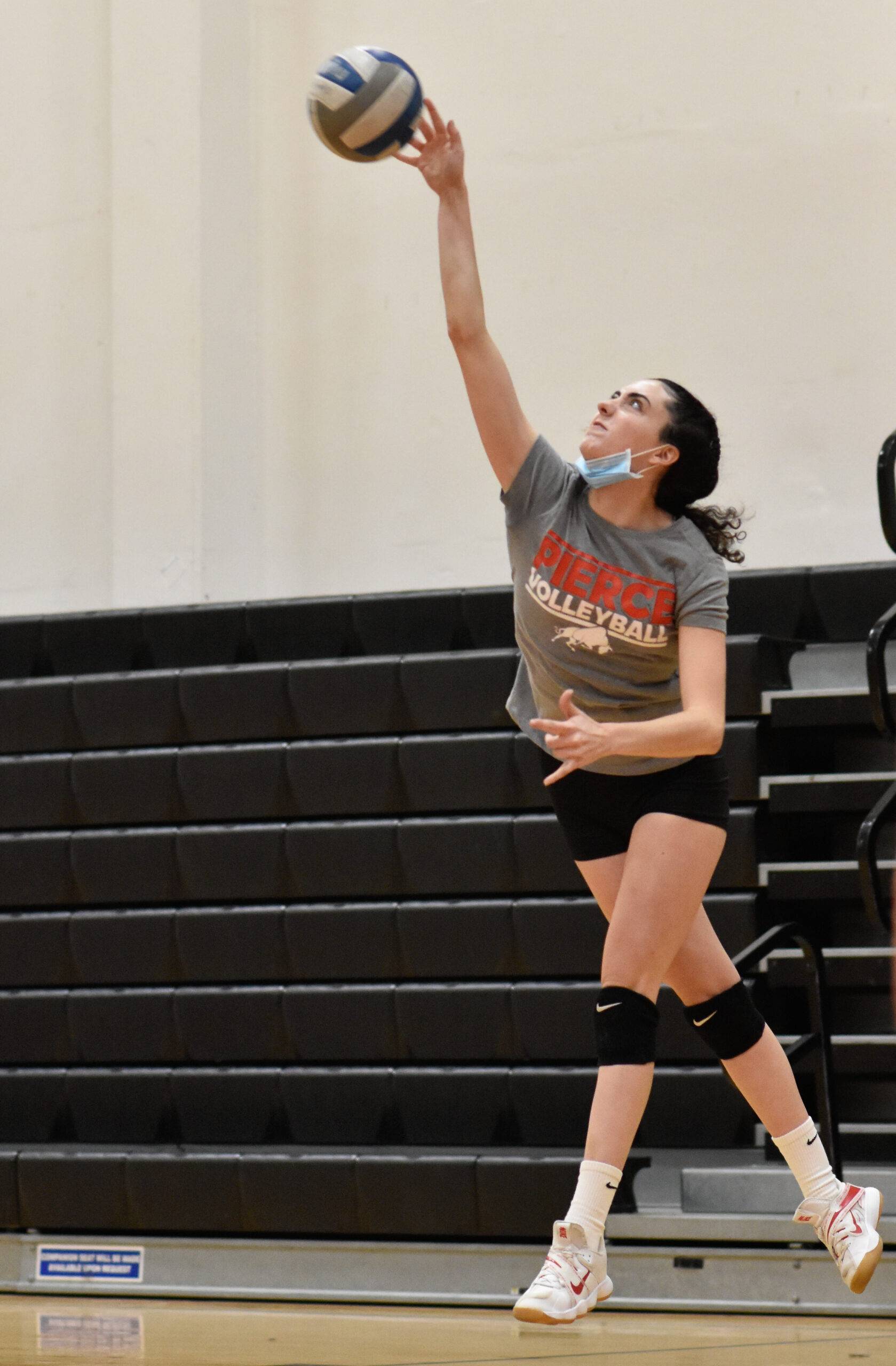 Thumbnail 2
(Left to right) Lana Blourtchi, Julia Nederlk and Emma Hammer celebrate a point during a game against Mission College at Ken Stanley Court at Pierce College in Woodland Hills, Calif., on Oct. 22, 2021. The Brahmas won 3-2. Photo by Cecilia Parada.
Thumbnail 1
Volleyball Captain, Julia Nederlk poses in the South Gym at Pierce College in the Woodland Hills, Calif., on Oct 25, 2021. Photo by David Pashaee.
Thumbnail 3
Julia Nederlk serves ball during volleyball practice in the South Gym at Pierce College in the Woodland Hills, Calif., on Oct. 20, 2021. Photo by Dominique Duñgo.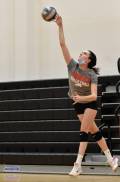 Sometimes, trying new things can be intimidating. But for Pierce volleyball captain Julia Nederlk, it's rewarding.
Nederlk said that her current position on the team comes with a lot of responsibility, but she enjoys pushing the team toward a common goal.
"I've never been a team captain before and it's definitely different where you have to be the energy source for the team, and you can't look to somebody else to see how you should feel," Nederlk said. 
When it comes to Nederlk's leadership, volleyball player and transfer student Saisha Kahae said the captain has done her part in making sure everyone is involved. 
"As a leader on the team she keeps everyone accountable, and as one of our leading hitters she's a big contributor," Kahae said. "She's cool and she's honestly a team player."  
Nederlk has played volleyball since she was in middle school where she joined a club and found out that volleyball is the sport meant for her.  
"I started playing volleyball in sixth grade through one of my friends who was joining and then I fell in love with the sport," Nederlk said. "It was very chaotic. There was not a lot of organization, but we definitely had fun."    
Before volleyball, Nederlk said that she played other sports including soccer, karate and softball, but nothing compared to volleyball. 
"I've always seen a value in being a part of a sport and volleyball was just the most comfortable environment for that," Nederlk said. "When I started noticing how much I was excelling, I was like this is definitely what I want to stick with and what I feel the most passionate about." 
Head Coach Edison Zhou said that Nederlk always takes up leadership whenever she can.
"She works the hardest out of the team," Zhou said. "She always leads the teammates during games, practices and even in the weight room."  
Zhou also said that Nederlk is flexible and can take on nearly any role. 
"Julia is an all-around player and she can play at different positions, which is really great for coaches like me, coming up with a game plan," Zhou said.
Nederlk said that these changes have been positive, if not beneficial, towards her goals of expanding her skillset. 
"Most of the time, I was a middle blocker and I definitely enjoyed it," Nederlk said. "But I wanted to diversify my skills and abilities, so this season I've been given the opportunity to play outside the majority of the time."  
Nederlk explained that she doesn't have a plan for what she really wants to do for her career, but wants to change her major from Communications to Sociology. But if there's one thing, Nederlk said she wants to continue playing volleyball in the future.   
"As for the future, of course I still want to play volleyball and the ultimate dream is getting a potential scholarship to a four year university." 
According to Zhou, Nederlk can go far if she keeps up the hard work.
"If she keeps practicing at Pierce she can go to Division II or have an AIA with a scholarship," Zhou said. 
In terms of what are the plans for this season, Nederlk said that she'll focus on leading her team to victory.  
"For the remaining season, I'm going to continue focusing on creating a really good team culture," Nederlk said. "There's a lot of good friendships and the team continues to encourage people to improve and focus on what they need to change or maintain."