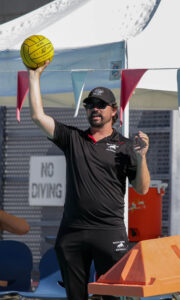 Pitariu also coached for local schools including Louisville High School, Birmingham High School and El Camino Real High School.
After leaving Pierce as a student athlete, Pitariu played water polo at CSUN. He was a player and coach at the same time. His experiences playing for Pierce and CSUN helped him recognize his love for water polo and what it entails.
"As soon as I started playing, I fell in love with the sport as it really mixes a level of physicality and wits like no other sport I had seen before," Pitariu wrote in an email. "I truly love the skill set and knowledge required to play the sport. There are few games out there as complex and as physically rigorous as water polo."
Eventually, Pitariu landed a job as the Pierce assistant swimming coach in 2012.
"I had a great time here at Pierce as an athlete and when my coaches at the time Fred Shaw and Judi Terhar came up to me and asked if I would want to help come on board as an assistant coach, I jumped at the opportunity," Pitariu wrote.
Pierce head water polo coach Judi Terhar worked with Pitariu for 12 years. Terhar said Pitariu maintained a good attitude, especially when the water polo team lost games at times. In a recent game where Pierce scored zero points against Santa Barbara, Mircea remained positive and had a good attitude.
"We got so many compliments from parents from Santa Barbara at the game Saturday. They were commenting on the way that Mircea was talking to the team. He respected, honored, encouraged, and was very patient in a game where we scored 0 points," Terhar wrote in an email.
Pitariu said that coaching at Pierce is a rewarding experience. He enjoys watching athletes grow up and flourish in their lives.
"Pierce College did athletics the right way as I was an athlete here and continues to inspire young adults to continue and pursue their athletic development and scholarly endeavors."
According to Pitariu, many coaches or assistant coaches at local high schools like Viewpoint, Harvard Westlake, Notre Dame and Crespi were former Pierce athletes. He believes he and others owe their love of the sport and their inspiration to start coaching to Pierce coaches and former coaches like Judi Terhar, Fred Shaw and Moriah Van Norman.
Pierce Athletic Director Susan Armenta said Pitariu works well with the other coaches and Pierce's student athletes.
"He's kind of our, one of our backbones of the program, as much as Judi has been a backbone, he's been like her right arm. So, we really appreciate all that he has done for us," Armenta said. "He has a really good presence and I think the athletes respond to him well."
Currently, Pitariu is the Harvard Westlake head middle school swim coach and assistant coach for the high school swim team. He also coaches club swimming at the Los Angeles Swim Club and water polo at the Los Angeles Premier water polo club.
He hopes to continue his career as a swim and water polo coach possibly at the high school or four year college level.
"Pierce College Aquatics has always been a process oriented program that did not focus on results but rather excellence done the right way," Pitariu wrote. "I hope future Pierce College coaches keep this in mind and continue to inspire athletes to continue the sports they love."