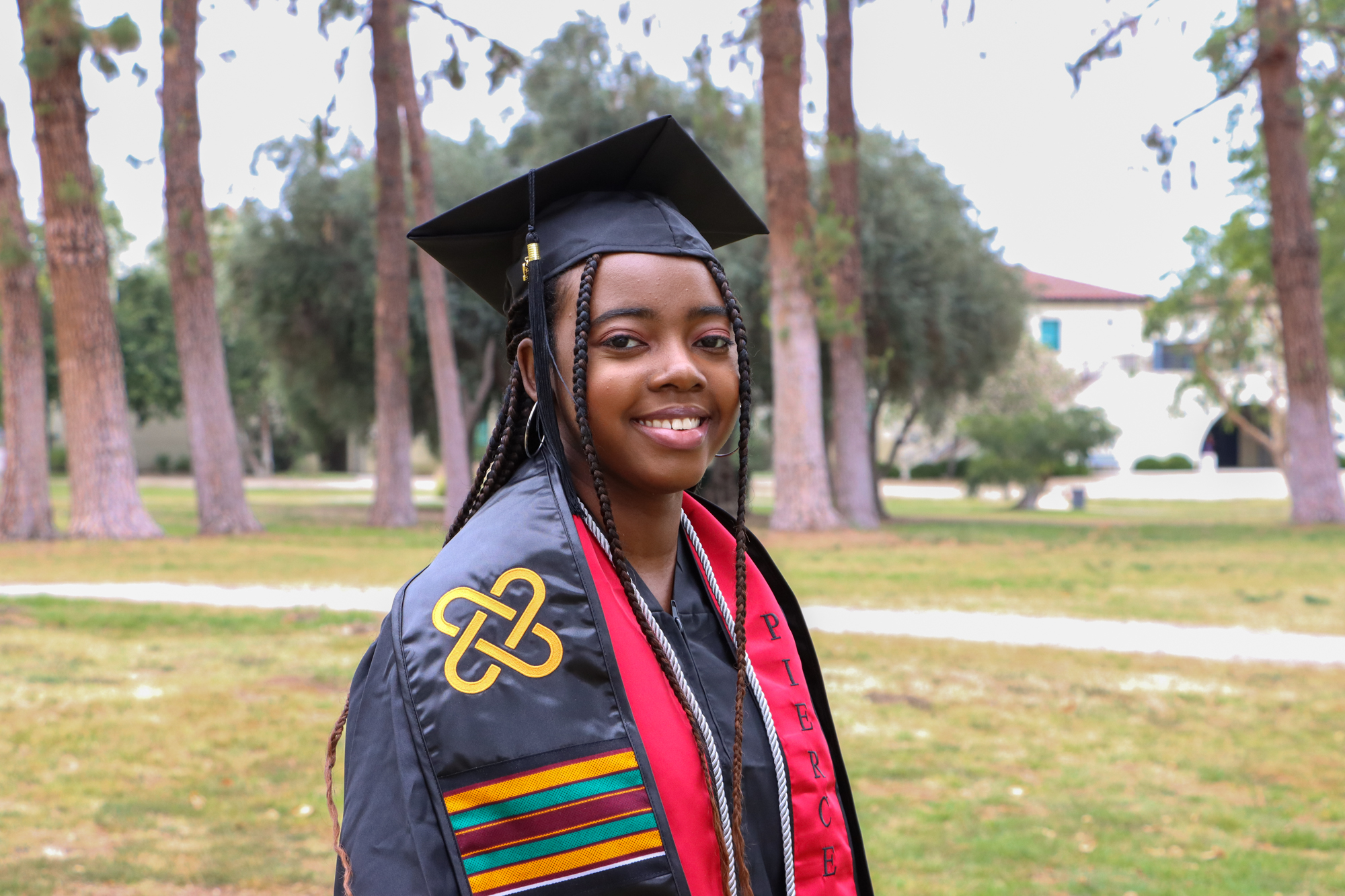 Graduate speaker Yanise Daaku will use her moment during the Pierce College commencement June 7 to reflect  with her peers on their hard work together, while vocalizing hope for the eager graduates anticipating their next step toward a promising future.
The ceremony begins at 6 p.m. in Rocky Young Park. 
The Umoja student and business major, who switched from studying biology, expressed how graduating from college is a huge deal for her.
"My experience [at Pierce] was great, and I had a great support system," Daaku said. "I changed my major once, and I was able to graduate and transfer in two years."

Daaku went to Granada Hills Charter High School, where she studied the International Baccalaureate Diploma Programme, which is a two-year educational path designed for high school students in 140 countries around the world.
Daaku graduated from Granada and got into University of California, Riverside (UC Riverside) and University of Southern California (USC). 
But, Daaku said that she decided to attend Pierce because classes were moved online and the expense of the UCs.
Daaku said that the biggest lessons she learned while attending Pierce were time-management and social skills. She plans on being an entrepreneur and a business owner.
"I like the medical field, so I want to open my own clinic," Daaku said. "I also want to open up my animation studio." 
Daaku serves as a Peer to Peer mentor for first-year students in the Umoja program, where she guides them on adjusting to college and how to find resources.
Umoja coordinator and counselor Kalynda McLean said Daaku is the right person to speak during the ceremony because she embodies Pierce's values. 
"Her dedication to excellence, sense of community, commitment to perseverance, and collaborative nature exemplify the Pierce College spirit," McLean said. 
McLean praised Daaku for her active participation in the Umoja program.
"Yanise is quiet, focused and very personable," McLean said.  "She is a hard-working student that recognizes the value in communicating and getting to know her professors and counselors. She is determined to do well and will dedicate the necessary time to whatever endeavor she is engaged in to ensure that she is successful."
Student Engagement Coordinator and counselor Lara Conrady said that she is a peer mentor who has made the most of her school experience.
"She is able to connect with students, and we have confidence that her story will resonate with the other Pierce College graduates during the ceremony," Conrady said.