The Pierce College Council (PCC) met on Wednesday to discuss how they can prioritize public safety and student success while attending the school.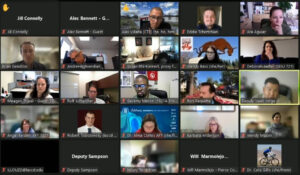 During the last meeting in February, the PCC raised serious concerns about crime and safety on campus. There were reports in the first month of the spring semester that an incident of sexual battery was committed on campus.
Deputy Isaac Jorge was the representative for the Sheriff's Department during the PCC meeting. According to Jorge, crime on campus has actually decreased at Pierce College, compared to previous statistics.
"We were one of two campuses for the month of February that crime had actually gone down," Jorge said. "Which is surprising now that we have more people on campus." 
Another issue brought up during the meeting regarding safety was an increase in unhoused people walking on campus. Jorge said that there's been frequent calls to the Sheriff's department regarding this dilemma. 
"It's a tricky situation because a lot of these unhoused people are students," Jorge said. "We go there or we get a call, they provide IDs and prove that they're taking a class."
Deputy Sampson was also in attendance at Wednesday's meeting. He attended the meeting in a moving vehicle, because according to Sampson, Valley College had reports of a potential bomb threat on campus. Sampson was commuting to the campus in order to provide a training program for faculty and deputies to be prepared for situations like this.
"As part of training and support, it's my duty to go out there and support them," Sampson said. "We set up an entire command post, and now have four canine units on Valley College searching for bombs."
Sampson discussed the importance of a new mass communication tool called Everbridge. 
According to Sampson, this tool will allow deputies and faculty to frequently be updated on potential safety threats on surrounding campuses across Los Angeles County.
"With this new mass communication tool, we've been training all the administrations for different kinds of emergency management training," Sampson said. 
The importance of having better access to Wifi across the entire campus was also discussed by the PCC panel. 
Faculty shared their frustration with the school's inability to provide good WiFi signals in certain classrooms. This problem is important to solve because not having a good WiFi connection prevents students from working efficiently on their assignments.
Pierce College President Ara Aguiar demonstrated her frustrations with Pierce College's insufficient WiFi connections when she explained that certain buildings can't access the same strength of connection compared to others.
"We need it. We don't need someone else to tell us that we need WiFi at the Child Development Center," said Aguiar. "We know that that's been a challenge for a long time."
While there's still room for improvement regarding safety and better technology access, the PCC continues making efforts in order to address these issues directly. 
After the pandemic, Pierce enrollment statistics have been at a near all-time low. 
It's crucial that Pierce College continues to see a decline in criminal activity. Incoming students need to feel motivated to choose their educational path at Pierce College. 
Safety on campus is an essential for students to be motivated and successful on campus. Hopefully with these safety improvements, students will feel more welcomed in the campus space.The PCC will hold their next Zoom meeting at 2 p.m. on Thursday, April 27.