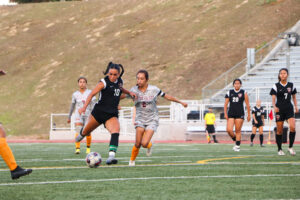 The Lady Brahmas earned their second win of the season at Shepard stadium against Victor Valley College, advancing their overall record 2-2. 
LA Pierce took control offensively from the jump, having 14 shot attempts on goal within the first half.
Midfielder May Htet Lu played an exceptional game and contributed six shots for the team. She admits that the first half felt more cohesive as a team.
"I think the first half was better than the second half. In the first half we had higher intensity, and all of us were talking to each other more compared to the second half," Htet Lu said. "We missed a lot of opportunities, but they were very good ones and that means we were playing well."
Head Coach Adolfo Perez said this game was special in particular because they found a way to connect.
"It was really good having this game under our belt, every girl played and felt good about themselves. We changed the system a little bit. That was the key, we had the ability to score goals which is good," Perez said. 
The intensity and perseverance of the Lady Brahmas was showcased all throughout the game, Pierce found a way to create a tight-knit offense and defense, only allowing one shot on goal from Victory Valley. 
Right wing forward Alia Peñaherrera was a powerhouse for her team, scoring the third goal of the night and assisting midfielder Victoria Castro in the first half.
Peñaherrera said she is excited about this season and watching her team continue to evolve.
"Our biggest strength as a team is the way we cover for each other, we will always have each other's back,"Peñaherrera said. "Our talks after the games allowed us to fix little mistakes that we had made, it helped us today in our game and gave us the confidence boost we needed."
Both teams were hungry for a win. The game became increasingly heated in the second half as Victor Valley tallied five fouls and Pierce with three. With the time stamp at 86:53, Victory Valley midfielder Aracelli Sanchez draws a yellow card against her. 
Despite the roughness of the game, Pierce continued to dominate the field and work together as one unit.
The Lady Brahams look to gain another win September 12 at Santa Monica college. Kickoff is set for 4p.m. PST.