After coming close, the men's soccer team fell short in their home game against Chaffey College.
Despite Pedro Perez Jr. scoring two goals, it was not enough, as the Panthers won 3-2.
Men's soccer captain Santana Saki was dominant on defense.
"I'm the captain, I need to be physical and show them where I stand," Saki said.
As Captain, Saki contributes a lot of leadership and physicality to the team that can help them do better on the field. Perez explained his history about his captain and how he improved with his defense.
"I'm proud of him, we played in high school," Perez said. "We went to El Camino, he wasn't as good as he is now and I feel like defense suits him better."
With Saki and Perez going to the same high school together, the chemistry is already there, and will build up over time with situations for future comebacks.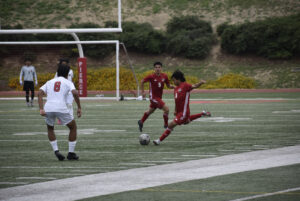 Coach Julio Castillo praised Saki for his emotional intelligence.
"It's mental toughness," Castillo said. "The previous games he was playing hard but looking to find his presence. He showed a lot of presence in this game. He showed leadership."
Castillo said that they review past games to improve.
"We do film every Wednesday and we always dissect players individually, and I challenged Santana the last couple of games," Castillo said.
The team may have lost, but they played with a lot of intensity. Their practices are mainly a lot of leg exercises, but Castillo explained that he does his best to keep the team from wearing down.
"We have to do a little bit of everything, but not to the extreme where we are going to kill their legs," Castillo said.
Castillo expressed that Perez's consistent motivation makes a difference.
"He's got a nose for the goal, and a nose for the ball," Castillo said. "The ball finds him and he always finds the net. He's gonna miss some, he's gonna make some, but it's all about him being aggressive."
With the loss against Chaffey the Brahmas fall to 2-5.
The following game on Oct. 3 is at Victor Valley College scheduled at 2 p.m., and the next home games are on Tuesday, Oct. 10, at 2 p.m., and Friday, Oct. 13, at 6 p.m.