The Victory Bell will continue to reside at Valley College, as the Valley Monarchs scored a win against the Pierce Brahmas at Monarch Stadium, 46-28.
The Brahmas are currently 3-5 and the Monarchs are 4-4.
Football Head Coach James Sims observed that the team started off fast but slowed down.
"We didn't keep the pace, and that's what happens to you if you don't keep up with the pace—they get ahead of you and they beat you," Sims said. "We gave it a good effort, but we should have done better."
Quarterback Maqael Henderson said the team started off good on offense and a little slow on defense, but defense later picked up.
"Really just getting offense and wide receivers more involved in the game, and trying to keep the line to take care of us as a team," Henderson said. "I'm looking forward to coming back and working hard to bring that bell back next year."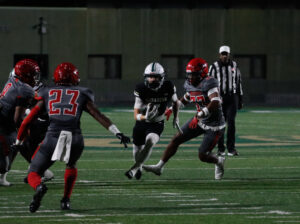 Offensive line coach Hillary Thomas said the team kept it close until a face-mask penalty late in the third quarter swung their momentum.
"I thought it was a good game up until the point where it was 21-24, we were down and then we had a huge penalty late hit that set up a three-play touchdown for the other team," Thomas said.
Wide receiver Jason Labra, in his sophomore year, had looked to win the game.
"We know we have to go back to work next week," Labra said. "Focus on our mistakes and we should win out these last two games."
Labra has confidence the Brahmas can finish with a good season.
"We have a good group of guys, we just have to believe more, but we definitely got these last two games—finish strong, hopefully," Labra added.
Sims noted the team has already achieved much with their three wins this season, as prior to this year, the football team had not won a game in three years.
"Next, we play Southwest and Santa Monica," Sims said. "We still have a chance to finish with an even five and five record. We've already had an accomplished season, we just want to do a little bit more."
The Brahma's next game is at Southwest at 1 p.m. on Saturday, Nov. 4.