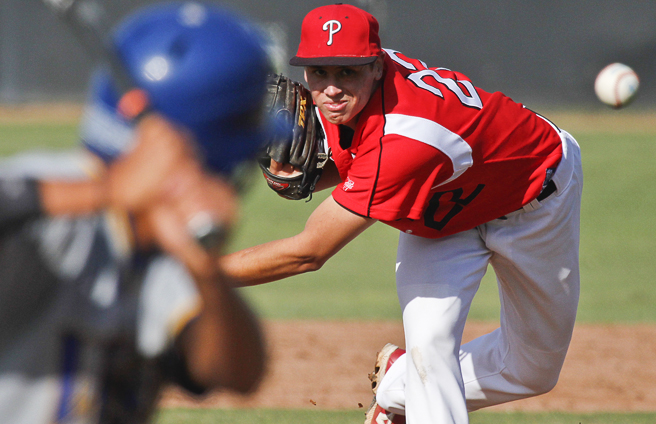 The pressure was on for Brahmas' catcher Greg Koll to come out victorious in the bottom of the ninth.
He faced a two-out runner on third situation, the kind of moment athletes dream for when growing up.
Brahmas baseball broke out of a five-game losing streak against West L.A. on Tuesday with a close score of 8-7 to build their confidence.
"No matter what happens in the game we are always going to battle back and prove everybody wrong," said sophomore Nicholas Bobbs.
Pierce Baseball tied the game in the bottom of the ninth after a sacrifice hit from pitcher Juevenal Terrazas that brought first baseman Nick Schmidt home.
Pitcher Kevin Torres, who had just singled, stole the second and third bases allowing Koll to have a higher chance of getting a step closer to the win.
Two strikes later, Koll pulled off a walk off single that secured the win.
Chances to take the lead during crucial innings were taken from Pierce due to bad calls from the first base umpire, but this didn't seem to be a challenge for the Brahmas after all.
"Whatever that's baseball, I'm still going to argue because I felt they were bad calls, like a lot of people did, said Pierce College baseball team head coach John Bushart.
It was team effort from the Brahmas' infield that stopped West L.A. from furthering their score on bases loaded situation after a two-run homerun from freshman Indelacio Rodriguez on the top of the fifth.
Schmidt responded with a solo homerun of his own to tie the game 5-5.
"I didn't even know it was out, I was just sprinting around all the bases until the umpire told me," said Schmidt.
Positive comments about the Brahmas performance came from the home stand pointing out the importance of the win and the potential of the team to stay on that path.
Long time Pierce fan Ryan Torres, was excited about the results jumping from his seat rooting, as the team ran towards the mound.
"They've been sucking, but it is a day by day process, I think they are going to get on a roll now and do well," he said.
According to Bushart, the 6 a.m. practices have been terminated, his understanding for the players being student athletes is a priority and of higher importance.
"That wasn't a punishment by any means, we were just trying to come together as a team," he said. "They understand what we as coaches are trying to do."
The Brahmas will have a day before getting back on their field against Mission College Thursday at 2 p.m.