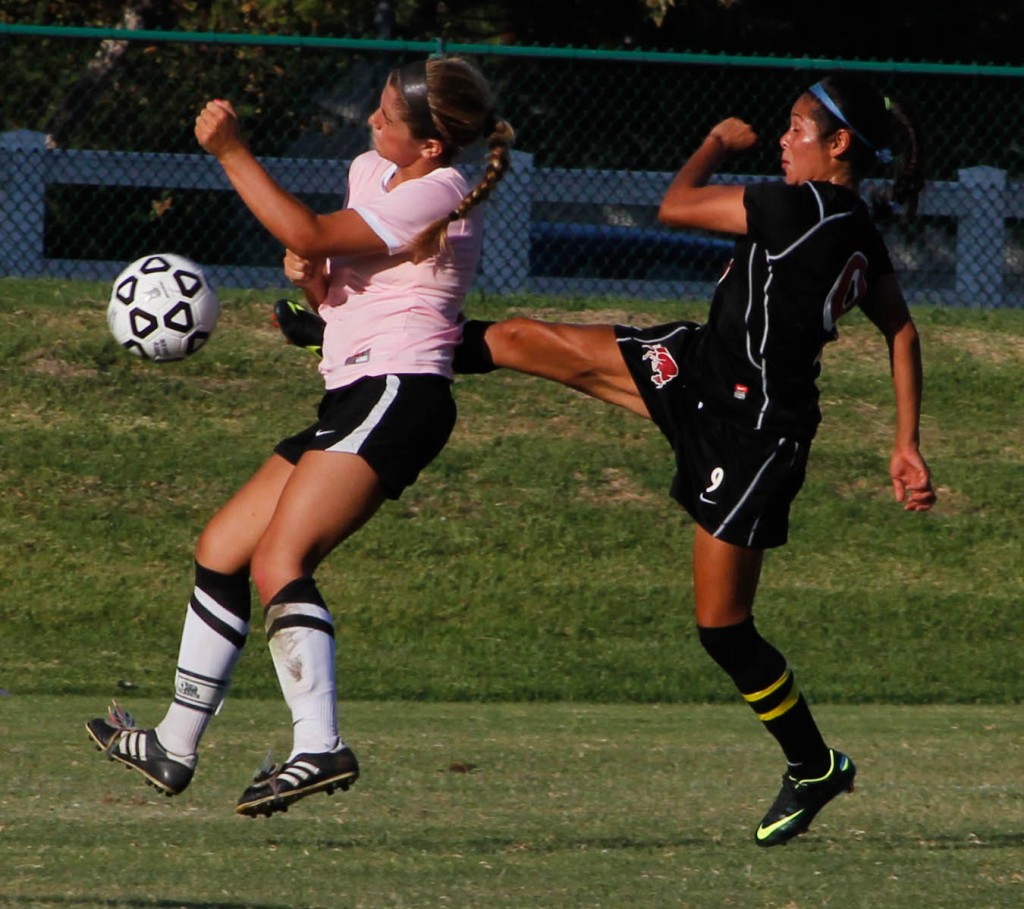 Pierce College's women's soccer team shut out Ventura College 3-0 in the Brahmas' third game of the season on Tuesday in The Pit at Pierce College.
Midfielder Shawnie Moore scored the first goal 10 minutes into the Sept. 11, 2012 game after she caught up to a pass sent over the top, chipping the ball over the oncoming goalkeeper and into the net.
The goal was Moore's first in her college career.
"I was definitely nervous coming in playing against this team," Moore said. "Our coaches were letting us know that this was going to be a hard game, but once we started playing, everyone started connecting."
The Ventura College Pirates struggled throughout the first half, with a few girls weakening under the blistering heat.
Pierce head coach Adolfo Perez said he knew coming in to the game that the opposing team was not used to playing in the heat.
"I was actually praying this morning for it to be hotter; they're not used to this," Perez said. "Where they play, they play on turf and it's chilly. They weren't ready for that, and I knew that. So we started with three forwards just to start playing very aggressive at the beginning."
Even under strain, the Pirates put up a good fight.
With many attempts at scoring, the Pirates fell short against the Brahmas' goalkeeper, April Russell, who blocked each shot and held a clean sheet.
The Brahmas closed the first half leading 1-0.
With many spectators at The Pit, the Brahmas were cheered on as they started the second half, quickly taking control of the ball again.
Forward Jacqueline Hilario took possession of the ball and scored the team's second goal in the 48th minute.
Not a minute after, Moore was fouled by the Pirates in the penalty area, earning Pierce a penalty shot.
Hilario stepped up to take the kick and fired the ball into the top right corner, the goalkeeper not even moving.
Hilario was the top scorer of the match, with two goals, and achieved high praise from Perez.
"I think she's the best recruit we've had in years," Perez said. "She's one of the best forwards in the state."
With the win, the Brahmas record now stand at two wins, no draws, and one defeat.
The Brahmas will look to continue their winning streak at home on Friday against the Cerritos College Falcons.
It will be a challenge for the Brahmas because the team has never beaten the Falcons, according to Perez.
Even the players who weren't around for seasons past knew that a match-up with Cerritos is a big deal.
"I'm excited because I heard they knocked us out of the playoffs last year," Hilario said. "I'm really excited to play."
Matches are free for all spectators.
For more information on upcoming matches visit www.theroundupnews.com.