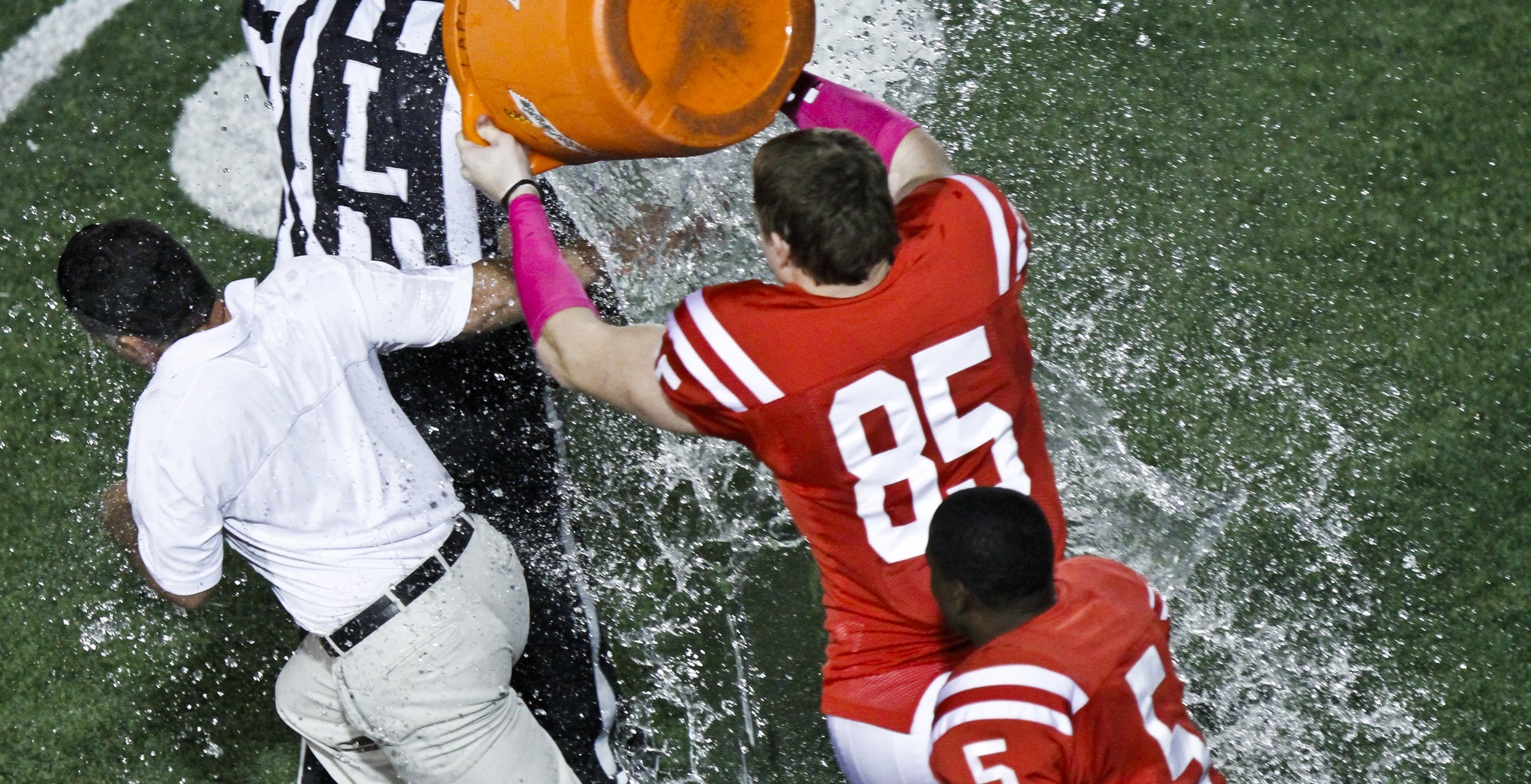 Team discipline and energy were both at an all-time high Saturday night as the Brahmas systematically disassembled the visiting Antelope Valley College Marauders 43-20 at Shepard Stadium in Woodland Hills, Calif.
Quarterback Nick Arbuckle battled through a sinister fractured bone in his lower ankle to lead his team to victory in the Oct. 28 game highlighted by brilliant defensive play and fantastic individual effort on both sides of the ball.
It was a battle of the top receivers in the American Pacific Conference, with top-ranked Brahma Jaelen Strong pitted against number two receiver, Antelope Valley's own Zikerious Ware in an impressive offensive joust for the end zone.
Strong, who had scored 72 points this season on his own coming in to last night's game, spread the defensive secondary thin all night.
With Strong pulling defenders two and three deep, Joe Morris was able to capitalize on the shift and add long yardage to his stat sheet, along with double digit points for the Brahmas.
A wildly entertaining Morris returned a punt for six points put the Brahmas up, and a high snap forced a Marauder safety, putting two free points on the scoreboard.
But, penalties have plagued Pierce all season, and tonight was no different.
"Silly mistakes, they made silly mistakes," offensive line coach Michael Hoffman said during a post-game interview. "Jumping offsides, false starts, snap counts– we should have put sixty points on the board tonight."
However, the offensive line, for all their missteps, did the one thing that defined last night's matchup– they protected their quarterback.
No matter how many "up-downs" those guys may end up doing in Tuesday's practice session, they will do them knowing they have the respect of their leader.
Nick Arbuckle was severely impaired by the bum ankle, and although the athletic trainers did a great job prepping him for the game, it was evident that his mobility was limited mainly to the pocket.
"I'm not moving real well," Arbuckle said midway through the third quarter. "But I'm trying hard."
Nick credited outstanding protection from his offensive linemen for his good fortune.
"They are doing an awesome job," Arbuckle said. "They are giving me time (in the pocket)."
The entire team has been working on their individual discipline, according to Arbuckle.
Pierce's football program is as well-known for their less-than-sportsmanlike conduct during games as it is for its high-octane offense.
Even die-hard Brahma fans have come to expect it.
However, last night there was a different buzz coming from the sidelines.
Focus, bearing, consistency– the hallmarks of any respectable football program– were on display throughout the entire game, according to Arbuckle.
We found our discipline," Arbuckle said. "No more dumb stuff."
The team collectively seemed to be in a more positive place than they had previously appeared to be, and it showed on the field.
"We are playing top-tier football," Arbuckle said. "instead of being out here acting like a bunch of thugs."
The "nail in the coffin" came when cornerback Martin Hill picked off a pass in the end zone with 4:20 left in the third quarter.
It killed every ounce of momentum from Antelope Valley, who had marched down the field defiantly in just a few plays and they never fully recovered from it.
Just three plays later, Strong once again spread the exhausted and overworked Marauder defense as Arbuckle connected with him on slant pattern pass through the flats.
Strong's work earlier in the game had set up the defensive to fall victim to his speed and athleticism late, putting Pierce up 36-20.
Brahma defense steamrolled the life out of the Marauder offense, collapsing the pocket and forcing plays toward their waiting secondary throughout the final quarter.
Arbuckle's offense made it three-possession game for Antelope Valley after connecting with 6′ 5″ tight end Beau Sandland for a 37 yard touchdown pass in which the 250 pound receiver crossed the plane literally dragging a Marauder who had failed to bring the 250 pounder down in time.
Coach Martinez got drenched with another water cooler, along with one of the evening's referees, and the post-game celebration brought fans down from the stands to congratulate the team not only on a job well done, but on their newly-found maturity.
Last night's game ties Pierce with Santa Monica College at the top of the American Pacific Conference standings, and sets up next week's matchup between the two powerhouses.
Pierce visits Santa Monica College to face off with the Corsairs next Saturday at 1 p.m.