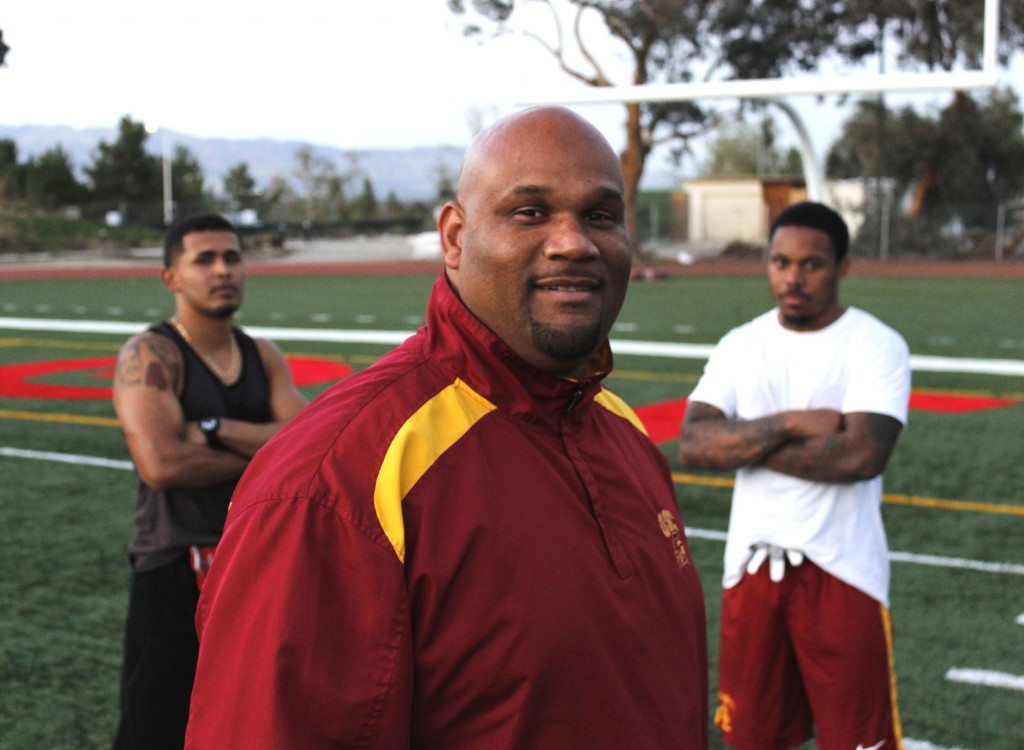 Some people have been running all their lives, and for Cordell Landers that has been a good thing.
Landers, the former running back coach for Pasadena City College and a former player at Los Angeles Valley College was hired to the same position for the Brahmas during winter break.
He first began playing football when he was 7 years old as a running back for the Redondo Beach Pop Warner  in Redondo Beach, Calif. He continued playing at Long Beach Jordan High School, earning league honors, and he was named the team's offensive player of the year.
After his playing career came to an end, Landers got into coaching by helping manage a football camp for six years called Beyond 2000, earning coaching MVP honors at five of the six camps. Since his time at Beyond 2000, Landers has been the running back coach at the community college level. For the last six years he has coached at Citrus College, in addition to Pasadena City College.
Landers was happy about joining the Brahmas football program.
"I am about coming to a program where everybody is on board into getting the kids out," Landers said. "It's about offering more possibilities to young players."
Brahmas running back DeShawn Jones shared his thoughts on what stood out to him the most about Landers.
"He's a real honest guy, he's not going to tell you what you want to hear,  and he's going to tell you the truth," Jones said.  "He'll tell you what you need to do to get better and what you need to do to be successful."
Head Coach Efrain Martinez touched on Landers influence in bringing local recruiting to the football program that once struggled to bring in talent.
"He has the same drive and same passion as we have at Pierce and that is getting the kids to succeed and getting them to the next level, and that is our goal." Martinez said.
Landers' personal goal this upcoming season is to be the top conference running back coach and to continue helping his players succeed.
"When I get up in the morning I don't feel like its work," Landers said.