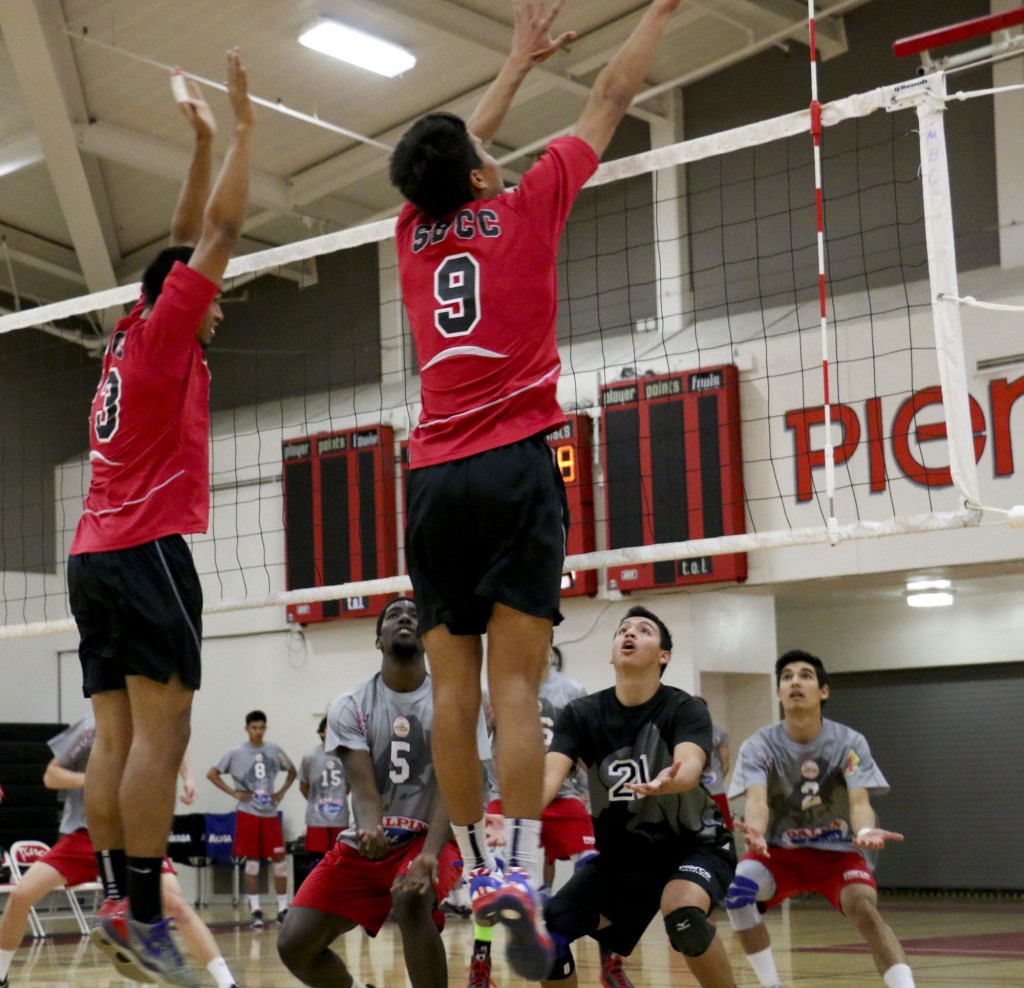 Santa Barbara City College men's volleyball team smashed their way to victory against Pierce College Wednesday, March 26, possibly taking the Brahmas out of the running for the Western State League title.
"We were worried about what we couldn't do and it got in the way of what we could do," said Pierce men's volleyball head coach Lance Walker.
The Brahmas were defeated 0-3 on Wednesday, with the end scores of the games being 22-25, 17-25 and 21-25.
Middle blocker Ike Nwachie, who previously played for the Pierce football team led the Brahmas in the first game 2-1.
Nwachie acted as a wall along with outside hitters Rafael Ramirez and Daniel Jacobs, blocking several hits throughout the three games.
"We've got the firepower, " said Walker. "It's about acknowledging the opportunity."
Between the Brahmas' lacking defense and the Vaqueros utilizing a more organized style of play, SBCC swept Pierce in both games one and two.
Game three brought on the heat with the two rivals neck-and-neck the entire game. Beginning the game-long tie at 3-3, the teams continued to match each other's points until 21-23 where a clear winner could be seen.
"We need to have more energy," said Jacobs. "We start off lackadaisical and then have to play catch-up the entire rest of the game."
Gabriel Ospina, outside hitter for the Vaqueros scored the last point of the game, ending the brutal match.
"This was a good win," said Matt Jones, head coach for SBCC. "This is our first win in league since L.A. Trade-Tech at the beginning of March and we haven't been able to pull through in the past couple weeks."
Evan Yoshimoto carried the Vaqueros with 13 kills followed by fellow teammate Nick May who pulled in 11 kills.
"We re-watched our previous game against Pierce and the coaches gave the athletes pointers on how to score against Pierce," said Jones.
The Brahmas may have lost this match but the head coach remains hopeful.
"During the game, many coaches will dwell on what's happening," Walker said. "For me, a time-out is a chance to refocus. We will take numbers in practice and will know who is a practice player and who is a game player."
The Brahmas will have that chance to refocus until their next game versus Moorpark at Pierce College on March 28.