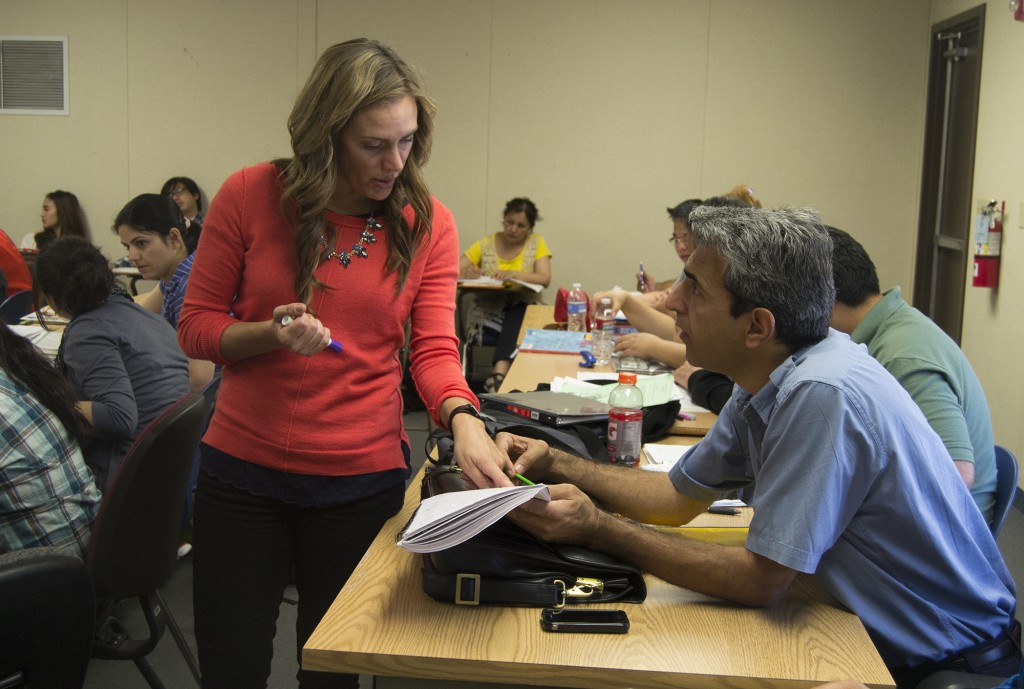 Learning a second language – especially English – is tough. It's better to start learning as a child because it's easier for young minds to take in and gives them longer to practice it. There are now even online resources that offer to teach English for kids so they are able to build their speaking skills from a young age. However, it isn't that easy for adults looking to learn and they often need to go to classes to be able to get the hang of it,
With an upbeat tone, the slim, blonde-haired professor greeted her students, wearing a bright tangerine top that reflected her enthusiastic energy.
"Are you ready for the best day ever," Jamie Ray said excitedly, enunciating every single word and integrating hand motions that emphasized certain words. "Today we are having a quiz and writing assignment."
Ray is a thirty-year-old assistant professor of English as a second language at Pierce College. She grew up in Barstow, California and attended California State Polytechnic University, Pomona from which she obtained a master's degree in English.
During her college years, Ray took part in a study-abroad program and thus was able to live in Spain and in China. While studying abroad, Ray was able to become a multilingual, speaking both English and Spanish fluently, and also learning basic Japanese.
"I started learning Spanish while I was in high school, but what really made it stick was just being immersed in the language," Ray said. "I really started to like teaching my first language and that's what got me focused on choosing to be a teacher."
She now lives in Los Angeles, but worked as an adjunct professor for five years at three different community colleges around Pomona prior to being hired as a full-time professor this spring.
"I used to drive a 100-mile loop is what it seemed like in between three schools every single day," Ray said. "So now I can't complain, at all, ever again."
Ray said she always dreamt of having her own office and having a greater impact on campus.
"I love decorating. I always thought 'If I ever get my own office, this is where I'm going to put all the cute little gifts that students give me, and my Spain maps,'" Ray said, pointing to a collage of frames displaying the routes of "Camino de Santiago," a pilgrimage route in Spain which she partially completed in 2008.
Being able to experience first-hand what it is like to be a student who is learning a second language in another country gave her the ability to relate to her students and understand their struggles.
"Some of them put the obstacles themselves because they close themselves off with their language," Ray said. "I might say that they might be their number one obstacle."
Back in Ray's classroom, the indistinct chatter in between her students increased in volume.
"I don't know what you're saying in your language but I know you can say it in English," Ray said, standing in front of her class.
An abrupt silence took over the crowded classroom as all of the students directed their attention toward Ray.
"Remember, I have a rule. If you're not speaking English you will have to bring homemade food to share with everyone during class," Ray said with a smile as the class responded with relieved laughter.
Rosa Moreno, a cosmetology major at Pierce and a student in one of Ray's classes, English 82, said Ray is unlike any other instructor Moreno has ever had.
"I feel so happy with her. I wish every teacher in the world was like her. She is not boring. She is very active. She never sits down," Moreno said.
During a 15 minute break in the two and a half hour class, one of the students, George Hanovnik, said he enjoys Ray's teaching style.
"She gives homework back to each student and lets us correct each other's work," Hanovnik said. "Sometimes she takes something that is wrong and writes it on the board to review; I like that. She is the best English teacher."
Emily Anderson, an assistant professor of English at Pierce, has her faculty office just a few feet from Ray's and said that despite their short time of knowing each other, she considers her a friend.
"I'll go get coffee for her and then she'll get coffee for me from time to time when we're grading those stacks of essays," Anderson said. "She always has a positive, happy energy and she spreads that around campus."
Anderson, together with other faculty members, is helping to plan a bridal shower for Ray in honor of her upcoming summer wedding, which will take place in Spain.
"It goes to show how much everybody has taken to Jamie," Anderson said. "I think she has a really good balance of being positive and encouraging while also maintaining high standards for her students."
Ray, who compared the Pierce campus to Disneyland because of the many different parts of it, said she loves the department.
"Having a full time job doesn't mean that I end. It doesn't mean that I've worked so hard enough to stop and now I'm good — I have to keep adapting," Ray said. "I think the reason why it took me three years to become full-time was because Pierce was just waiting for me and I was waiting for Pierce."