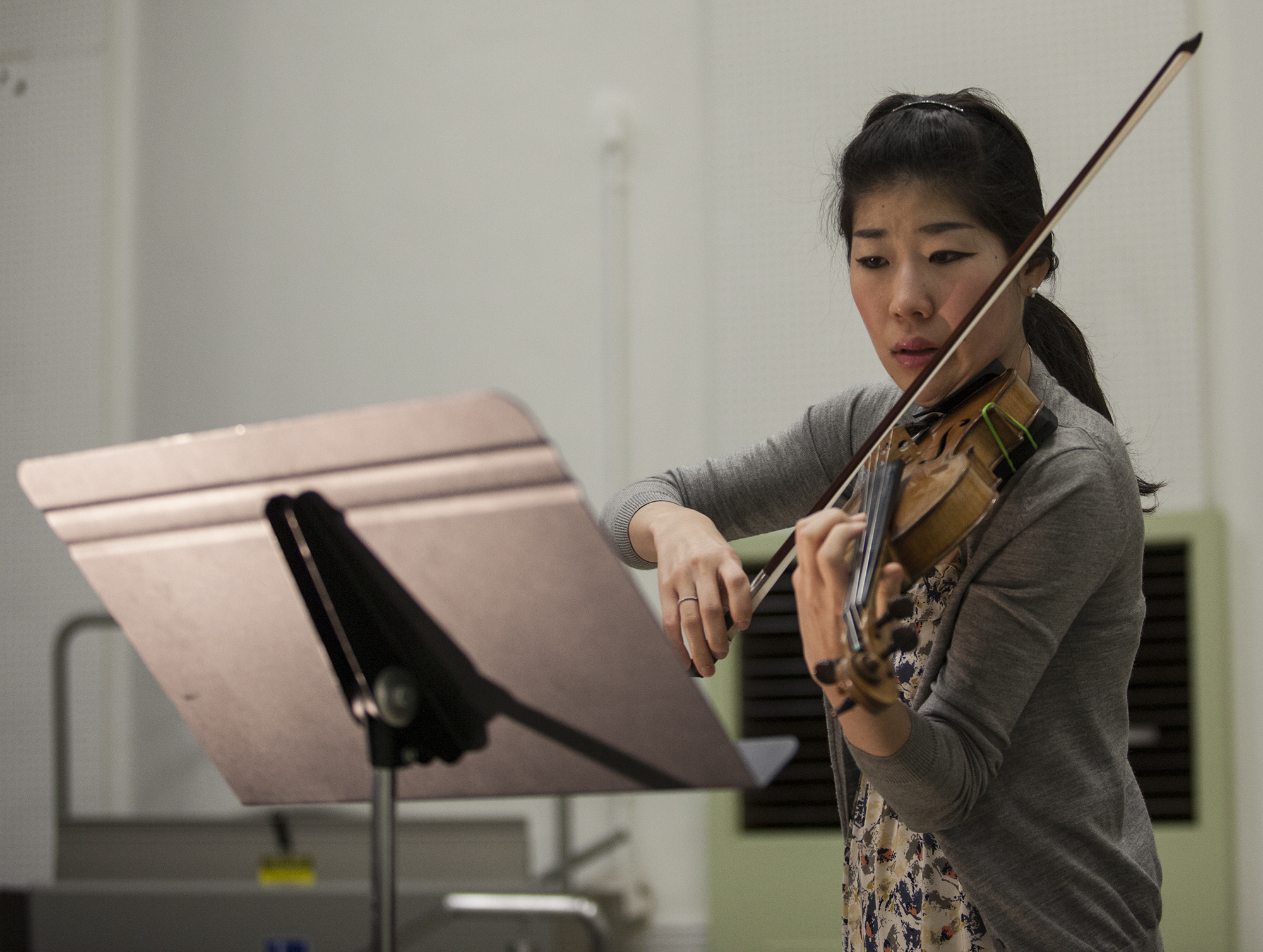 French-Korean transplant Ji Young An graced the Concert at Pierce series once again with fellow pianist James Lent, displaying her violin expertise with a trio of classical compositions in the music recital room on Thursday, March 8.
Performing at the Concert at Pierce events since they began nearly six years ago, An is renowned for her ability to convey the elegance and sophistication that classical music has to offer.
Close friend of An and Pierce Music Adjunct James Bergman began the concert by expressing his gratitude toward the active veteran and describing the program for the day's presentation.
"Originally from Korea, Ji  relocated to Paris at a young age," Bergman said. "Today she will be playing a collection of compositions originating from France."
César Franck, a Belgium-born classical musician with French roots, composed the first arrangement "Sonata for Violin and Piano in A Major," which delivers more of an atmospheric sound rather than the coherence of a classical song.
An described the piece as 'melodic,' with the motif of the composition being the harmony between violin and piano.
The next composition, an excerpt from the opera "Thaïs," tells the story of the prostitute Thaïs and the monk Athanaël who tries to change the luxuriousness and cupidity that her lifestyle entails.
In the excerpt titled "Méditation," Athanaël's campaign to purify Thaïs finally begins to make some leeway as she starts to reflect on her past.
"She has a moment where she looks back on what she has done, right before this piece in the opera," An said.
The composition gradually builds in emotion, allowing the listener to envision the resurgence of innocence that each person slowly loses as they become older and develop harmful vices.
Husband and collaborator Henry Shin attended the concert as a spectator, who was relieved to hear his wife play, yet at the same time penitent about not being able to perform with her.
"I am happy to see her perform," Shin said. "Yet I'm sad that I'm not up there with her."
An ended the concert with a piece by a composer who had no French influence, but still a well-known classical Russian musician, Tchaikovsky.
Tchaikovsky's "Violin Concerto in D Major Op. 35" is considered one of the most difficult violin arrangements in all of classical music, yet An skillfully executed the task without so much as a flutter or error.
When asked about her motivation for performing at the Concert at Pierce events, An's response was simple.
"It's the audience," An said. "That's what gives me the energy I need to perform."
Coming up next week is the second edition of the Pierce Student Concert, where the student body will be displaying their talents yet again March 15.