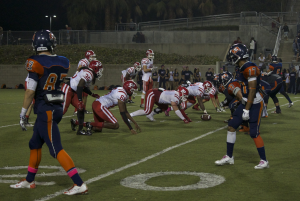 Pierce College Brahmas had another disappointing loss in their first ever game against the Orange Coast College Pirates on Saturday, Oct. 11 at Le Bard Stadium in Costa Mesa.
The Pirates were quick to score first with a 13-yard touchdown only 13 minutes into the game. Wide receiver, Mark Munson scored both the Pirates' first and second touchdown of the game, which came roughly two minutes later.
Pierce got its first points on the scoreboard after Jamie Sutcliffe kicked a 26-yard field goal during the second quarter to make the score 28-3, Pirates.
Pirates coach Kevin Emerson said he thinks Pierce has a very talented team but his team just seemed to click more than the Brahmas did on Saturday night.
"I think we just executed, it really comes down to execution," Emerson said. "Plays are plays but if you don't execute it, then it doesn't matter."
During the third quarter, the Pirates completed three more touchdowns making the score 49-3 which insured the team's first victory of the season.
Brahmas coach, Efrain Martinez admitted that his team played poorly and the team was not only out-played but out-coached as well.
"We can't go into panic mode because once you go into panic mode you start changing everything," Martinez said. "And when you start changing everything, you start all over and when you start all over, it just looks bad again."
The Brahmas struggled to move the ball and made a lot of careless plays. But what the team needs most is someone who will take on the leadership role.
"We're united as a team, we're brothers but not as close as it should be as a football team," said sophomore Wide Receiver, Rashaad Shamburger.
The game ended with a 4-yard Brahma touchdown by Zachary Mumford to make the final score 49-10 for a Pirates win.
"We've got to stay disciplined and play all four quarters," said freshman linebacker Brandon Russell.
Pierce will take on L.A. Southwest at home on Saturday, Oct. 18 at 7 p.m. in John Shepard Stadium.