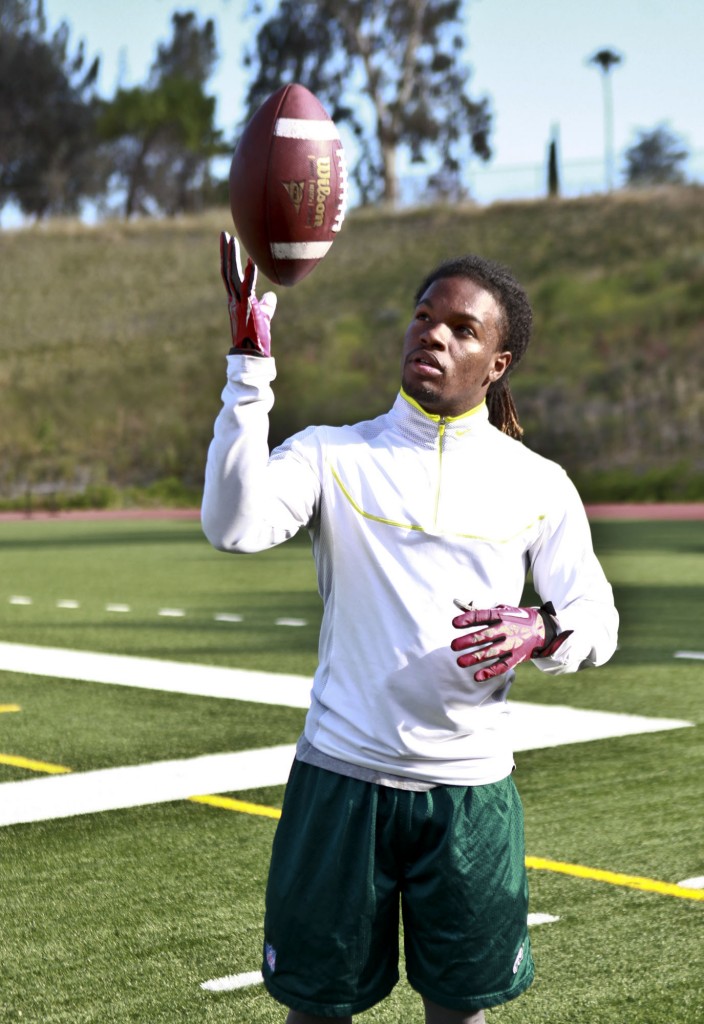 Jay'Onn Myles had two interceptions and scored one touchdown on Saturday, Oct. 18 against Los Angeles Southwest College. Myles is a 20-year-old sophomore majoring in communication broadcasting with an interest in sports law and hopes to go to college somewhere in the south. Myles has been a cornerback for 14 years.
How do you feel about being named Player of the Week?
"I think it's an honor, I really do. Anytime you get that kind of accolade or recognition is great. So I'm thankful for it."
What do you think about the football team's success so far this season?
"It fluctuates. Sometimes we're on a high and sometimes we're on a low, but I think we can do it." "We haven't had too much success if you look at our record, but I think we can turn it around and I think we want to turn it around." "We have amazing coaches, we have crazy talented athletes."
What do you think your team did differently last week to beat L.A. Southwest?
"We were just more hungry. We kind of owed it to ourselves and we owed it to the program because we did get blown out the last couple weeks. Nobody likes losing, a lot of those guys coming from winning teams. So we have to look at ourselves in the mirror and we told ourselves, 'we're not losing this game. We had to get a win by any means necessary.' We came out, we flew out, we had the momentum. Some players call it the 'juice,' we had the juice. It just went our way and I think we can carry that on for the rest of the season."
What professional athlete(s) do you model your game after?
"It's a ton of athletes. I love short cornerbacks. I don't really model my game after anybody that I can't play like. Some people love Patrick Peterson who's a star cornerback for the Arizona Cardinals, he's 6'1", 220 lbs. I'm 5'8", 170 lbs. I will never play like he plays, we're just different. So I love short cornerbacks like Nickell Robey he plays for the Buffalo Bills and is the same height as me, Tim Jennings who plays for the Chicago Bears, so short corners."
Myles also said he tries to emulate his game after star-cornerback Tyrann Mathieu aka "The Honey Badger" who plays for Arizona Cardinals and was a Heisman finalist in 2011 while he played for Louisiana State University (LSU).
How did you hear about Pierce College and did you come specifically for the football program?
"Yes, it's crazy because I was probably going to go to COC [College of the Canyons], but one of my great childhood friends on the team, Deandre Jordan, we were talking and he said, 'You've got to come to Pierce, they're sending dudes to D1 and they've got this one coach, he's going to get us right and he's exactly what we need.' So I was kind of shying away from it at first. But he just kept trying to convince me that this was the program and to check the rap sheet because they're sending guys everywhere. So I came and he ended up at a Division 2 school and he left me out to dry. But we got back in touch after his season and he said he was coming back and he said to go back to Pierce with him. I'm really happy it worked out, I think it's really changed my life."
What keeps you focused and in the game or how do you prepare for games?
"Monday through Wednesday, I eat whatever I want to eat. Whether it's McDonalds, Wingstop, I just eat whatever, but Thursday through Saturday it's all healthy stuff because I feel like preparation starts Thursday. So I properly hydrate my body, getting all the right stuff in my body to play well. Preparation wise, I watch a lot of film and I think that helps my play."
"I have to play with a bible scripture written on my face [on his eye blacks] and I have to write down my goals. Last week I wrote down Mark 9:23 and for being someone who is short playing an expanding position, it's kind of hard to have faith and believe in yourself. So I revert back to God and Mark 9:23 says 'All things are possible to one who believes.' and I just love that. Each week I abide by a new scripture and I put it on my face and I always have to write down my goals, I have to. Last week I wrote down two interceptions, one pick-6 and I got that. Against Southwestern I put down one interception for a touchdown and a couple pass breakups and I got that. It's just something I'm really superstitious about."
Do some games mean more to you than others?
"I think any person who says it doesn't, is lying. I think some games are more personal. Some games players are going to come at you on social media and make the game a lot more. They might disrespect you or start talking to the newspaper about you and it makes it personal. That's why some games are just another game and certain ties to the game, make it more personal. But other than that, it's just another Saturday and another four quarters of football."
What do you think about facing the Santa Barbara Vaqueros this weekend?
"They're tough. They fly to the ball, their receivers are aggressive and they're a well-coached team."
Do you think your teammates and coaches rely on you? If so, how do they rely on you?
"Well first off, it's a team game and I don't really know if it makes it a team game if everyone counts on one person. So I think they rely on the whole team to make plays, but I'm sure in certain moments they want big players to make big plays. So that's where they might look for me to step it up if the team's slacking."
What are some of your expectations as a whole for the team for the rest of the season?
"Win out."
"It's possible for the team to still make the Bowl game but it would depend on other teams falling out of the standings."
What is your favorite memory so far while playing for Pierce?
"Probably the talent shows. Every August, to close our fall camp, we have talent shows. We've just got guys being clowns, they joke around and tease coaches. Those are the days that I'm happy to have a Pierce College.
What is the team moral like?
"I definitely think we're a family because when you think about family, you think about fights, you think about love, unity and you think about stuff like that. Our team has had that. We've had fights, arguments with the coaches and we've had unity, but there's so much love there too. It's just awesome because at the end of the day no matter if I got into it with the person right next to me, I know I can go to war with him because he's got my back 100 percent. We're definitely like a family."