Pierce College added a feather to its cap when it earned Leader College status from community college success initiative Achieving the Dream.
This year's crop of Leader Colleges totaled 16 schools from 10 states. The schools obtained the rating because of successful first-year experience programs. Two other LACCD schools, East Los Angeles College (ELAC) and LA Harbor College, also received the distinction. No other California community colleges secured the title of Leader College in 2014.
"It shows that Pierce, Harbor and ELAC are all doing well by our students," LACCD Board of Trustees president Scott Svonkin said. "But it is not the end of anything. It's just a piece of it."
Pierce, ELAC and Harbor earned the Leader College title after they each showed statistical improvement in their first-year success programs.
Pierce earned the honor because it increased the ratio of its successful credit-hours completion from 66.3 percent in 2009-2010 to 69.5 percent in 2012-2013, according to Achieving the Dream.
ELAC increased developmental-education English success rates for first-time college students from 21.8 percent in 2007 to 34.1 percent in 2010. Harbor increased spring-to-fall persistence rates for all students from 64.6 percent in 2009-2010 to 69.6 percent in 2012-2013, according to Achieving the Dream.
"All of our students are my heroes," Harbor President Otto Lee said.
The three schools attended workshops and went through extensive training with Achieving the Dream before they even implemented their programs.
"It's been a long process," Svonkin said.
The catalyst for Pierce's success was GO Days.
It's one more tool in our tool belt." — Kathleen Burke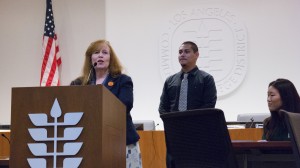 "We have adopted a vision around student success and completion," Pierce president Kathleen Burke said. "We say we like to see more caps at commencement."
Caps was also described by Burke as a double entendre. Its second meaning was C.A.P.S., an acronym for completion, accountability, partnerships and success. The acronym targeted attention on Pierce's teaching plan, Burke said.
"Pierce College has a long history of focus on student success," Burke said. "Achieving the Dream really added to our repertoire that we were already building."
Pierce had been moving down this path for almost a decade, Burke said. It had implemented student-success driven programs such as Reading Apprenticeship, Academic Success at Pierce (ASAP) and Statway.
Pierce wanted to find something to add to what it was doing when it went to the first Achieving the Dream conference, Burke said. That's when it learned about a program that was focused on orientation, and when it adopted GO Days.
GO, an acronym for get organized, get oriented and get onboard, had another meaning to Burke.
"I like to say, 'get on with it,'" Burke said.
GO Days was designed to help new students succeed. Data showed that new students who got direction when they started college were more successful than those who did not, Burke said.
"It's one more tool in our tool belt," Burke said. "This gave us a leg up on things focused around issues of orientation."
The leg up came from hard work by faculty and staff. But Joanna Zimring Towne, Pierce's Career Center director, was the "heart and soul" behind GO Days, Burke said.
"It's a proud moment for the college," Burke said. "It's been a lot of people, a lot of hard work."