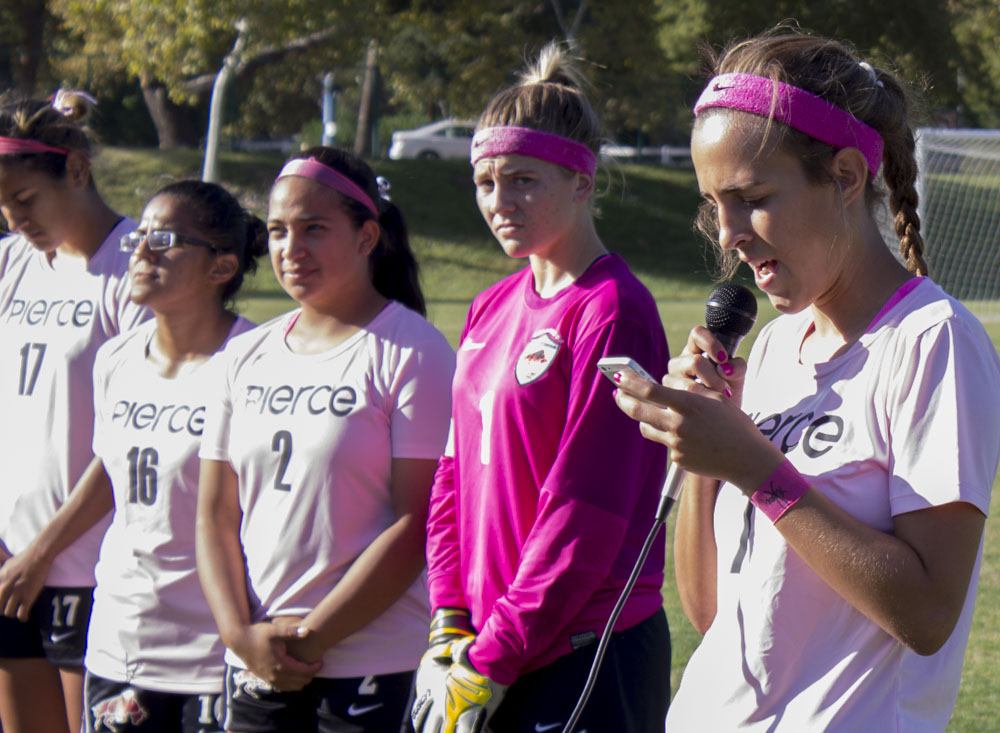 Walking up to the sprinkled pink field you can't miss the breast cancer awareness posters along the gate, pink balloons, pink hair ties in every players hair, pink streamers lining the tents, and the coach in a pink shirt. It's all for an amazing cause as the event was all about raising awareness about cancer, raising money for cancer research, and encouraging people to get checked.
In the first cancer awareness game at Pierce College, Marissa Albano gave a speech dedicated to her mother before kickoff.
During her speech, Albano fought back tears but ended on a positive note.
"I think she draws her strength from her mother," Pierce forward Kiana Riles said. "She's a strong person, and a strong player. She knows that we're all here for her."
During her mother's battle, Albano has remained tenacious and hasn't missed a game while healing a sprained ankle.
Pierce head coach Adolfo Perez found out about the struggles Albano's mother was going through while during the recruitment of Albano.
"I found out about her mom's cancer when we were in the recruitment stages of Albano. I have met her mom, and I believe that all that has happened has made her appreciate and love her even more," Perez said.
Albano's mother, Christina Hatfield found out about her breast cancer in 2012. Hatfield had a couple rounds of chemotherapy but refused radiation.
After chemotherapy Hatfield was so weak that she slept on the bathroom floor for a few days, but Albano was right by her side constantly checking on her mom.
"From that moment on I knew I couldn't do chemotherapy anymore and that feeling is a feeling I'd never want to feel again," Hatfield said.
Albano's grandfather who believes in natural healing began researching and shared an alternative cure with Hatfield. He found out that the body can be healed on its own.
"Listen to your body no one knows you better than you, research your alternatives and the treatment plan your doctor places you on, educate yourself and most importantly have the drive to fight," Hatfield said.
The healing process began with juicing, taking daily vitamins, exercising four days a week for 45 minutes, and oxygen therapy, which kills cancer cells.
"Exercise for proper oxygen circulation in the body is so imperative to kill cancer cells and it's one of the main reasons I selected oxygen therapy as one of my alternatives," Hatfield said.
Hatfield walked into her primary care physician's office on Sept. 8 and was told she was cancer free. This was the life changing news she had hoped to hear.
"I want my mom's story to be known, to let anyone who gets diagnosed with stage four breast cancer know that there are alternatives to chemotherapy, and radiation. My Mom did it all on her own," Albano said.
"I'm forever changed," Hatfield said. "It's made me realize how precious life is and how life is too short to not optimize your happiness. There will be days you want to give up and that's ok, but don't, there is life after cancer."