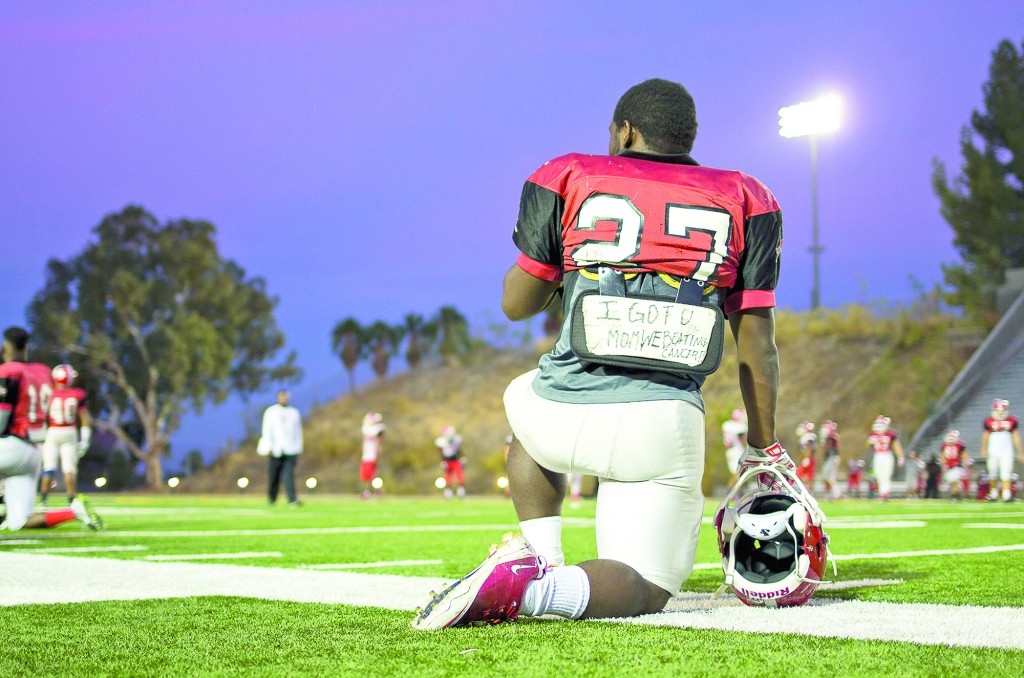 Pierce College freshman running back Robert Fowlkes' was told his mother had a rare form of cancer in 2013.
Fowlkes' mother Loretha Henry, 49, is still alive, despite what doctors told her last year.
"They said that my mother wouldn't make it through the year [2013]. My mother definitely made it through the year," Fowlkes said. "Once my mom told me that they said that, I looked her in the eye and said that we have to keep faith."
Henry was diagnosed with a form of spinal cancer.
"The cancer she has is terminal but they're saying with surgery, it could possibly be cured," Fowlkes said "The only thing with that is there's also cancerous tumors near her spine. The only thing about that surgery is that my mother could possibly become paralyzed for the rest of her life."
"Now they're saying the only option my mom has left would be to have surgery," Fowlkes said. "It's not a decision that I want my mom to make alone. I feel like it's one that we should sit down and talk about as a family."
He lost his grandmother to this form of cancer back in 1997 when he was only 3 years old, and he still remembers her.
"My grandmother's last words to my mom were to make sure you take care of Trey [a nickname he was given by his grandmother]," Fowlkes said. "I don't take my grandma's last words lightly, that's why I need to make the most of my life and really keep pressing on and be successful."
Pierce College kinesiology major and offensive tackle, Tzion Wayden, discussed Fowlkes' attitude on and off the football field.
"I've been really cool with Robert, he's a good person. I've known him for the past two years, Wayden said. "He's always positive and always there on time, with a good attitude."
Brahmas outside linebacker and business management major Brandon Batts had some positive thoughts on Henry's long-term health.
"I hope his mother gets well and I hope he goes Division I and ball out, Batts said. "Hard worker, humble dude and very passionate about the game of football."
Robert is on the verge of becoming the first person from the entire Fowlkes family to graduate from college. He only has to complete nine units to receive his Associate of Arts degree in criminal justice.
"It really is a must for me to graduate from college and to be successful in life," Fowlkes said. "Because it's almost like I'm living my mother's dreams through myself. Yeah, I'm gonna graduate college, but it's like no, me and my mom are gonna graduate college, it's deeper than just a me thing."
As far as four-year colleges, Arizona State and Alabama State (an historically Black College in Montgomery, Alabama) top his list of colleges that he has his eye on.
Meanwhile, Fowlkes' five-year plan includes transferring to a four-year college and then joining the Navy. Then after his naval service, he would like to become a policeman and try to work his way up to becoming a detective.
"I want to get some military experience underneath my belt so that way when I do come to a police force, they can see that I have a military background," Fowlkes said.
Fowlkes offers his own advice for anyone who is going through an ordeal in their life.
"Have faith, stay positive, and surround yourself with a good supporting group of people," Fowlkes said. "Keep you head up because for sure you will make it through."