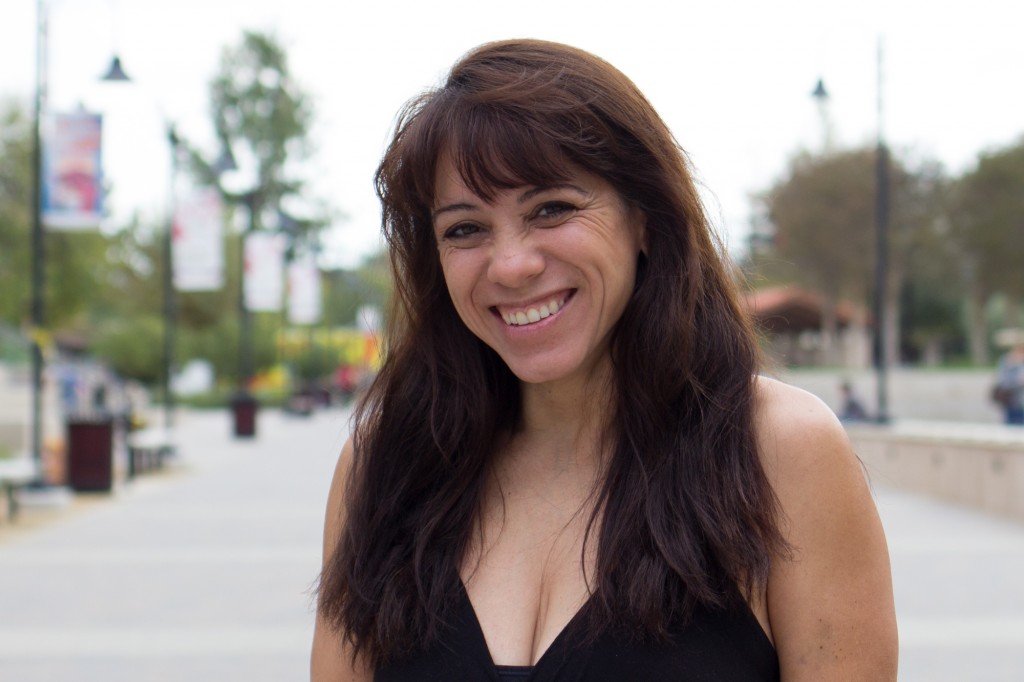 For this current Pierce College student and mom of two, living in an abusive relationship was never the plan.
Kim Slater grew up in the San Fernando Valley, and is currently majoring in criminal justice and behavioral studies. She decided to share her story after surviving domestic abuse.
Slater's first relationship became abusive after she found out she was pregnant. When Slater became a mom, it changed her outlook, and her baby became her top priority. She no longer felt she had time to waste with someone who would cause her and her baby distress. She decided to end the relationship.
Slater then entered a new relationship, and described how charming he was. She was married at the age of 22, but her marriage only lasted about two years, again due to abuse. Slater had another baby, this time a girl in the midst of the relationship and became single once again.
"Out of all of his friends, he was the quiet one," Slater said. "He was really quiet, really sweet, really shy, but the very first night we met, we hit it off and then he asked me out again and he was so so so charming."
Slater moved to Thousand Oaks and in time her husbands behavior began to change. Things that hadn't bothered him before started becoming triggers that upset him. She felt she should have known better than to talk to him after he came from work. Slater began to think his excuses were logical reasons and ignored warning signs.
Soon after, things started taking a turn. Slater started losing weight, as the stress and abuse of the relationship began taking a toll on her body. She began to feel the abuse was her fault. Her mother would make comments about how she could be controlling at times. Her friends and family noticed her weight loss and began to question her, but she always found a clever response, saying she was working too much.
"I fundamentally from the core of my being believed that if he did anything to me it was my fault," Slater said. "Nobody knew what was going on, but I lost weight. I normally weigh 125 and I dropped down to 95. I couldn't eat. For me, 95 is skeletal. I don't look good. And it wasn't a 95 oh, you look good in a bikini. No. It looked like I was about to die."
No one knew about the domestic abuse she was facing as she lived far from her friends and family. Slater shared how problematic it was, emotionally, for her dealing with the abuse as it became more frequent and confusing for her to grasp. He would apologize right after hitting her, while nursing her sores with ice packs.
"I can not emphasize the degree of which he apologized. The sincerity, the genius, and when you're hurt and crying and you're upset, and you think it's your fault, and you just believe it, you believe what you want to believe. He hurt me, but took care of me at the same time," Salter said. "He would cuddle and hug me."
One night, Slater called 911 to report the abuse. As the police arrived to their apartment, she remembers sitting down on the couch, watching a public service announcement on television about domestic abuse. By the end of the public service announcement she realized she wasn't at fault, and did not have to stay in the relationship.
Soon after, she attended Haven Hills Women and Children Shelter in Woodland Hills, and received counseling to deal with the effects of domestic abuse. She participated in therapy and met other women who gone through the same thing. After a year of attending Haven Hills Women and Children Shelter, started a group called "Survivors," which visited colleges, high schools and hospitals to talk about domestic abuse. She eventually became the spokesperson for Haven Hills for a few years, and reached out to anyone that would listen.
"The girls responded and the girls opened up and the girls could see that I wasn't someone reading from a book. I'm not a lecturer," Slater said. "Like when you talk to me and I'm telling you and I actually understand, 'I know how hard it is,' and 'I know what you're going through,' and 'this is how I can help,' and 'this is how strong you can be,' and 'this is how much better your life can be. 'It's all baby steps."
Although it's been tough for Slater, her children are now in a healthy setting. Her son is currently working at Starbucks and her daughter is attending Cal State Long Beach and majoring in mathematics, considering becoming a math professor.
For now this 45-year-old is now a full-time student at Pierce, and looks forward to transferring to Cal State Northridge. She hopes to be able to work in the court system one day, though ideally she would like to be a lawyer. Her main objective right now is passing statistics, which she has difficulties with.
"I can't pass it for the life of me. I hate it," Slater said. "It's so frustrating."
Susan Donoghue, Slater's mother shared how she felt having her eldest daughter attend college after everything she has gone through.
"I think it's super, and I hope she continues to pursue her education. That's what she needs to do, she can't stop. You have to keep going regardless of what happens in life," Donoghue said.
Slater's eldest son, Brandon Slater shared how he admires his mom's ability to keep the family close together by always staying optimistic even if things aren't the best at times.
"She's always been kind of the center of it all and she knows how to work things out and guide people in the right direction, and I think it's a really positive thing that she knows how to keep her family together," Brandon Slater.