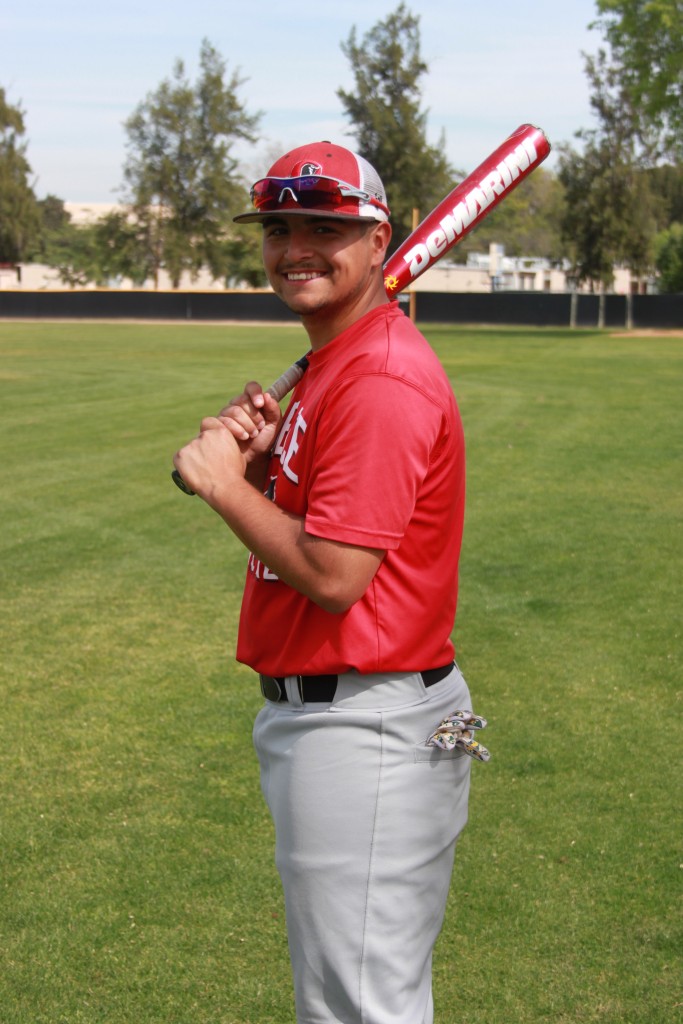 He's quiet when it comes to words, but he's loud when it comes to his bat. Christian Mercado a sophomore infielder for the Pierce College baseball team has anything but an ordinary story.
As a high school athlete, a player's goal is to compete on a team at a big-time NCAA Division I school. Often times, athletes do not make it to the top universities, yet they find other ways to continue their athletic careers. This happens to be the exact path Mercado took.
As a little leaguer, Mercado played for the Southern California Jayhawks travel team until high school, where he attended Bishop Alemany. Throughout his days at Alemany, Mercado bounced around a few different scout teams during the offseason.
The now 20-year-old originally attended California State University, Northridge after high school, but transferred to Pierce last fall when he did not make the cut for CSUN's baseball team.
Bulls head coach Bill Picketts was "extremely grateful" that Mercado ended up at Pierce.
"Christian fits well on the field wherever I need him to," Picketts said. "He has played first base, third base, and little bit of shortstop, and bats third and sometimes fourth. It really solidifies our offense when he is in the middle of our lineup every game."
A versatile player, Mercado brought substantial offensive production to the team and provided a flexible fit anywhere on the defensive side of the diamond. He acts as a utility player, which is a rare characteristic to have as a ballplayer, but is every coach's dream.
Outfielder Joe Moran could not rave enough about the infield slugger and explained why Mercado is such a team player.
"Christian has been coming through all year for us," Moran said. " He has cashed in a bunch of RBIs, put down the sacrifice bunt if needed, moved runners over in crucial situations, and has come up with the clutch hits."
Described by Moran as the "quiet type," Mercado's performance on the ball field is anything but silent. He leads the Bulls in just about every offensive category, but has maintained his team-oriented mentality throughout the season.
"Mercado is the type of guy who puts the team before himself," Moran said. "He's picking up guys who are down and working on the field everyday, doing anything he can to help out the team."
Mercado said his success this year stems from "working hard day-in and day-out."
"I come to the field every day and make sure not to stay content with what is going on," Mercado said. "I am just trying to do everything the right way, and with coach Picketts here it really helps to stay on track when he motivates me to work even harder. I'm just doing it for the team."
As far as next year's opportunities, Mercado has kept his options open for other schools but is more focused on this year's squad.
"I'm just staying focused on this season and hopefully getting into the playoffs and doing something special with this team," Mercado said.
Mercado couldn't have came to a better place, as Pierce College has provided him with a grateful coach, teammates who respect him, and an environment to build a strong work ethic in order to prosper.
Although his baseball story is no where near over, Christian Mercado has made a stop on his athletic path that has transformed him into a fiercely-driven individual who will not stop until he reaches his dream of competing at the next level.