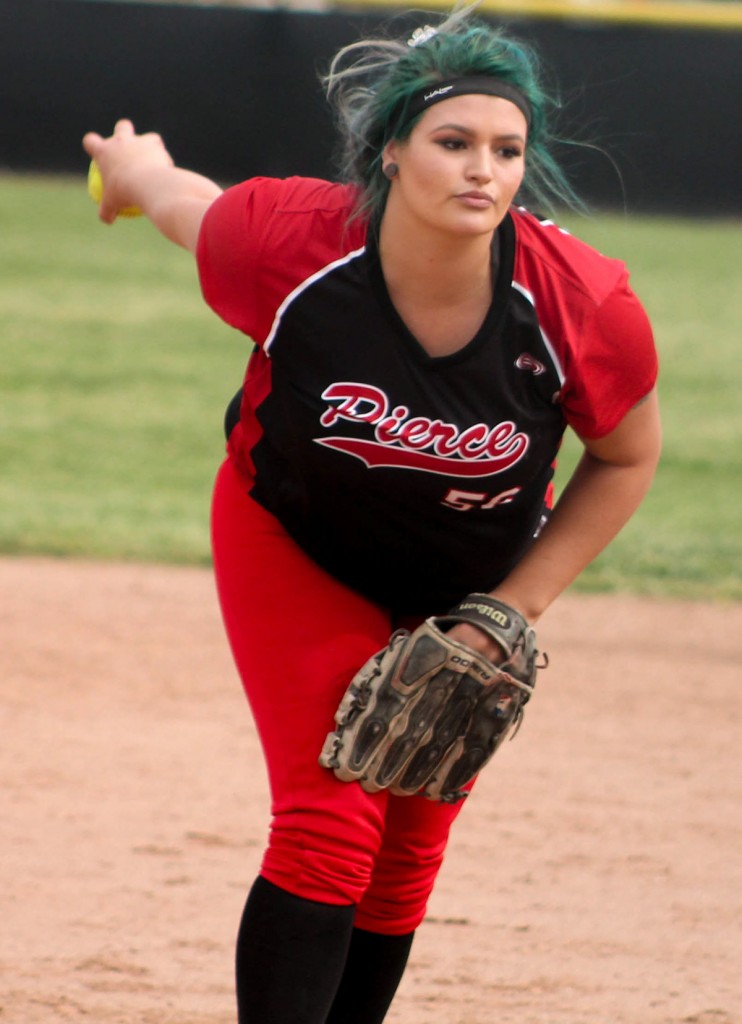 The Pierce College softball team lost both of its games in a double header against the Allan Hancock College Bulldogs on Tuesday, March 17.
After two scoreless innings in the first game, the Bulldogs tallied three runs in the top of the third inning. They put the game away when Bulldog sophomore Jessica Rothanzl hit a grand slam in the fourth inning.
The game ended 9-0 and both teams went back to their dugouts to prepare for the next game of the double header.
Hancock kept its momentum going by recording an early RBI single from sophomore outfielder Megan Love. Love then scored on an RBI triple from shortstop Missy Regalado.
Sophomore starting pitcher Katelyn Vogler was able to keep the game within two runs against the defending Western State Conference champions after the first inning.
Bulldogs pitcher, Katie Chenault, played an excellent game and quickly struck out the first and second batters of the top of the second inning.
"They have a very talented pitcher and it was a great opportunity for our girls to see that pitching," head coach Danny Moore said.
After a two-run home run from Regalado, Pierce slipped further behind and out of contention. The Bulldogs scored five runs in the second inning.
The experienced defending champions played the part, as they went on to score six runs in the third, four runs in the fourth, and five runs in the fifth and final inning.
"We are an extremely young team. We only have one sophomore, Katie, [Vogler] and I know that most of their team are second-year players. We need to work on our bats," Moore said.
Freshman Brenda Hernandez was brought in to pitch at the end of the fifth inning and did her best to keep the Brahma energy high.
"If they are having trouble, that is what I am here for. It's a learning process coming into a hectic situation, but you do the best you can and get the outcome you can," Hernandez said.
Freshman catcher Alicia Augustinus caught several popups behind home plate, which made her one of Pierce's top performers that game.
"I think we did good, I think everyone did their jobs," Augustinus said. "I still think we could have done a lot better. I don't think they were as good as what we made them out to be. Hopefully next time we can get them."
The Bulls need to work on hitting, but the team has time to make improvements for next season since most of them are freshmen.
"We definitely need to work on our hitting," said assistant coach Rosie Vanegas. "I am really proud of my girls. I want to focus on the fact that my team went up against a really good team and they did their best. They fielded amazingly and stuck in there when it was a really fast pitch and held their head up. Next year will definitely be a year on what we've built up and learned this year."
The Bulls' next game will be at Pierce on Thursday, March 19 against Cuesta College at 2:30 p.m.