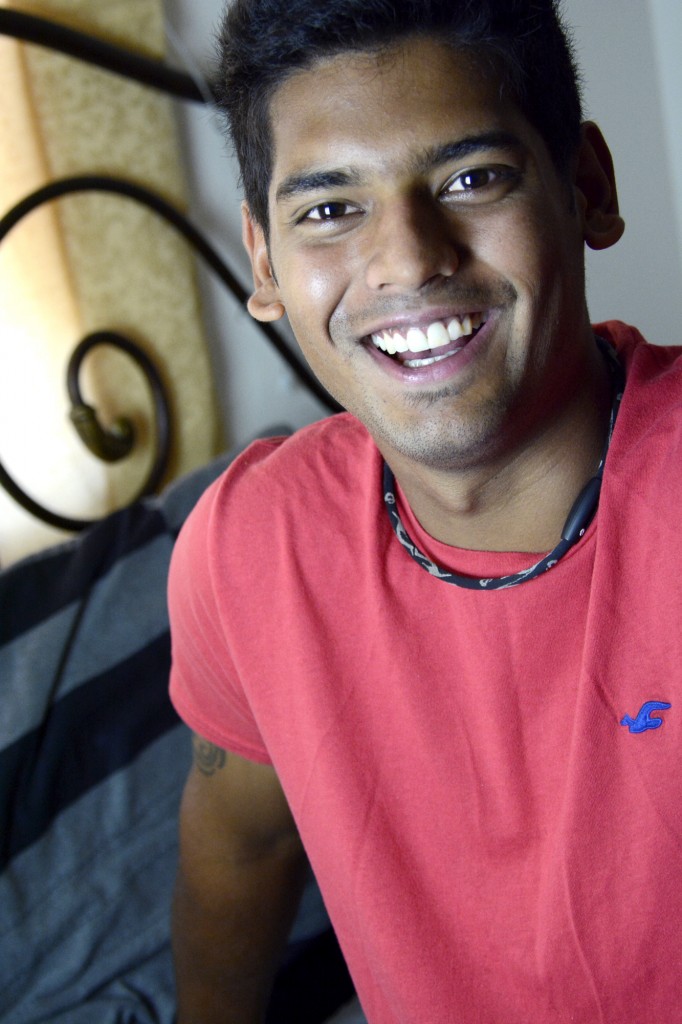 Most athletes attend community college to further their playing careers and to hopefully become a pro athlete, but 20-year-old tennis captain Manish Kumar was a pro before he ever stepped foot on Pierce's campus.
After having his tendon removed due to an elbow injury, Pierce College tennis captain Manish Kumar continues to pursue his love for the sport while maintaining a college education.
At 16 years old, Kumar started playing professional tennis. In his two years as a professional, Kumar went traveled to many parts of the world for various tournaments.
"I'm glad that I chose to play professional tennis because it gave me the chance to travel a lot," Kumar said. "I also played for the Junior Davis Cup in India, which was a really great experience. As a whole, I have been to 22 countries and have had the opportunity to learn new cultures and make new friends all over the globe."
Kumar decided to move from his home in India to America to continue his education while playing for the Pierce College tennis team. After attending Pierce for only eight months, Manish believes that he made a good decision starting off at a community college.
"When I was in India, I originally wanted to go to UCLA," Kumar said. "Pierce gave me a better option to transfer and save money. It is also one of the best junior colleges around."
Kumar had no intention of playing tennis professionally. When he was 10 years old, his parents encouraged him to pursue a sport in order to lose weight.
"Back when I first started playing tennis, I was just a fat kid who needed to lose weight. I had a couple of options but I decided to stick with tennis. I never imagined I would play professionally, but I ended up loving the sport," Kumar said.
Although Kumar never saw himself playing professionally at such a young age, his parents saw potential in him from the moment be began playing.
Kumar's father, Pravin Kumar, began noticing his commitment for tennis.
"As young as nine years of age, Manish was quite committed to his practice sessions, Pravin Kumar said. "Even in harsh Delhi winters, he would be on the court willingly. With passage of time, his fitness improved and so did his game. He was able to beat players much older to him. With improvement in his mental fitness and increased commitment on and off court, we realized that he had it in him to play at a serious level."
Unlike many kids his age, Kumar had to give up time with friends and adjust his diet and lifestyle to achieve the level of play that he expected of himself.
"Training and playing at a serious level demands dedication and discipline right from the beginning," Pravin Kumar said. "Manish had to give up on junk food, sweets, and colas. He also had very restricted TV viewing and time with friends. In a country like India where sports are never a priority, very few people appreciate the effort that goes into the making of a professional athlete."
Pierce tennis head coach Rajeev Datt said that Kumar chose to play for his team due to the guidance that Datt was able to provide.
"When I first spoke to Manish via email, he had originally wanted to become a tennis coach," Datt said. "For me, I thought he was trying to make a decision based on not enough knowledge. After we spoke, I think he realized that he needed that kind of guidance."
Datt stressed the idea that although he loves his job as a tennis coach, he believes his team is capable of much more.
"I think me basically being in his ear all the time has made him realize he is capable of a lot more than just being a tennis pro," Datt said. "I try to explain to all the guys that play for me that yeah, I love my job, but I don't want you to be in the same shoes as me. I'd like for you all to do something more, something better."
Although Kumar will continue to play tennis as long as he is physically able to do so, he hopes to eventually transfer to a four-year university. He plans to double major in human resource management and marketing.
"I really hope to transfer by next fall," Kumar said. "I have already received a scholarship to transfer to the University of North Carolina. Eventually, I would like to receive my master's at The University of North Carolina at Chapel Hill. That has always been my dream school."
Kumar is certain that playing professional tennis has shaped him into the person that he is today.
"In every sport there are God-gifted talents, but I think if anyone wants to pursue a sport, it's a great opportunity for them all around," Kumar said. "I was not only playing professionally, but I was developing as a human being. Everything that I have experienced thus far has allowed me to grow as a person."