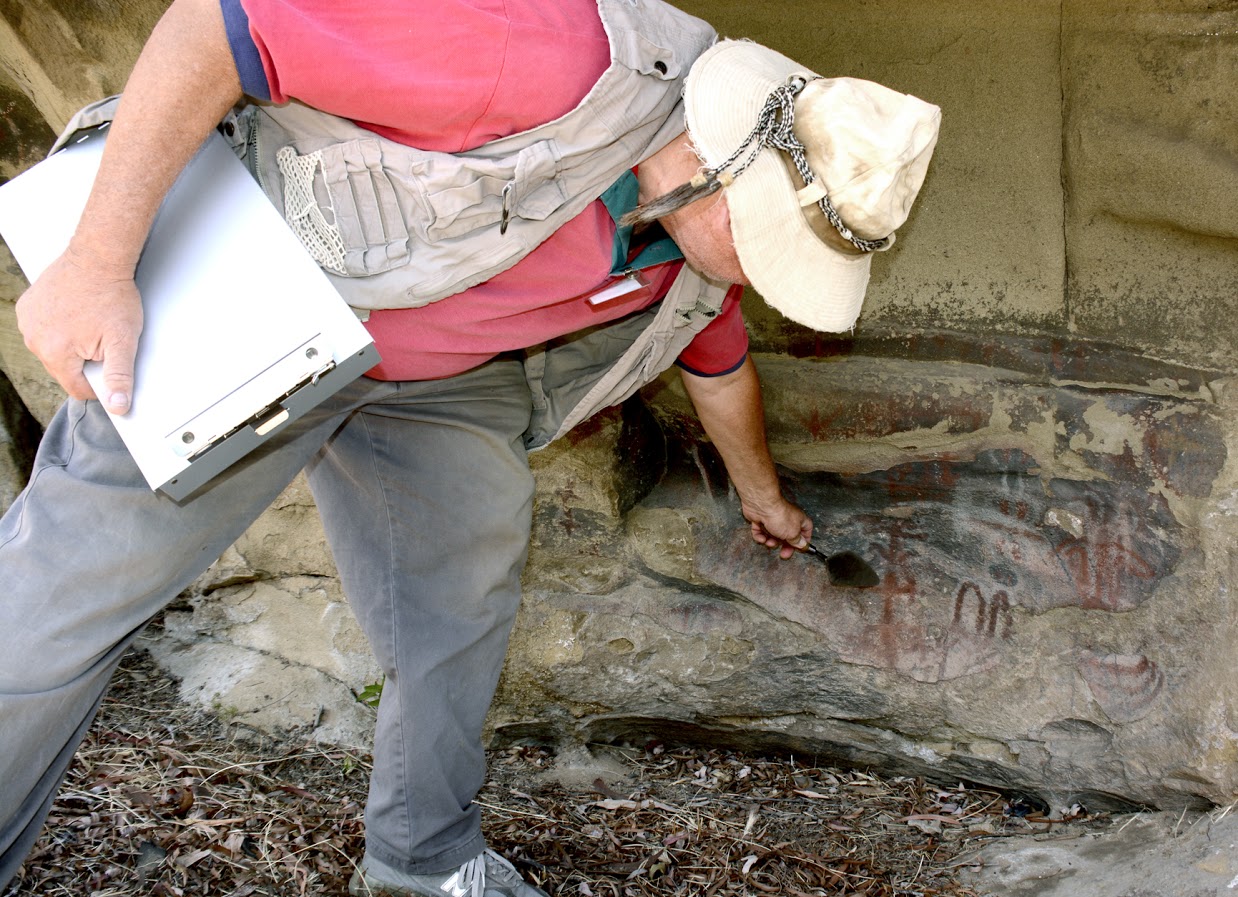 Without ever leaving the comfort of an air-conditioned classroom, Noble Eisenlauer transports his students to an archaeological dig site in a far away desert.
Eisenlauer, a full-time professor of archaeology at Pierce College, accomplishes this by recounting stories from his numerous travels in vivid detail.
Since 1996, Eisenlauer has taught introduction to biological anthropology, magical witchcraft and religion, Indians of North America and introduction to archaeology. He thinks each class offers something unique to students.
"I love them all for different reasons. I try to go into each class with an equal amount of enthusiasm," Eisenlauer said. "Each subject has something to offer, hopefully for students as well, and so I try and plug in and pretend they are all my favorite."
In addition to receiving a Ph.D. in archaeology from UCLA, Eisenlauer's first-hand experiences from traveling across the globe set his classes apart.
"When I was young, my father was a one-time world champion in Olympic-style trap shooting, and so I was able to travel with my mom and dad quite a bit," he said.
Since then, whether for archaeological work or vacation, Eisenlauer has traveled to about 90 countries. He lived in Mexico for three years and spent two summers in both in Costa Rica and Peru, just to name a few.
"I think Germany is a favorite of mine simply because my heritage on my father's side is German," he said. "In Latin America, Costa Rica is by far my favorite country. I like the food, people and environment."
Like his classes, he has found a love for all the countries he has traveled to for different reasons.
In the same way he respects the uniqueness of each of his classes, Eisenlauer found something interesting about every country and culture he experienced.
"Every culture has something unique to offer, and as an anthropologist, I am sort of trained to believe every culture is unique and you accept if for its differences and similarities and appreciate it for what it is," he said. "I find something about every culture."
Eisenlauer brings his international travel experiences and memories directly back to his classroom and students.
Kathleen Aydjian, a 22-year-old anthropology major and a student of Eisenlauer's, said she finds his traveling experience eye-opening and interesting.
"He shows us a lot of his own personal examples, which is really nice. One time he was showing us slides of a dig he did in Peru, and it was really interesting how he showed us his personal encounters," Aydjian said. "For our projects, he's very encouraging and makes us feel confidence as students."
Eisenlauer thinks his firsthand accounts are the most memorable parts of his classes for students.
"I can actually tell students 'I've been there,' and I can give them my personal expression of what I saw and what I felt. I think my personal storytelling is the part that students retain the most," Eisenlauer said.
Passion for field work and digging led Eisenlauer to offer his own free time to teach an archaeology field class that the district had cut due to a lack of funds.
"The district has not been able to fund some of the classes that I loved to teach and that I developed. The principal one is the the archaeology field class," Eisenlauer said. "They just don't feel it benefits a large number of students to warrant paying an instructor to teach the class, so for the past five years I have taught that class voluntarily without pay in the spring."
Eisenlauer finds importance in taking the time to network and bring communities together. The dig site, which he preferred to keep secret, has allowed current and past students to gain knowledge and experience outside the classroom.
Besides teaching at Pierce, Eisenlauer devotes his time and archaeological knowledge to seventh and eighth grade students at Chatsworth Hills Academy in the spring. He is also the treasurer on the board of directors at the Chumash Indian Museum in Thousand Oaks.
"He has contributed things to the museum, donating taxidermied animals including a mountain lion, and of course his knowledge as a professor and as an archaeologist," said Alfred Mazza, director of the museum.
His colleague, professor Bruce Rowe, a physical and cultural anthropology teacher, has known Eisenlauer since he started at Pierce back in 1996.
"We have a very good collegiate relationship and we share information and knowledge. Students have told me how much they enjoy his classes," Rowe said. "He is very dedicated to his students and the archaeology program at Pierce."
With almost 20 years of teaching under his belt, Eisenlauer believes in making room for the next generation of teachers, but nevertheless plans on giving his all until his full-time teaching comes to a close.
He values having an effect on his student's lives outside the classroom and is grateful for the few moments where students reach out to tell him that they benefited from his teaching.
On more than one occasion, a student has told him that he made a difference in his or her life because of something he said in class.
"I've had students hail me down on the street telling me they remember the stories and things I have said that have affected them," he said. "They don't necessarily remember the subject matter, but because of the story, they remember some of the subject matter. I think the storytelling, if it's not overdone and teaches the content, I think it helps the students remember."