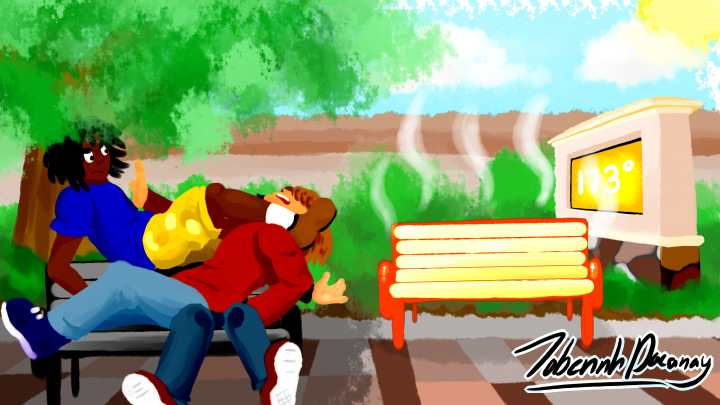 Despite the fact that fall is here, Pierce College is still experiencing high temperatures and intense sun exposure on campus. In hostile summer conditions, lugging heavy backpacks across a campus unshielded from the brutal sun poses a legitimate threat to the health and safety of students. By using the means at its disposal, Pierce can provide students with shaded oases at the hottest campus in the City of L.A.
Since Pierce is currently undergoing construction, this would be the optimal time to make the necessary changes to campus. The addition of benches, shade trees and improved awnings could be done now at minimal inconvenience, could be finished before next summer and would alleviate some of the health concerns associated with high heat.
During the month of September the Pierce College Weather Station recorded an average high temperature of 93 F. Compounded by the current drought, those temperatures have taken a heavy toll on Pierce – a fact which is apparent in the faces of exhausted students who line the floors of shaded hallways and breezeways on campus.
According to the Los Angeles Community College District's 2013 Heat Illness Prevention Plan, whenever the temperature exceeds 85 F access to thoroughly shaded areas is necessary and must provide relief from the sun's rays. However, many awnings don't extend all the way to the edges of sidewalks, and a lack of benches in shaded areas forces students to sit on the ground or lean against buildings and classrooms.
This current arrangement can lead to the disruption of classes, congested walkways and obvious discomfort for students trying to escape the sun. By adding new benches beneath shade trees, or simply moving the vacant and exposed benches that already line the Mall and courtyards, Pierce students would be able to safely and comfortably congregate away from classes.
The cactus and cow skull-filled Botanical Garden is hotter than many other places on campus, and students have little luck finding shade anywhere other than directly in front of classrooms. There are commemorative benches placed throughout the garden that are often in direct sunlight and as a result are left unused. And while the Botanical Garden features three mission-style shade structures, their slatted design doesn't actually provide much coverage.
It seems to come down to flaws in the design of the campus. If there were more shade trees planted specifically around benches it would lower the temperature, in addition to adding aesthetic beauty. If the expenses involved with the purchase and planting of shade trees prove to be unfeasible, adding benches to existing shaded areas remains an option and might be a more economical solution to the problem.
Before Pierce finishes construction and misses a valuable opportunity to prepare for next summer's inevitable heat waves, campus officials should act on this issue now. The simple truth is that a few thousand dollars could save Pierce College tens of thousands, or more, if a student were to suffer the preventable effects of severe heat exhaustion, heat stroke or dehydration while on campus property.