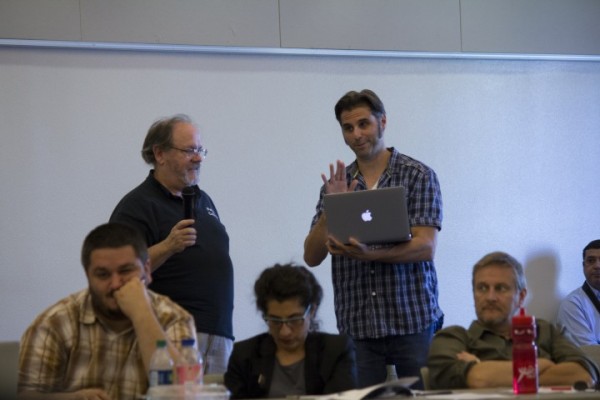 The Academic Senate has officially voted to adopt the online course enhancer Canvas to replace Pierce College's current platform Moodle.
The motion passed with 36 votes in favor and one abstention. The college will pay no fees for three years due to subsidization from the Online Education Initiative. Senators discussed the possibility of a statewide online course exchange, wherein a student from a college outside California would be able to take an online course and the money earned would go to Pierce College.
"The statewide committee that was selected specifically for this purpose chose Canvas, and that says a lot," said Michael Cooperman, member of the Distance Education committee.
Members of the senate discussed the ease of use and how easy the transition between the two can be.
"I use both Moodle and Canvas, and I think Canvas is a little more elegant and well-designed,"  said David Schamus, chair of the Computer Science and Information Technologies department.
Joe Perret, CSIT instructor, said Pierce College would significantly benefit from the use of a statewide system rather than a platform such as Moodle.
"It's a statewide system, you're going to get statewide support [including] a 24/7 help-desk, provided by the state," Perret said.
Anna Bruzzese, president of the Academic Senate said she has faith in her colleagues who are more familiar with the platform.
"I don't teach online, so I can't really speak from experience. I'll defer to the judgment of my colleagues who are the experts," Bruzzese said. "And since they seem onboard and think it's going to be a good move, then I'm in support of it personally."
Subsequently, the senate voted in favor of recertification requirements for hybrid courses and courses exclusively taught online in order to familiarize instructors with the new platform.
Instructors of online, hybrid, and Distance Education courses will need to complete 40 hours of workshop training with Canvas. Instructors who teach traditional courses and only supplement their class with Moodle will not be required to undergo the Canvas certification training.
The senate also voted unanimously to reinstate an orientation for new faculty members which had been cancelled at the order of President Kathleen Burke.
"When I got the notice from the president of the college that the new faculty orientation on campus had been cancelled I was quite in shock," said Angela Belden, instructor of Psychology.
In the past, orientations were used to ease new faculty members into Pierce College.
"This is the Professional Development committee's solution to that, so we can take back some control and allow some of the new faculty to be branded on campus by our own faculty," Belden said.
Former Academic Senate President Kathy Oborn was re-appointed to the District Academic Senate Equivalency Committee. Oborn served in that role last semester when she was Academic Senate president, and at the senate's approval will continue this semester as the DASEC representative for Pierce. Oborn outlined the position in a letter read to the senate by Belden.
"I have experience with equivalent standards through my participation on statewide committees, and several years ago I was selected to lead the equivalency task force for criminal justice, and offered the most recent report for the state chancellor's office," Oborn's statement read.
According to ASO President David Do, the votes from the student trustee special election in September would be counted at 11 a.m. on Oct. 9 at the district's downtown headquarters.
The next Academic Senate will take place Oct. 12 at 2:15 p.m. in the Great Hall.