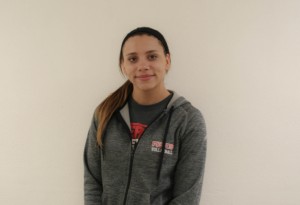 Shari Volpis had 32 kills in two games last week. Nineteen of them came in a bounce-back win against Ventura College on Friday, Oct. 9.
How does it feel to be named player of the week?
"It feels good. I've been working really hard and I've been trying to make changes. Nabil always says to work hard all the time and over time and I feel that's what I've been doing. So it feels good to be noticed."
What are things you are trying to improve as the season goes forward?
"I'm kind of stiff with my approach. Also presenting myself at a good angle so I can have a wider fan."
What are some of your strengths as a volleyball player?
"I'm able to pull through in big moments and I don't make too many errors.
How would you describe your experience playing with this particular team?
"I love all the girls and know a lot about all of them. I'd say we are all pretty close. There can always be improvements but as teammates we are close."
What are your expectations for your team for the rest of the season?
"We already lost one game. I don't want to lose one more. We want to win state."