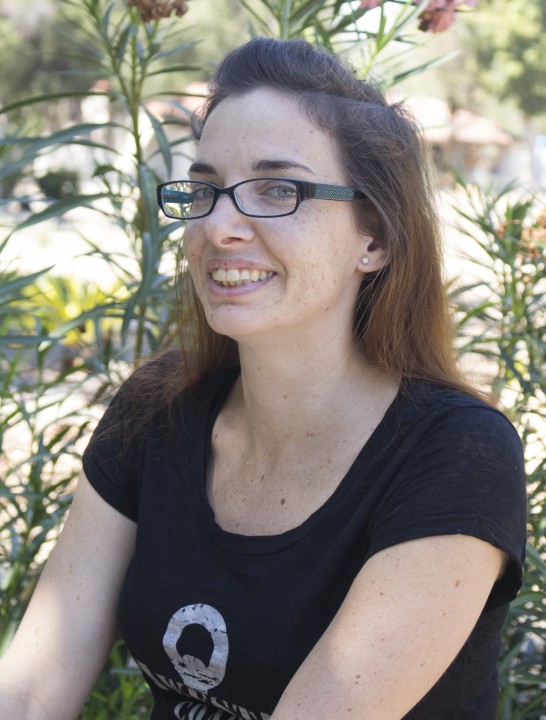 Despite the recent closing of the Pierce College farm, new agriculture instructor Savanah St. Clair aspires to further grow and develop the agricultural program.
St. Clair began working at Pierce this semester as a full-time instructor of horticulture and teaches two courses: landscape design and computer landscape design.
"She brings energy and enthusiasm as well as having a background in plant genetics and business," horticulture instructor John Creedon said.
This is St. Clair's first teaching job since graduating. She earned her bachelor's degree at California State Bakersfield and her masters in agriculture at California State Poly Pomona.
"I still wasn't sure where I wanted to go with it and it wasn't until my thesis at a plant seminar, that I knew I wanted to teach," St. Clair said.
Before working at Pierce College, St. Clair was an assistant in a college course class for high school students. Students would come ask her for help instead of asking the teacher; this inspired her to become a teacher, St. Clair said.
"The best thing about teaching is being able to enhance students," St. Clair said. "I really enjoy the chance to connect with students not only in the subject matter but also helping them on the path to their future."
Born and raised in the San Joaquin Valley, St. Clair grew up with an agriculture background. Both her parents worked with plants in some way or another, she said.
Her grandfather built factory farms and constructed the drainage and water systems for them. Her mother had an AA in spanish and her father was an electrical engineer.
"Growing up, my father would push me to do extra work and now I realize that because of him I got this far in my career," St. Clair said.
As a full-time agriculture instructor, St. Clair's goal is to change the program in a positive way.
"I want to get the opportunity to revive this program, and develop a new curriculum for the next course that we'll be offering," St. Clair said.
Pierce recently got rid of the farm on Victory and De Soto and left the land vacant. According to St. Clair, that land will be used for educational purposes. St. Clair said that the agriculture department will take over that land and along planting agriculture, will be used to conduct research.
"We're going to restore facilities and build new stuff. It is not all set in stone but it'll progress," St. Clair said.
St. Clair has enjoyed working at Pierce so far. The faculty and staff have been very kind to her since the very beginning, St. Clair said.
"She's energetic, motivated and willing to grow the horticulture program to what it used to be and what it once was," Keith Peabody said.
St. Clair speaks well of Pierce and said she likes the campus.
"It's a smaller campus than Cal Poly but I'm adapting. But I like it because it's kind of old fashioned," St. Clair said.
St. Clair thinks that the best part of her career is the students. In five years she see's herself still teaching at Pierce College hoping to continue to enrich the lives of the youth.
Beside being a full-time professor, St. Clair is a mother to four children at home, along with owning a dog named "Halle Berry." She enjoys belly dancing "and Egyptian style dancing; it helps to relieves stress," she said.