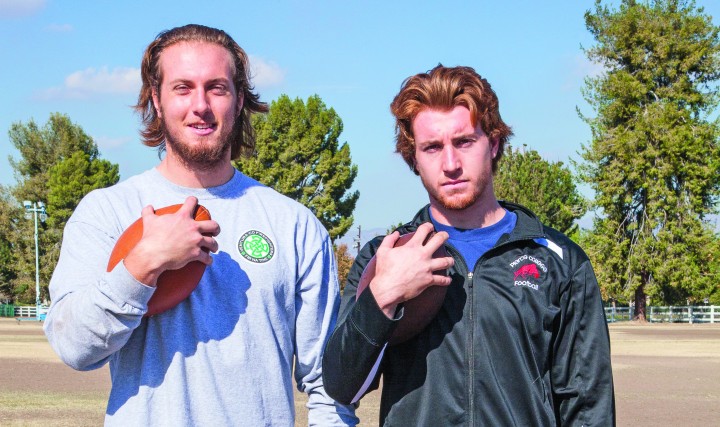 Under the Saturday night lights at a Pierce College football game you may see the versatile and competitive Kanteman brothers making plays on both sides of the field.  
The Simi Valley brothers, 21-year-old Trevor and 19-year-old Tanner, have been around the gridiron since the seventh grade and are now, finally, competing on the same Brahmas football team, but playing on different sides of the field.
"We were always around each other, but we were never on the same team," Tanner said. "This is our first year playing together. We are blessed with the opportunity of playing on the same team."
The brothers have a passionate competitiveness and tenacity that has head coach Jason Sabolic marveling about the presence they bring to the team.
"If my kids turn out to be like those kids, I would be a happy man," Sabolic said. "Their passion is unparalleled. I don't think there are very many kids on the team that would outwork either one of them."
Trevor is a blocking and pass-catching tight end on the offensive side of the ball.
Tanner is a hard-hitting and punt-drilling linebacker who is also the punter for the defensive and special teams.
Trevor said that Tanner has always played both sides of the ball, and has used his speed and physicality to convert over to linebacker.
Tanner said his brother has always been more of an offensive-minded person; playing quarterback in high school and having it translate over to the tight end position.
"It definitely gets competitive," Trevor said. "I don't want him to beat me. I go as hard as I can against him compared to everybody else. I don't want to go home knowing he beat me today."
Tanner acknowledges that there is sibling rivalry that has brewed among the brothers. However, he is determined to not let his big brother beat him.
"If we go against each other and if he were to win, and catch a ball on me – it stings a little, but I know it'll come back and get him the next play," Tanner said.
Despite the matchup and competitiveness, the brothers said they will always have each other's undeniable support on and off the field.
"There is always competition in anything we do," Tanner said. "We're the only two brothers in
our family. Whether it is ping-pong or basketball there is always competition. Those matches mean a little bit more for bragging rights."
"I love Tanner's drive. Whenever he commits to something he goes 100 percent to it," Trevor said. "I always feel like I'm lecturing him. I don't want to. I just want him to be successful."
"Our teammates have our back and everything, but brotherly bonds are a little more than that," Tanner said.
The Kanteman's competitive spirit not only brings a tenacity to the team, but it also translates on the field as both brothers have had highly productive seasons together as starters.
Trevor racked up 280 yards and two receiving touchdowns.
Tanner finished second on the team in tackles with 65, two sacks and one interception.
"Their tenacity and work ethic is at the top," Sabolic said. "They're constant professionals. I see bright futures for them. I know they will be successful in life beyond football."
The brothers wish nothing but the best for each other whether or not it involves football.
"I always want to play just as good as him, he always wants to play just as good as me," Tanner said.
Whether it's throwing, running, catching, tackling, blocking and kicking, the Kanteman brothers can do it all.