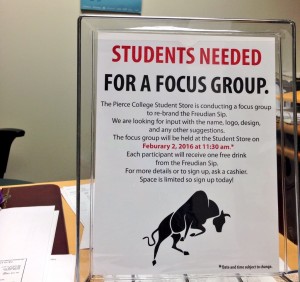 The Freudian Sip has become the quick spot for students to get food and study while the cafeteria is under construction, but after 10 years, the cafe is looking to rebrand itself.
The Student Store is hosting a focus group on February 2 at 11:30am and are seeking students' input and vote on what they would like the new cafe to be called.
"We want to be our own brand and we want to get students opinions," said Candy Van, assistant bookstore manager. "We want to rebrand and update the cafe."
The cafe was named Cybercafe before it was changed in 2006.
The survey asks for students input with a new name, logo design, as well as any other suggestions. Students can contact the student store for more information.