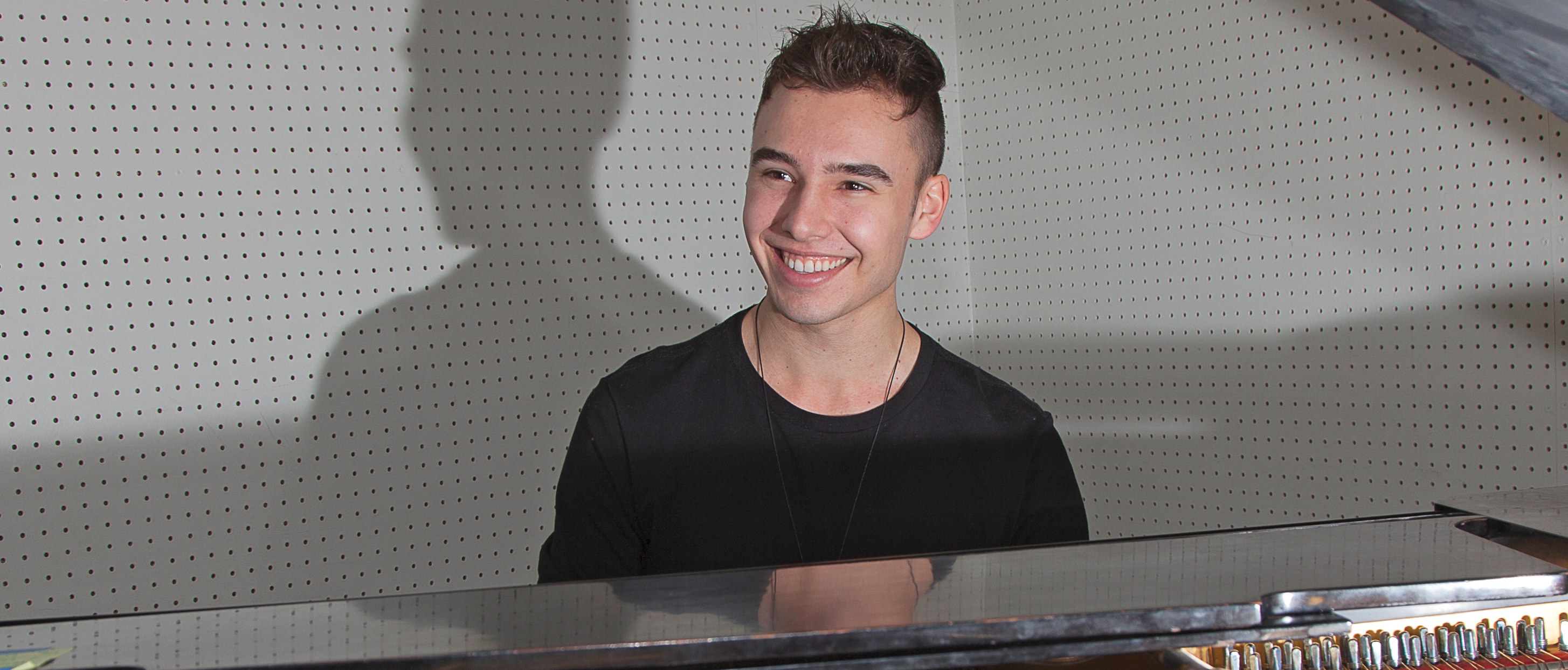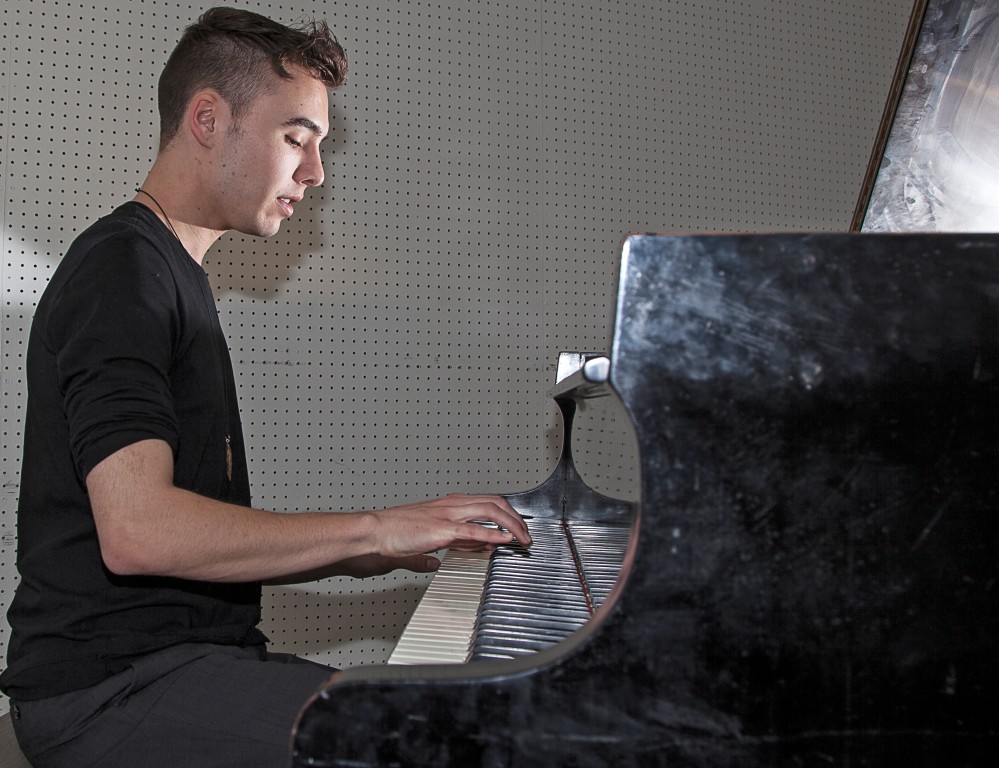 Evan Henzi, 22, sits at a grand piano in room 3400 of the music department, playing and singing an original song called "Alien," which incorporates themes of romance and outer space.
Henzi came to Pierce straight out of high school and is currently in his fifth year of general education. His plan is to pursue his passions by applying to UCLA next fall as a double-major in ethnomusicology and astrophysics, but on his journey leading up to this point, he felt that his education needed to take a backseat for a while.
Henzi was 11 years old when he entered the music industry. In the beginning he performed covers at miscellaneous events. Henzi went on to sing at the 2007 Young Artists Awards and debuted an original song he wrote for 2008 presidential candidate Dennis Kucinich.
However, according to Henzi, his introduction into the music industry was not a pleasant one.
"His name is Martin Weiss. He was a manager for child actors and musicians and my cousin was being represented by him," Henzi said. "I eventually began my journey in music with him and he ended up taking advantage of me and sexually abusing me."
Weiss sexually abused Henzi from the time Henzi was 11 up to age 17.
       Weiss made himself an influential person in Henzi's family and had become a family friend, blending business with that personal relationship. By that time, two other people in Henzi's family were also being represented by Weiss. Henzi felt that he had to speak up and do something about the sexual abuse.
"I came forward when I was 18 after secretly recording an hour long conversation where [Weiss] admitted to abusing me when I was 11," Henzi said. "I brought that to authorities and Weiss ended up being convicted of sexually abusing just me, even though I know there are other victims who weren't able to speak out at the time."
       Weiss was sentenced to a year in prison through a plea deal in June 2012. He has been let out since and is registered with Megan's Law.
"He's a registered sex offender for the rest of his life, so I feel like that's, at least, the justice that I was able to get," Henzi said. "So many people that have been sexually abused don't get justice because of no evidence."
       The court process and the turmoil it created consumed Henzi for the majority of his first year at Pierce. Then, in 2013, Oscar-nominated director Amy Berg, who was researching sexual abuse in Hollywood and in the entertainment industry at large, approached Henzi. Soon thereafter, she featured him in her documentary "An Open Secret."
Greg H. Sims, CEO of Vesuvio Entertainment, the company responsible for distributing "An Open Secret," thought that Henzi stood out in the documentary. Sims contacted Henzi to get him involved with publicity for the film.
"We reached out to several subjects, but I thought he was the most articulate and compelling guy and that he would be the biggest asset to public relations for the movie," said Sims. "He was a big part of the promotion process."
The documentary was screened at the Cannes Film Festival in 2015. Its soundtrack includes an original song, written and recorded by Henzi, which tells about his experience,
"When I met the film company, I told them that I was a musician and one of the producers was great friends with Gary Lightbody, from the band Snow Patrol," Henzi said. "So I met Gary through her and I had the pleasure of writing the original song with [him]."
Sims, who has certified golden platinum records working with artists such as Dutch singer-songwriter Anouk, also commented on Henzi's interaction with Lightbody.
"[Henzi] has been able to hold his own with the best of the best and I think he's an extraordinary songwriter and an extraordinary singer," said Sims. "He's a really talented, great kid and I think that he's going to go far."
Henzi said that he used music as an outlet to verbalize all the pain and the struggle that he had gone through in his life. He took several music classes at Pierce last semester, including musicianship and harmony taught by Professor John Schneider.
Schneider, who has been teaching music at Pierce for 36 years, joked that Pierce's music department is a pretty well-kept secret in that not too many students know that the program exists. Those that do don't always know what they're getting into.
"One of the issues is that music is such a difficult subject," Schneider said. "We have a lot of people that say, 'Yeah, I want to learn music!' but then by the time we get to the third or fourth semester classes really shrink because it's so hard. The ones who really want to pursue music as their passion are the ones that end up staying, like Evan Henzi."
Henzi admits that he's grateful for the opportunity to pursue his passions in a place that doesn't pressure him to be something he's not.
"Pierce has given me the opportunity to take my music ambitions at my own pace and to really learn the music theory and skills that are needed to apply to a four-year-college," Henzi said. "Even though it's taken me longer than the 'typical' students who transfer, I truly believe in Pierce College for giving me a chance to succeed."
Henzi said that his purpose in bringing up his past is to be a voice for other people like him who have also gone through sexual abuse and to let them know that they can come forward about it.
"I'm sure I'm not the only one, but your past doesn't define you and the experience doesn't define you, so don't be discouraged" Henzi said. "Everybody goes through hardships in life so it's important, no matter how long it takes, to continue following your passions and not to give up."