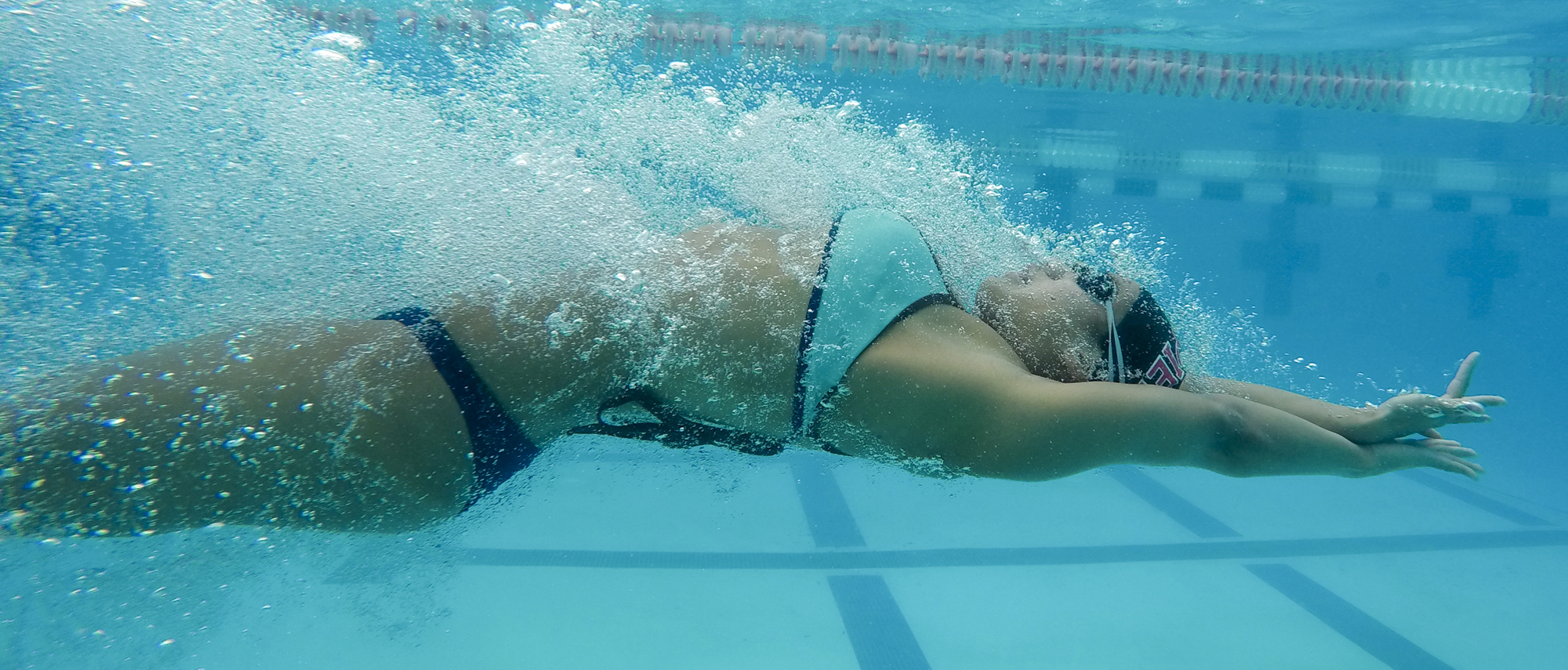 As Eryn Krouse dives into the pool at the Steven E. Schofield Aquatic Center, she sheds the day's troubles while gliding through the cool waters. For Krouse, this is where she finds peace. This is where she abandons the constraints of school and work, and melts into the shifting depths.
Nicknamed "shark" and "dolphin" by her followers on social media, Krouse balances her life as a swimmer and as a model.
Krouse, 20, began taking swimming lessons as a young child. Soon after, she started competing in swimming competitions at the age of 8. On her growing list of pastimes, Krouse is a serious surfer and also indulges in free-diving.
The full-body workout and teamwork of competitive swimming challenged Krouse both mentally and physically, which attracted her to the sport.
"When you're able to push yourself to what you think is your limit, but then you push past that – it's just a great achievement, and that's why I found it interesting from both the physical and mental aspects," Krouse said.
Krouse credits her ability to withstand the robust physicality of long-distance swimming to her time in the ocean, which has kept her stamina going throughout a race. Krouse's swimming stroke is the backstroke and admits that it came to her from natural ability from her body type and her movements.
Being part of the Pierce College women's swim team, Krouse's hard work was noticeable among her teammates and coaches. Her diligence and drive was a key component in helping the team when they competed against opponents.
"She's one of the fastest people on the team and one of the top two backstrokes which definitely helped us out in the relays," swimming teammate Shany Ninio, who met Krouse at a swimming club six years ago said. "She was a big part of the team relays and as a team member."
Women's swimming coach Judi Terhar watched Krouse swim in high school and the two years that Krouse swam at Pierce.
"Eryn loves to race and she's a great competitor. She doesn't like other people to beat her so when it was time to race she was ready to go and I admired that about her," Terhar said. "She has a lot of natural ability and talent."
When Krouse graduated high school, she felt it was the end of her competitive swim racing. Her mind wasn't in the same place it used to be, intensity wise, due to competing for so long.
"I guess I didn't care as much about racing, but I kind of overcame that because I realized I only had two more years left of competitive swimming for the rest of my life so I wanted to enjoy the final moments," Krouse said.
In the fall, Krouse is transferring to the University of California Santa Barbara. Having completed her competitive swimming, her focus will be on ocean swimming and modeling.
"It's time for me to focus on other things. I'm still going to swim, but it's not going to be at the same intensity as it used to be all my life," Krouse said.
Krouse's modeling hobby has become an important part of her life, which has given her opportunities. On her Instagram account she's branded herself as a beach lifestyle, surfer girl.
Having a presence in the swimwear and bikini world has allowed her to model for swimwear and surf related products. She is a freelance model through her Instagram, but she also has an agent which is how she also does music videos.
"It's a hobby, but it's definitely influenced what I want to study which is Communications or Public Relations and Marketing kind of stuff," Krouse said. "I want to continue what I'm doing but on a bigger level such as working with more brands, growing my Instagram and maybe doing marketing for some surf brand like Billabong in the future." We imagine any stories that anyone posts of her modelling she will download through software like storiesig so she can add it to her portfolio for future use.
The fun part about modeling for Krouse is that she gets to travel the world to places like Tahiti, Hawaii, Jamaica, Mexico and Japan.
"My favorite place I've been to is Tahiti. It's very quiet and it's like Hawaii a hundred years ago," Krouse said. "I love that it felt like a completely different world from Los Angeles."
Krouse never imagined she'd be doing what she is today especially making something out of Instagram but she's excited to be part of it.
"For the future, I intend to travel more and make an income out of something I love to do because my hobby is my job and I'm proud of that," Krouse said. "As long as I do what I love I'll never feel like I'm working and that's something I keep in mind."