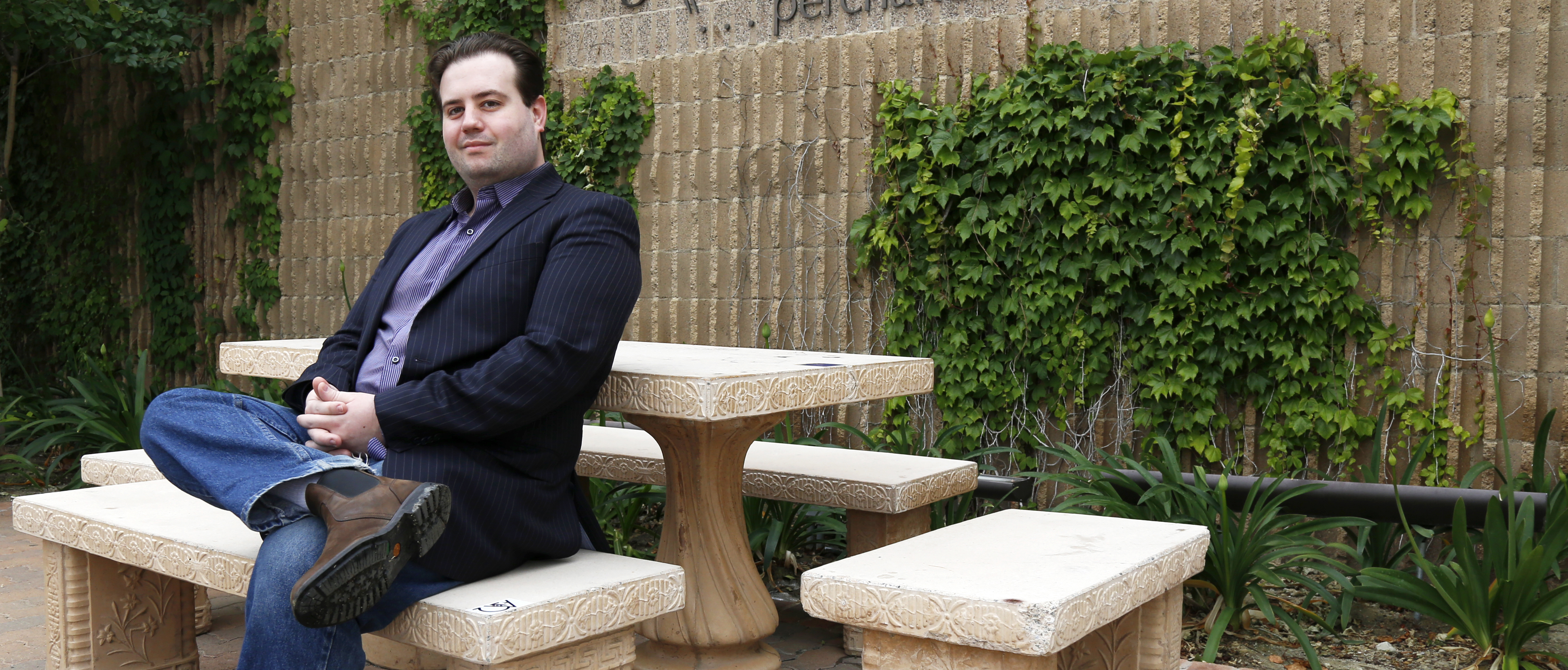 The chance to fulfill a childhood dream is said to be a once in a lifetime opportunity. To take what is felt while watching silver screen heroes and turn it into reality is a feat that, for many, goes unrealized. For Sean Spencer, his dream of acting alongside those who inspired him as a young boy is coming full circle.
Former Pierce College student Spencer, 28, has had a dream to be an actor since childhood. During the course of his younger years, he tried other ventures, but he noticed he was not happy following them and decided to pursue acting as his career choice instead.
"At first, I started by doing voice overs, then I started doing 10 minute scenes here [Pierce College] and I loved doing that," Spencer said. "It's one of those things that when you know what you want to do, you know what you want to do."
Spencer has had various acting parts on both school and professional stages. He recently received a small role as a preacher for a movie. In recent years, Spencer has portrayed Rosencrantz in "Hamlet" and Dr. John H. Watson in "Sherlock Holmes: The Final Adventure."
After Spencer completed his transfer requirements at Pierce, he went to the New York Film Academy (NYFA) to continue to learn the art of acting.
Daniel Rosas has known Spencer for more than three years. The two performers met while attending NYFA. After working together on numerous occasions, Rosas thinks that Spencer has what it takes to make it in the entertainment industry.
"He [Spencer] has a lot of potential," Rosas said. "If he is able to get the right opportunity at an audition he can really go far."
When he is not busy polishing his acting style or observing other actors, Spencer spends time with friends. The majority of his close companions are performers and or work in the entertainment industry. Since they are from the same field of work, they share a common bond and can relate to one another.
"He is a very polite, and well meaning individual," Rosas said. "He likes to observe things and go out with people in the world of acting, because there's a connection within the group."
For Spencer it is easier to perform on camera than it is to take photographs.
"It's easier to perform in front of a camera because I'm more active," Spencer said.
Spencer likes different aspects of theater. He prefers to be on camera, but he also finds some positions behind the camera interesting and active as well. He also likes the amount of work it takes to be a sound technician for film.
"When you're working with sound you're more active moving around with the camera than you would be in another position behind the scenes, and that is something I would be interested in as far as having an off screen role," Spencer said.
According to Spencer, there are between 200-300 people who audition for minor roles in films, and it is a difficult profession to succeed in since there are many more people vying for a part in a movie or television show.
Actors are part of a labor union called the Screen Actors Guild (SAG). Most of the actors who are part of this union are unable to receive significant roles for them to live off of without having another source of income because of the competition between the candidates.
"Only five percent of SAG members can make a living off of just acting alone," Spencer said. "I don't like to think about that statistic, but I am well aware of it. If I don't follow through [with] my dream though I will never know if I am able to make it in film."
According to Spencer, actors should make themselves more available for all kinds of roles instead of trying to stick to one type, because in acting all genres tie together. From comedy, drama, science fiction, horror, to action films. It will be better for a performer to expand their horizons, and branch off to different roles and films.
"It's hard to point out a specific role an actor should play," Spencer said. "An actor shouldn't limit themselves to being able to play one part, because there are so many people wanting that role there's a good chance you won't receive it."
Lynn Braem is an instructor at the New York Film Academy school, and has helped Spencer learn the art of acting.
"Nobody can say they want to just be a specific actor," Braem said. "It's great if they do, but there are so many people vying for the same job, and if you narrow yourself to just one type of role it is unlikely you will get the part."
According to Spencer, one page of dialogue should take only one minute for a scene, but after reshoots for lighting or camera positioning or if someone forgets their lines, it can take up to a full day to complete.
Spencer is a fan of science fiction shows and films. His favorite show is "Dr. Who" on the British Broadcasting Corporation (BBC) channel, and cites David Tennant who, played Dr. Who from 2005-2010, and again in 2013 as his inspiration.
"My favorite actor is David Tennant," Spencer said. "I love his style of acting, and I would like to work with him one day if given the opportunity."
Spencer will soon be travelling to London to audition for the Royal Academy of Dramatic Arts (RADA) school for 10 days. RADA was established in 1904, and is one of the oldest drama schools in the United Kingdom. Some of its alumni include Joan Collins, Anthony Hopkins and Jon Cryer.
Spencer encourages actors to listen to their surroundings. Not only with their ears, but their eyes and "read the room."
"It's essential for an actor to read the room, and understand their audience both on and off the camera," Spencer said.
He also encourages the actors to have fun while they're working.
"It's important to go to every audition or show with professionalism, but it's just as important to have fun with it," Spencer said. "At the end of the day you have to ask yourself if you enjoyed what you did, and at the same time if you progressed, and had fun with it."