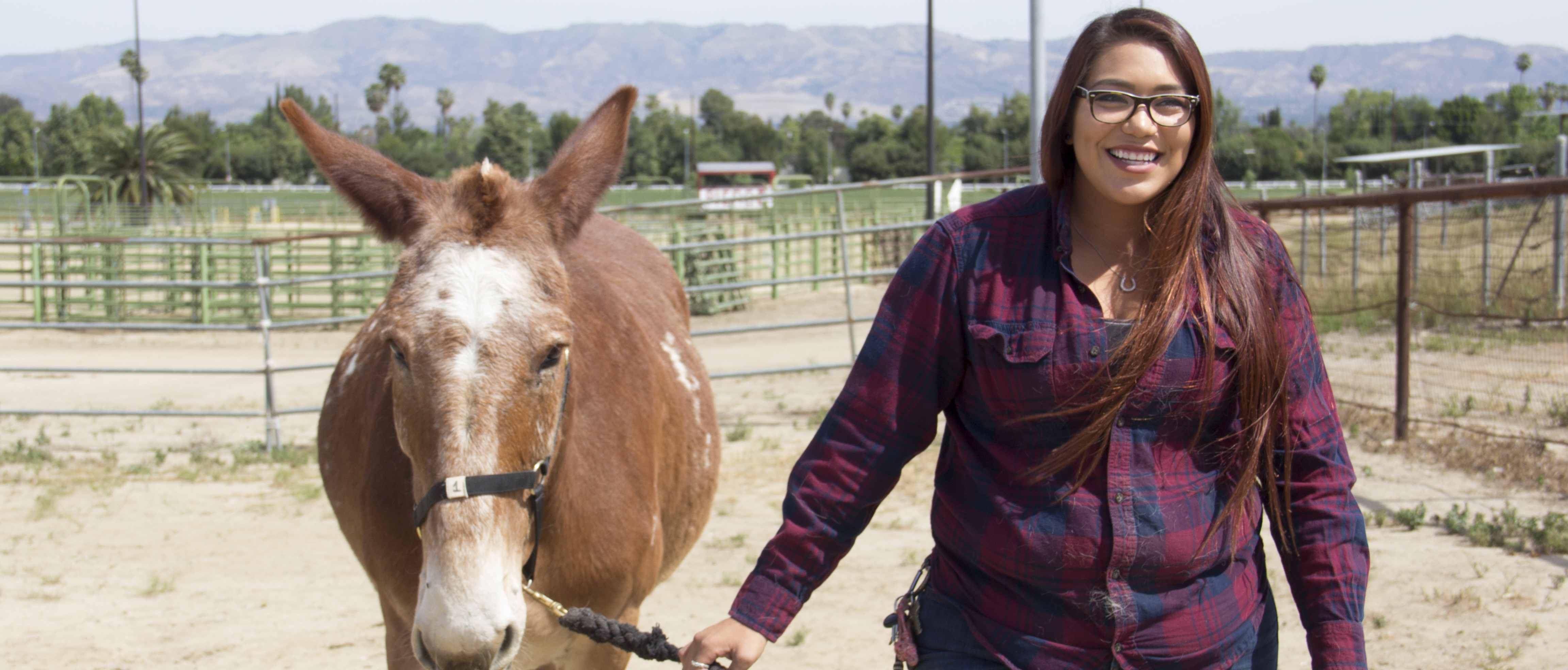 The buzzing of flies, smell of manure and extreme heat that blankets the grounds of the Pierce College farm is a departure from a four-wall work environment. Tending to the horse's overall health and keeping the stables clean is a demanding job.
But for Ana Quintanilla, the chores are an opportunity to be close to the animals she loves.
Quintanilla, 21, is the president of the Boots and Saddles club, which competes in competitive horseback riding off campus. Quintanilla was a member of the California Rangers Drill Team, where she won for four consecutive years at the California Horsemen's Association in Ceres, Turlock from 2007 to 2010.
She has also worked at the racetrack at Santa Anita Park. Now, Quintanilla is a member with the Flor de Dalia, a Mexican side saddle for Escaramuza.
"I started riding when I was 6 years old. I like riding horses because it's a different kind of intimate relationship. It has a lot of working together because it's a 1200-pound animal, so I have to really communicate with them with body language and other similar things," Quintanilla said.
Before she started riding horses, Quintanilla was always surrounded by animals, she said. She had dogs and chickens, but her favorite animals are horses. When she was 12, she received Charlie, a 7-year-old Quarter Horse, as a birthday gift from her parents. Charlie is now 16 years old.
Danielle Moore, 22, also an Equine Science major, is the vice president of Boots and Saddles club. She was once a rival of Quintanilla's, but now she is Quintanilla's best friend of two years, and one of the people that Quintanilla spends most of her time with.
"We grew up on horseback riding teams that were rivals. She was on Blue Shadows Drill Team, and I was on California Rangers Drill Team. Our teams have been rivals since the beginning and we actually competed against each other in 2009, and now she's someone who taught me more than most people on how to improve my riding skills," Moore said. "It's funny because she's younger than me. She's taught me a lot. I learned so much from her. She helps me with my horse or I'll go riding with her. I'll ride her horse and she teaches me."
Quintanilla's love for horses took her a long way. She had the opportunity to work at the racetracks in Santa Anita for a year, while she was a part-time student, where she had direct interactions with horses that went on the races, and she was able to learn more about her passion.
"It was really fun. I learned a lot, that's for sure, especially because they're a lot crazier than the horses from school. They're a lot younger. I learned how to care for horses in the racetrack industry and the certain feeds that they eat. It was a really cool experience," she said.
However, she had to leave her job at the racetracks to go back to being a full-time student at Pierce, where she became the president of Boots and Saddles.
According to Moore, the club has improved since Quintanilla became the president.
"Before she was president, it was a lot less organized. We didn't have as many meetings. We didn't have as many events going on, and emails weren't sent to the club members. A lot of stuff weren't happening that should have been happening, and good things have been happening since she became president," Moore said.
Paddy Warner, the head of Equine Department and the faculty adviser for Boots and Saddles club, knew Quintanilla since 2012. Warner is the faculty adviser for Boots and Saddles for 12 years and according to her, she saw the club improved as well now that Quintanilla is in charge of the club.
"She's done a great job. She is self-motivated in making things happen, and she gets things done. She's super outgoing, fun to be around, a very talented horseback rider. She's also motivated. I see her definitely making it to the horse business," Warner said.
Being the president of the club, a student, worker, and horseback rider off campus, Quintanilla has a lot to juggle in her hands including quality time with her family.
"One of the struggles I face is not spending time with my family. They always ask me where I'm at, and also having to sacrifice relationships is another thing," Quintanilla said. "Honestly, my biggest fear is getting hurt, because then I would have to stop riding and it's my job too. Maybe falling, not actual falling, but the way I may fall. Avoid getting hurt, that's what I always say."
Quintanilla's dream is to become a professional horse trainer and manage her barn. She also has a message for anyone who might be in the same position as she is.
"Don't let anyone tell you that it's a stupid career, because a lot of people think that horses are really down career to go into, but we're not a very big industry, so it's hard. Stick with your dreams. If an opportunity comes up, take it. Try to get as many experiences as possible. The more experience, the better you're going to be, in my opinion," Quintanilla said.