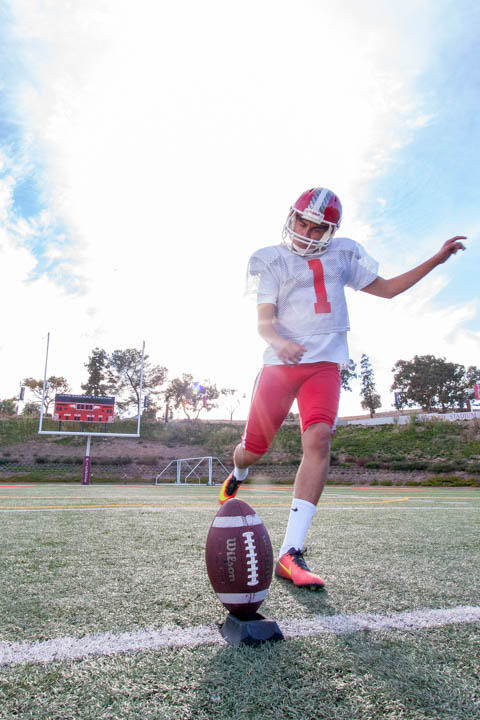 The stadium lights shine down on the field as the kicker readies the ball for a field goal. An almost silent moment falls over the crowd as he kicks the ball and aims for the center of the goal post. Kevin Robledo continues his football goals from high school into college.
After graduating from Westlake High School, Robledo traveled to Tallahassee, Florida as a walk-on player for the Florida State University football team.
After attending a semester with no scholarship, and the possibility of receiving one slim, Robledo decided to travel back home to California and go through a two-year college transfer program.
"I wasn't going to play because they favored someone else over me, so I left," Robledo said.
He is now a kicker for the Pierce football team. He hopes to play a few semesters until he gets an offer to play for another Division I college.
According to the NCAA official website, "Among the three NCAA [The National Collegiate Athletic Association] divisions, Division I schools generally have the biggest student bodies, manage the largest athletics budgets and offer the most generous number of scholarships."
The cost of schooling can be daunting for athletes, especially if they are playing out of state. Coach Jason Sabolic said the weight of paying for school can wear any student down.
"It's expensive for an out-of-state student. When you move out-of-state to go to college, you have to pay out of state expenses, and if you're not on scholarship it's tough and it can start to wear on you," Sabolic said.
Many athletes dream of playing at a Division I school regardless of what state it is in.
"I came to Pierce so I could transfer to another D-1. So far everything is going really well. I just hope at the end of the season I'll get offered by another D-1," Robledo said.
Robledo is the leading scorer for the team thus far, according to Sabolic. He is 10 for 12 in terms of field goals.
"Kevin is a great kid. We are lucky to land him here at Pierce after a tough situation at Florida State. He wasn't happy with the situation, came here as kind of a chance to start over and get back on track," Sabolic said. "Since he's been here, he's had a tremendous attitude, great kid, great intensity, who brings a professionalism to his craft. Very well taught, very well executed as far as his job, and his effort at doing his job. He's done everything we've asked of him and he's actually, going into our next game, our leading scorer."
Similar comments can be heard from Robledo's other coaches.
"Our program is blessed to be able to have him as our kicker, the football gods have shined their lights on us by having that young fella here, because he has helped us a tremendous amount, even though our record doesn't reflect so, but he's contributed a great deal," Defensive Coordinator Torry Hughes said.
Although the team has been struggling this season, Robledo is undeterred. He says that although the team isn't where it could be, they have what it takes to win.
"I'm glad I chose Pierce, because the season is going great and it's only week five. It's different. We're pretty small right now, we don't have too many numbers, but we're a team and we want to win," Robledo said. "We try our best even though we haven't too many players. We try our best."
Ultimately, Robledo's goal is to play in the NFL, but he is majoring in economics to have a solid plan if things don't pan out. For the moment, Robledo is focused on his performance, getting a scholarship and transferring to a university team.
"Wherever I get the full scholarship offer is were I'm going to kick. It can be anywhere, honestly, whoever needs a kicker. Everyday I do my best and every game I perform my best. I just keep making my kicks and the rest will take care of itself. If I just focus on each kick single-handedly, then at the end of the day, at the end of the season it will add up, in a good way," Robledo said.