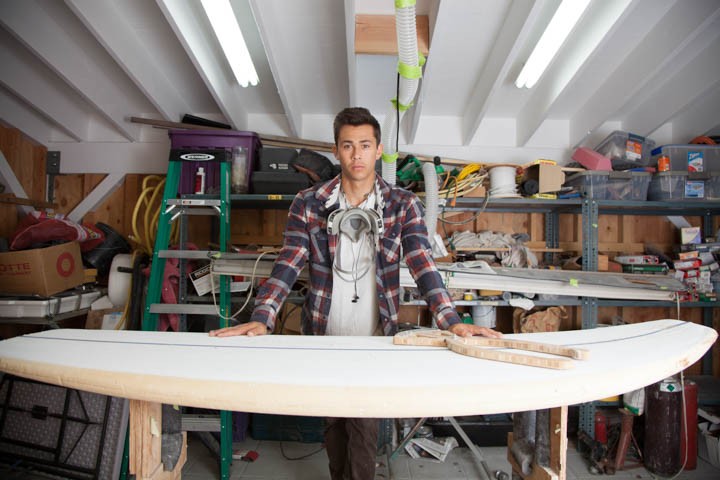 In the middle of the mess and clutter of tools dusted with a light layer of polyurethane shavings in a back shed of his Woodland Hills home, a nearly flat board sits on a table. Some would consider it a blank canvas, but this artist's keen eye can see a finished design.
Kieran Giffen, 20, was introduced to the surfing culture at a young age by his father, who travelled the world as a bodyboarder
"My dad grew up in Woodland Hills and he would go to the beach and he travelled the world as a body boarder," Giffen said. "When I was six, he decided to get into surfing so I just learned there with him and I've been surfing since."
The first documented case of riding waves on a wooden board originated in Polynesia during the 18th century, according to The Endeavor Journal of Joseph Banks.
Since its Polynesian origins, surfboards have evolved into varying degrees of designs and shapes, with each board serving a specific style of surfing.
From longboards to hybrids, the surfboard has come a long way from its humble wood origins.
"There's a lot that goes into shaping a board," Giffen said. "You have to take in the client's height and weight, different lengths, widths and levels of thickness to the board and their ability based on the kind of surfing they're trying to do."
Giffen sought to expand his ability to shape surfboards by working at Surf Boards By Kennedy, a surf shop that has served the community of Woodland Hills for 40 years.
"Kieran was a very knowledgeable and mellow employee," Glen Kennedy, owner of Surf Boards By Kennedy, said. "He was well educated on surfing and board building so he was a good employee."
Kennedy, who also shapes custom boards, was able to impart some of his shaping knowledge to Giffen.
"He wasn't a full-on apprentice, but he did learn a bit of shaping from me," Kennedy said. "He's been shaping for quite a while so he has a lot of experience for a person his age."
As with all craftsman, Kennedy says at some point, you have to go out on your own.
"When it comes to being a board builder, it's almost like any craft. At some point you have to stop and go out and make your own stuff."
Giffen did just that. Initially making boards for himself, he soon made custom boards for his friends, and interest in his work began to expand through other means.
"I started off making boards just for me and they were pretty good so my friends started to want my boards," Giffen said. "Then they started to refer me to others and I've gotten a lot of orders off of Facebook and Instagram. Just random people who really like the look and style of my boards."
Giffen's design aesthetic focuses mainly on the old school style of the 60s and 70s with vivid colors that pop, along with the curves and lines of boards from that era, but Giffen adds a bit of modern elements into his boards.
"I'm really into retro twin-fin fishes and high performance fishes. They're shorter boards but really different from normal short boards," Giffen said. "I kind of do a lot of really old school shapes and use modern techniques and modern aspects of boards now."
Giffen's unique take on his boards have garnered attention through the years.
"I haven't had the chance to ride any of his boards," Max Iscakis, an employee at Kennedy's, said. "But from what I've seen, he's definitely got some interesting shapes and retro colors."
Zack Silverman, who has been friends with Giffen for a number of years, owns one of his custom made surfboards.
"I asked Kieran to make me a kind of board called a fish with specific dimensions for small wave surfing," Silverman said. "What you want in that kind of board is something thick with volume and relatively flat so you can maneuver it quicker and that's exactly how it performed. I love it and it's one of my main boards that I surf."
Though surfboards can be readily purchased at surf shops, a custom board can cost as low as $450 to $1000 and even more for a well-known shaper.
Looking toward the future in shaping boards and the possibilities of becoming more known for his work and the kind of money that could be brought in, Giffen is little humble about his prospects.
"I'm pretty confident in what I have going on. I kind of have enough time to get my schoolwork done and ensure that I'm getting good grades and I shape whenever I'm free," Giffen said. "I'm not really focused on becoming popular for my boards, but if it happens, it would be nice."