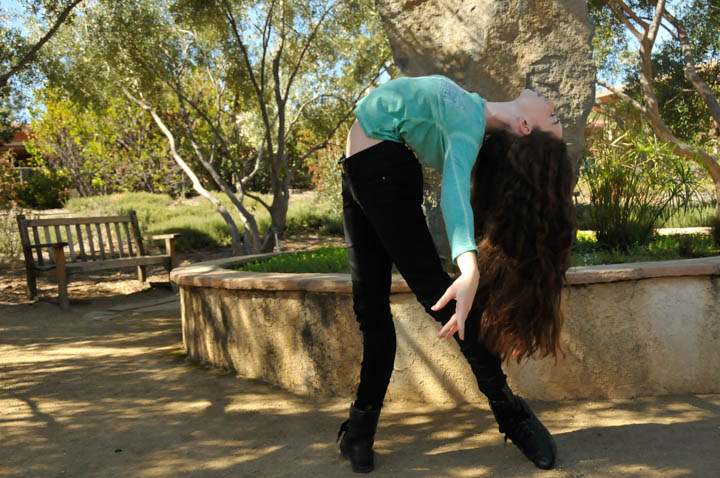 ASL is not only an identity and culture, but for some, a necessity. People who have given their life to the art of dance can attest to much of the same. Talia Lebowitz, 14, implements her kinesthetics from head to toe, rhythmically, formally, and sensationally.
Lebowitz came to Pierce last year after a homeschool education to partake in the ASL course. On campus, Talia Lebowitz is younger than most students and the youngest in her classroom.
"I had taken an ASL class before and I really liked it and I just wanted the next level and then we saw the ASL classes that Pierce offered," Talia Lebowitz said. "It's just fun signing and some of the signs, it sort of describes the object."
Lebowitz was exposed to ASL in her group meets where parents hired an ASL instructor for the kids who wanted to participate.
"It was a great introduction and great way to have a fun start to ASL, but Talia wanted more," said Talia's mother Jennifer Lebowitz.
Talia's mother audited the first class she took at Pierce making her transition to school a lot easier.
"If I missed something in class I could go talk to my mom and so I had help transitioning into this kind of class," Talia Lebowitz said. "Homeschool is a lot more easy going, I do a lot more things with my mom, we take our time and go through it slowly, it's a lot more chill."
Talia Lebowitz has adjusted well to the class, according to her ASL teacher Kristine Hall.
"She's so sweet, very mature for her age, I know that connects to her language," said Hall. "She's really involved and takes in all the feedback, very visual and artistic as well," Hall said.
The class took well to the young dancer who says it's like choreography to her.
"She's very kinesthetic," said Jennifer Lebowitz about her daughter. "When Talia was in a competition for Joffrey Ballet, we met someone who was a dancer and a signer and she said, 'Talia that's a great thing to have in your pocket, to be fluent in ASL'."
Homeschool isn't the traditional choice for most parents. It entails more time given from the parent of the child.
Lebowitz's parents chose to homeschool their older son who is now 18 after meeting other parents involved with a homeschool program and seeing their impressive interaction with the kids.
"I do a lot of the teaching but not everything, in the early days both my kids were in co-ops," said Jennifer Lebowitz, mother of Talia Lebowitz.
A co-op is a situation in which several homeschooling families form a group together and meet to support each other in educating their children. The families work together to teach and pay for activities or outside teachers if necessary.
"We are also part of the Conejo Valley Homeschoolers and they're a support group basically they're there for park days, field trips and forming friendships so the kids in our homeschool probably have more social opportunities," said Jennifer Lebowitz.
In school students have a set curriculum and hours of operation, but in homeschool the hours are more flexible and the students are done when the teaching is done, there's no homework. This means more time for the kids to socialize and pursue other things.
"This is my 10th year doing ballet," said Talia Lebowitz who hopes to be a professional dancer.
The young ballerina dances in the "on pointe" style and has reached level 5b in her studio, California Dance Theatre. She will be performing the lead role of Clara in the Pacific Festival Ballet's rendition of  "The Nutcracker."
"This is my first year as Clara," said Talia Lebowitz who has acted in "The Nutcracker" eight times, playing different roles in each performance.
She has done all that she considers dream roles, such as playing the Toddler her first time around and going on to play the Porcelain Doll and Kitten all leading up to her lead role now as Clara.
"This is a huge opportunity to get to be Clara, it's something that most dancers as little girls dream of," said Jennifer Lebowitz. "The Artistic Director Kim Maselli has been working with Talia for years and fostering her love of dance and guiding her from the role of Toddler to Clara."
Talia's mother is very supportive of her dance career and expects her daughter will have a dance career prior to going to college like her aunt who is now a neuropsychologist. For now, Talia is learning and getting the best of both worlds in her education with homeschool and her ASL class here on campus, but ultimately she hopes to attend the American Ballet Theatre.
For the past two summers, Talia Lebowitz has attended summer intensives of four-week dance training. Her first experience at Joffrey in New York was funded by a scholarship and most recently she attended Ellison Ballet, also in New York.
"Dance is her life," explains Jennifer Lebowitz. "I had no choice, she was born wanting to dance."
Talia Lebowitz will be on stage as Clara in "The Nutcracker" December 17 at both the 2 p.m. show and 7 p.m. show at the Thousand Oaks Civic Arts Plaza. Tickets are available to the public online and at the box office.