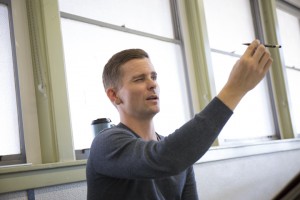 While it has been expressed in different forms, the idea that if you love what you do then your job is not work has been around for ages. For art instructor Justin Dahlberg, that always meant art.
"The biggest privilege of my life thus far is to have that kind of tunnel vision," Dahlberg said. "Not the kind where I ever felt forced to do it or anything like that. I just always knew what I wanted to do, and most people I know don't have that. I'm really grateful to have that."
Dahlberg says he was drawn to art from an early age. Recognizing his initial ability in art, he explored the subject further through the years, developing his talents and knowledge.
"I never really remember not being interested in art," Dahlberg said. "It's a pure form of expression. There's a lot of freedom in it, and a lot of rules, but once you learn the rules it's fun to break them."
Dahlberg moved to Los Angeles from Texas at 15 and graduated from Claremont High School. From there, he moved on to Pasadena Community College before Cal. State Long Beach, before finally graduating from Claremont Graduate University in 2005.
It was at his grad show that Dahlberg got his big break as an artist. According to Dahlberg, the top art schools in Southern California put on a group show of their graduating students to provide them and their work exposure. Gallery directors and critics from all over attend the show to see the new up and coming artists. Shortly after the show, Dahlberg received a call from the director of Western Project Gallery.
"I remember going to this gallery in graduate school," Dahlberg said. "We took a field trip and I knew the names. Ed Ruscha was on the wall and Wendell Gladstone. I was familiar with a lot of the work so I respected this gallery."
A year later, Dahlberg was represented by Western Project Gallery, and his solo show at the gallery is the big moment of his career according to Dahlberg.
Dahlberg was featured in the recent faculty art exhibit at Pierce. On his website, he describes his work as "moments that embody solitude–not loneliness or unwanted isolation–but the possibility of a unique and personal event that sticks in the memory and is worthy of visual preservation. The images are intimate, like quiet flashbacks. They are soft and often monochromatic vignettes that depict familiar, fleeting, ordinary moments filled with extraordinary possibility."
His most recent body of work is largely nature based. Tree branches, grass fields and leaves cover his canvas.
"There's kind of a romantic quality to it," Dahlberg said. "Some of the images are a little more mundane than others, like the leaf images. If you really think about they [leaves] are one of the most mundane things. It's on the ground. But it's also rooted in nature and romanticism which I like. It's totally mundane, but then romantic at the same time."
Dahlberg is in his second year as a full-time instructor at Pierce and has been teaching at the college level since 2006. According to Dahlberg, it was an easy decision for him. If he wasn't going to be making money making art, he still wanted to create and be around art, so teaching "was the best case scenario as far as real jobs go."
"I just wanted to be around artists," Dahlberg said. "I really just wanted to make sure I kept making art after school. Being around other artists is a lot of fun, and it's a lot of fun to watch people grow and change. I know I learned a lot in school, technically and conceptually, and it was thrilling. So it was the logical place to be."
Dahlberg has taught at universities and high schools, but prefers the diversity of students that a community college offers.
"You get people that are really good at drawing and people that have never picked up a pencil and thought about making a decent drawing," Dahlberg said. "People that are taking it because they have to for an elective, and people that are taking it because eventually they want to get a Master's in art."
If you ask Dahlberg about his work situation, he'll tell you he "has no complaints," and his students feel the same about him.
"He's a great instructor," student Landon Nichols said. "He knows exactly what he's talking about. He knows how to teach."
Fellow student Dionna Henley agrees with Nichols.
"He's really artistic," Henley said. "He's a good guy, funny."