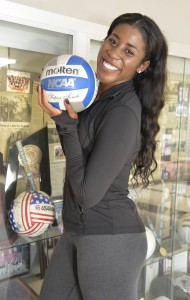 She wakes up and comes to work where she brings her skills as a mentor for the women's volleyball team. She's known for leading Pierce's undefeated team in 2011 with an overall record of 66 and zero.
Danetta Boykin, the assistant coach for women's volleyball team, plans on furthering her love for the game by competing internationally in Europe next year.  
This is only the beginning for Boykin's career, she joined Bring it Promotions (BIP), a volleyball agency specializing in international tours and career development, where she will be traveling for 14 days to compete in different neighboring countries.  
In the event she gets chosen, she will continue to play for an international team for the next five months after.
"I know I can get picked. I believe in myself. I've been working out and staying in shape," Boykin said.  "As soon as this season's over, I'm going to the gym."
It can be difficult to stay dedicated to the game, but her love for it and her supporters have helped her through the journey.
"Trying to stay playing is hard," Boykin said. "But I love when you get the team together. I love celebrating with the team when a teammate gets a really good kill we just want to be like f- yeah! I can't curse, but when I get a kill, blocking, dominating the other team, I love it. "
After attending Pierce, Boykin continued her education at Cal. State Northridge where she continued playing and received a bachelor's degree in communications.
After complications with the NCAA, Boykin had to stop playing in the middle of the season at CSUN. However, that didn't stop her from pursuing her education.
According to Nabil Mardini, coach of the women's volleyball team, having somebody who went through the system and played for him is a big plus.
"It's a big plus to have somebody who played for you on staff, because they can be an extended arm or voice. Coming from her it's a lot different than coming from me. She played not too long ago, so they can relate to her a little better," Mardini said. "She's very talented no questions about it, says a lot about her as a leader, the high character that she has."
Although Boykin has mentors and supporters of her own, she's a big voice and inspiration to girls on the team.
"A few girls come to me, I have close relationships with them. I help them keep their mindset for the next level. This is a program, we want to win, but don't lose focus of your grades," Boykin said.
Julia Izquierdo, a player on the team, expressed her admiration for Boykin and is glad to have someone like her on staff.
"She's an ultimate committer, everything she does she just wants to compete. She's a crazy athlete," Izquierdo said. "When she played here for two years she didn't lose a single match, so she's definitely someone I look up to."
Win or lose, Boykin keeps her head up during and after a game. When inspiration is needed she turns to Dory, from "Finding Nemo," and her mantra, 'Just keep swimming', instead she tells herself, 'just keep going, just keep going.'
"I treat every point the same. Obviously when you lose you're disappointed, but if we are fortunate to play them again then we know what they're going to do," Boykin said. "But if we lose, then I just look at it like you know what they outworked me, I just got beat, I didn't lose, I just got beat. The following week you just go hard."
If Boykin's not coaching or hitting the ball over the net, she has an obsession for shopping and makeup. An afternoon stroll to the nail salon is her ideal day.
Eating healthy and having a nutritional diet is a must for Boykin, although her love for carbs can make her have more than one cheat day a month.
"For volleyball, we need to stay hydrated and eat right. We're all out for cheat days! It's how disciplined you are, although I've cheated a few times," Boykin added.