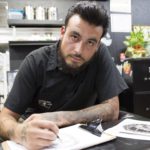 Instead of the aroma of cheese and dough, Jared McFarland is now constantly surrounded by the smells of fresh paint and ink, just how he prefers it. He decided to leave his job at a pizzeria in Northridge this summer in hopes of redirecting his life toward his love of art.
After holding off on his dreams for years, McFarland returns to his passion, working as a tattoo artist and toward an art degree.
McFarland works at L&G Tattoos, inside the Valley Indoor Swap Meet in Panorama City, and has been there for a little less than a month.
Although he has been tattooing since 2008, this is his first time working at a tattoo shop. Prior to this job, he would tattoo clients at his home whenever he found time.
"I actually went around tattoo shops just showing my portfolio to anybody that would look at it," McFarland said. "I'm the shop's newest tattoo artist and apprentice, so I'm still learning."
McFarland said he first bought a tattooing kit when he was in 12th grade, after spending lots of money on tattoos. He decided to learn how to do it himself, since he had always been artistically inclined.
"I was never good at English or mathematics and science, so I was more creative with art," McFarland said. "My dad was very artistic, and I just picked up where he left off. Because I didn't really have a father figure, it was a way for me to escape and be creative with my own ideas."
McFarland is taking art classes at Pierce. He said this is his first time at school since graduating from Manchester High School in Manchester, Connecticut in 2008.
"I want to extend my knowledge of art, because I could always learn more," McFarland said. "At first, the transition made me nervous because I'd be coming in with high school students and I don't know anybody and I didn't know what it was going to be like, but I like it. It's a good environment for me."
Art Professor Constance Kocs is McFarland's oil painting instructor and said that even though he is a new student, she has already noticed that he approaches his art projects from a creative perspective.
"He considers the objectives of the project, yet isn't limited by his objectives, so he easily generates a lot of ideas that are very expansive beyond the confines of the project," Kocs said.
McFarland is covered with tattoos from his neck down. He thinks this sometimes affects how people view and interact with him.
"I definitely think there's a stereotypical view of people with lots of tattoos. I just got called a cholo earlier," McFarland said. "I just like art, I like tattoos. It's me and it's my way to express myself. I just think people just need to be more knowledgeable about art itself, because with a tattoo, there is art behind it."
McFarland works with many mediums, including charcoal, oil pastels, pen and pencil, which he said is his favorite.
"I can get really detailed with a pencil, because of the sharper point," McFarland said. "You can do that with tattoos, but you have to be really careful. If you mess up, you can't take it back."
McFarland recently finished a project in his oil painting class that he described as a commentary on immigration.
"I did a mediated landscape painting where I was supposed to mediate the landscape how I saw it, and it was a representation of minorities and the stigma that we get and a representation of immigrants coming over to something better," McFarland said.
His classmate, Cesar Guandique, said the painting is typical of McFarland's passionate and enthusiastic artistry.
"He's into expressing different views, like the painting to do with immigration," Guandique said. "It's pretty nice and in most of the stuff that I've seen of his work, he demonstrates his character."
McFarland's mom is an immigrant from Honduras, and he is very inspired by his relationship with her. He said they have been more open with each other in the past two years and that she is proud of him.
McFarland hopes to get an associate degree in art and continue growing as an artist. Though he can see himself tattooing and painting for a long time, his dream is to be a curator for an art museum.
"I knew I had to do something because I wasn't satisfied with working and I felt like my talents were being undermined," McFarland said regarding his decision to go back to school after an eight-year-gap. "Then I had the opportunity to get back into art and the spirit of things, and it gives me more motivation being here and working on these projects."