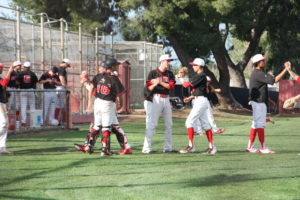 Brahmas pull their first win of the baseball season with strong pitching and quick decision-making from their defense preventing Oxnard College from making a comeback.
Even with the lead Pierce created in the first six innings, Oxnard was able to score and build pressure against their opponents, but the game ended 6-5 with the players in high spirits with their win.
"They looked really solid out there and if you look at their previous games, they had less errors today," Athletic Trainer Lenny Ramirez said. "They put everything together, made them score their runs, cut their losses with minimal errors and made connections with the team."
Pierce pitcher Tom Wilson struck out Oxnard batters in the first two innings, ushering the team to go on the attack. In the first inning the team was able to score, however, Oxnard held their ground scoring in return with Zane Chittenden.
In the third and fourth innings, both teams were in a deadlock refusing to give up any ground, but in the fifth and sixth inning the team managed to score runs and prevent Oxnard from making any major plays.
"I personally felt great," pitcher Adrian Rodriguez said.  "The ball was coming out of my hand well and my curveball was working.  I'm really proud of Tommy for getting his first college win. It was huge for him."
The last three innings proved critical for the Brahmas as Oxnard had slowly caught up, and at the end of the seventh Oxnard managed to close the gap.
Both teams struck out batters, caught high-flying balls and refused to let one another score any more runs.  
"I've been playing this game since I was four and I'm used to the competitiveness, but I had trust in my guys and in myself to know that we aren't going to back down either," Rodriguez said. "We are going to put up a fight and that's exactly what we did."
"Oxnard is a good team and they compete," Head Coach Bill Picketts said. "The team has had issues with them for years so it was a good feeling for the team to defeat a team like Oxnard."
The baseball team's record so far this season is 1-6, having lost their six previous games.  However, Picketts believes that this is a result of a lack of experience,and stated that overall the team is in good shape.
"I'm happy with the team and I like how they go about it, but it's just guys getting used to bats and their playing and getting comfortable," Picketts said.  "It's games, like I said 0-6 start, and as bad it sounds, it's not the worse thing in the world. We need to build off of it."  
The next game will be away against Taft on Feb. 11 at 1 p.m.
"We've been okay. I have no issues with the team and I really like our starting pitching," Picketts said.  "As soon as I find someone who will come out of the bullpen who can take charge we'll be good."